Low Calorie Aloo Bonda (Potato fritters)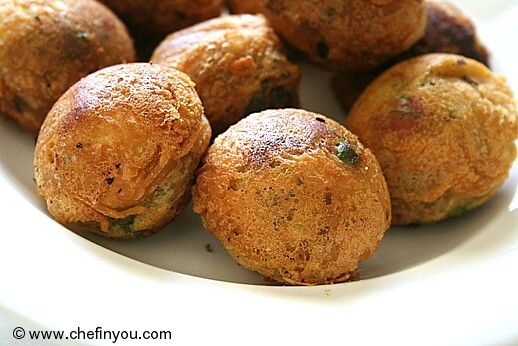 The Husband who used to scowl at eating snacks of any kind (except the super healthy types), has started "demanding" for evening snacks when he gets home from work in the recent months. And not any snacks - he needs the "fresh from the oven", "fried yet low calorie", "interesting stuff" etc etc. What intrigues me and leaves me flabbergasted is his request for "low calorie", "low fat" version of totally fried goodies and he demands that I make sure they dont taste like they are tinkered with! One of his recent demands was Bonda - all fried and crisp on the outside and soft inside - but low fat! Bonda is a fried Potato fritter very famous in Indian cuisine. Its enjoyed as a snack more often where potatoes are boiled, mashed and cooked with onions and spices, coated with a batter made with besan (Indian chickpea flour) + rice flour and deep fried. With this as the base, the number of spices and additional ingredients vary from region to region. In the North its known as
Batata Vada
, which I already posted like ages ago. This is a South Indian version of the same. Its immensely simple and works great as an appetizer/snack.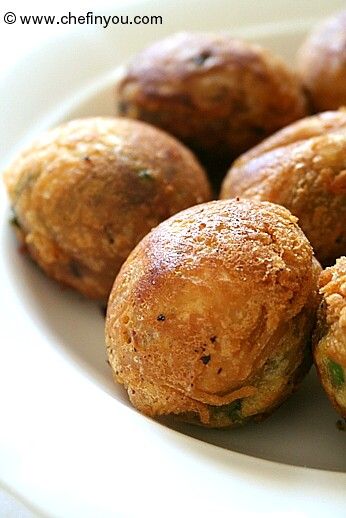 I have tried baking but you could figure it out that it was a shadow of the original. So, I was left with little option than to bring out my next best thing to baking. Yes - Pancake puff pan. Its not much of a compromise trust me. The texture is perfect - the outside is all crispy and the inside is filled with soft potato goodness! What's not to like about that, tell me? Try this out to enjoy the Potato goodness without worrying about your weighing scale. And, needless to say, Kids will love you for welcoming them with hot bondas when they get home from school.
Basic Information
Prep Time
:
30 min to 1 hour
Yield
:
Makes about 10-12 small bondas
Ingredients
1 large (or 2 medium) Potatoes, about 250 gms
1 small onion,chopped v finely
1/4 cup frozen peas
1-2 green chillies, thinly sliced (or as per taste)
1/2 tsp mustard seeds
1/2 tsp split black lentils (urad dal)
1 pinch of turmeric
a pinch of asafoetida
few sprigs of curry leaves and cilantro
little salt to taste
For the batter
about 2 tbsp channa flour (Besan/Indian chickpea flour)
1 heaped tbsp rice flour
1/2 tsp chilli powder, or as per taste
little salt to taste (be careful that the filling also has salt)
Method
1
Unless its for soup, I have become a slave to steaming. I steam all my vegetables always for whatever dish I make (if you have been following my blog, you would have known that already). You can of course alternatively boil the potatoes
2
Mash them and set aside. You can remove the skin but I keep them.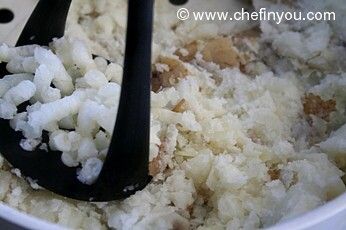 3
In a skillet, meanwhile in 1 tsp of oil, temper the mustard seeds. When they start popping, add the lentils. Once browned add the onions, turmeric, chillies, curry leaves and saute them with little salt.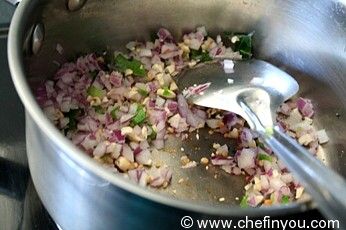 4
Add the potatoes, peas and cilantro.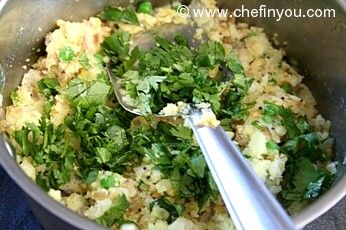 5
Saute them for 1-2 minutes until it all comes together.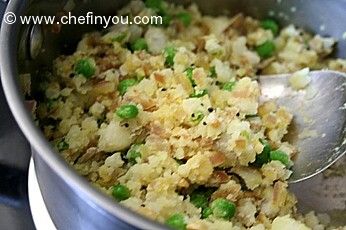 6
Take this filling (you can do a taste test and add more seasoning you like). Form into small balls. Keep it smaller than traditional bondas since the pancake puff pan is small. depending on the size you need add more/less of 1 tsp oil.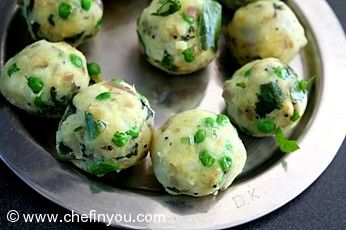 7
Alternatively prepare the batter. Add all the ingredients for the batter in a bowl.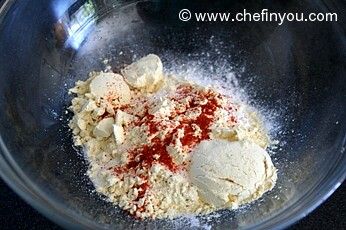 8
Add few tbsp of water to the mixture until it forms a thick batter. Not too thick nor thin. It should be thick to coat the potato dumplings.
9
Drop the potato balls into the batter to coat.
10
Add 1 tsp 1/4 tsp of oil on all the holes of the pancake puff pan. [Update 28th Feb 2012] I made these recently once again and realized I used only 1/4 tsp of oil for each bonda. You can use a max of 1/2 tsp. depending on the size of the bonda. The original 1 tsp. of oil written for this recipe is too much. Sorry for the mistake. Once the oil is hot, drop the potato dumplings coated with the batter mixture into the holes.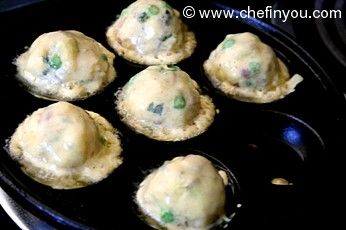 11
Let it cook and once you see the bottom browning, keep turning on all the sides until its cooked all over and browned well.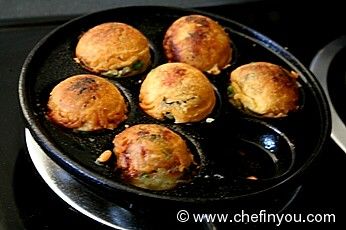 12
For the next batch repeat. Add oil, let it become hot and then add the prepared potatoes. Drop them on a paper towel.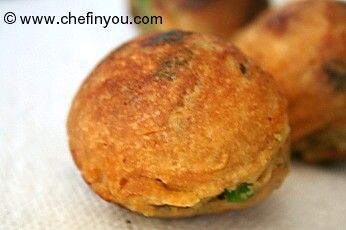 Serve hot  with a favorite condiment. Traditionally these are enjoyed with
coconut chutney
in my house. This all I had left in 10 minutes of serving! 1 and a half piece (half??!!)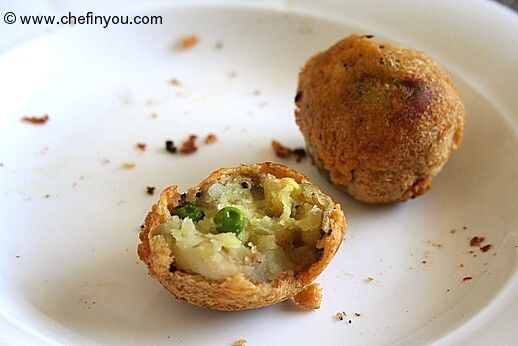 Related Recipes You May Like
Did you make this recipe?
Please click below to share your experiences while you were making this recipe. Thanks for your input!
Have a favorite recipe?
Know a family recipe your mom used to make? Or maybe a go to recipe that works everytime? Share it with your fellow foodies!