Crispy Fried Tofu with Sweet Chille Sauce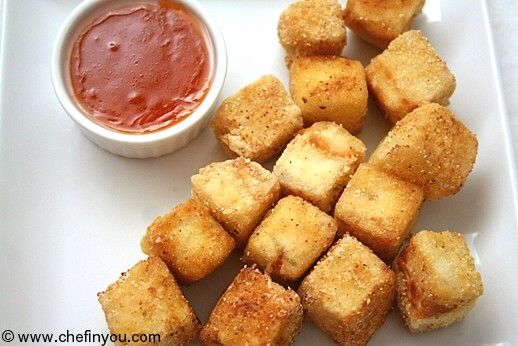 It feels like yesterday, but the memory is fresh.  Eons ago, I happened to spot some "white slabs" sitting next to my all time favorite Paneer, in the aisle of the grocery store I frequented. See, I was this good girl who went shopping for my mom during the weekends, all on my own, so that my mom can relax her feet. At times I used to buy other stuff that caught my fancy apart from the list my mom provided. So on this particular day, this packet with something called as "tofu", went into my basket. I, in fact, thought it was probably another "brand" of Paneer and even wondered at the peculiar name ( ..those naive days!!!)

Once home, my mom had a different story to tell. She told me it was not Paneer but a similar cheese but made of Soy. She said that she never bought it cos it was bland. I opened the packet and put some right in my mouth and so did my sister. Her face mimicked my mom's with a "Blech!" expression. I ,for some "weird" reason, loved it! My love affair, loyal that I am, still stands inspite of the test of various types and flavors of Tofu that have crossed my path in all these years hence.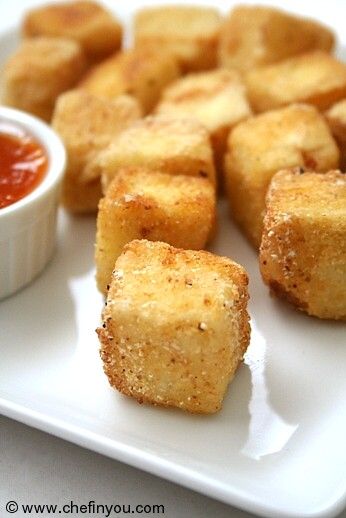 In fact I think I love it even more (if that's even possible!) My husband actually has a nickname for me - "Dofu Monster!" and he literally means it. That name has its origins with an interesting incident that I will recount later with some other tofu recipe :) As for today this recipe is from a cookbook that I trust blindly to the point of not even making my habitual modifications. I have made teeny weeny "blink-u-will-miss-changes". As for the taste, the title is self explanatory. The Tofu is beautifully crispy, thanks to that crunchy coating ,before melting into your mouth with its softness. And that sauce, for all its simplicity, is extremely addictive. Sweet with a mild heat to it and plays a perfect partner to these cubed beauties.
Ingredients
For the Tofu
1 (14-oz) block Mori Nu "Extra Firm" Silken Tofu (see Tips)
3/4 cup Cornstarch
1/4 cup Cornmeal
Salt and ground Pepper to taste
Chili Flakes to taste (optional)
For the Sweet Chili Sauce
3 tbsp Sugar
1/4 cup Water
1/4 cup Rice Vinegar
2 tsp Cornstarch
1 tbsp Sambal Oelek (see Tips)
Tips
1.
Tofu
: If you cannot find the Mori Nu brand, then simply use "Medium-Form" or "Soft Tofu". The book mentions that you can also use Firm/Extra Firm tofu but that it will taste drier.
2.
Sambal Oelek
is an Indonesian Chile paste. If you cannot find it, use whatever chili paste is available to you and add as per taste. You might need less/more than the 1 tbsp depending on the type of chili paste you are using other than the one mentioned.
Method
1
Slice the tofu into cubes/1-inch thick slabs. But before that make sure that drain any water and pat it dry completely.
Important Tip: I was a little slack in doing a good job and it shows the way it fried. So make sure to use several layers of paper towels and let it sit for few minutes esp. if you are using the tofu that comes with water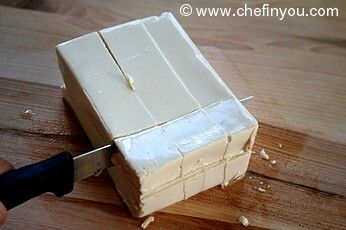 2
While that's draining, mix the remaining ingredients in the "Tofu" section in a pan.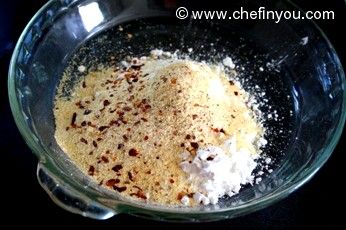 3
Make sure to blend it well.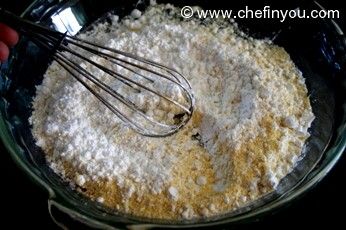 4
Next add the tofu cubes to this mixture.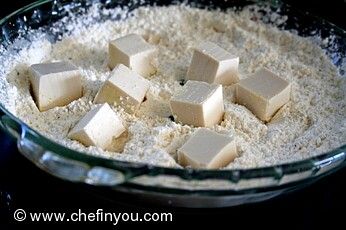 5
Coat it well. Due to the mistake (as mentioned in the Step 1 tip), my coating was not as smooth as it should be.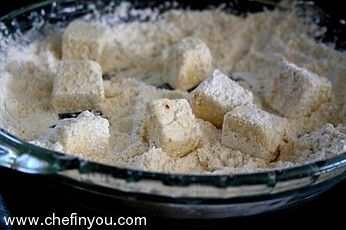 6
In a shallow (12 inch non stick) pan heat some 3/4 cup of vegetable oil until shimmering in med-high heat. Carefully add the tofu to the oil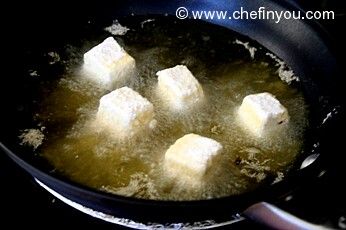 7
turning it until its crisp and golden on all sides. It takes about 5 minutes. Gently lift the tofu
8
and drain them on paper towels. You can transfer them to 200F oven to keep them warm.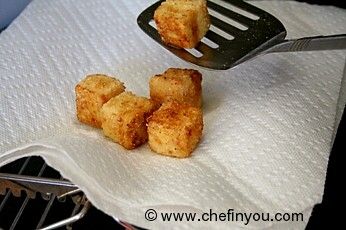 9
Meanwhile for the sauce, whisk all the ingredients mentioned in a small saucepan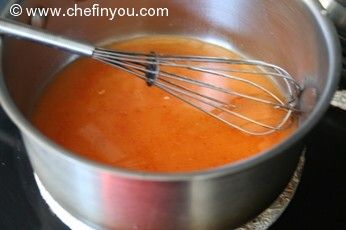 10
and cook over med-high hear, whisking constantly, until the sauce is hot and thickened. take around 5 minutes. Cover and set aside to keep warm.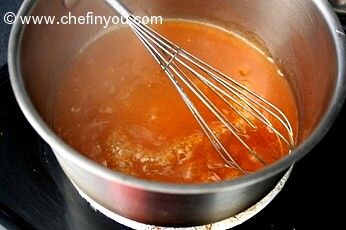 That beautiful shiny, glossy and addictive sauce works so wonderfully with that crispy tofu.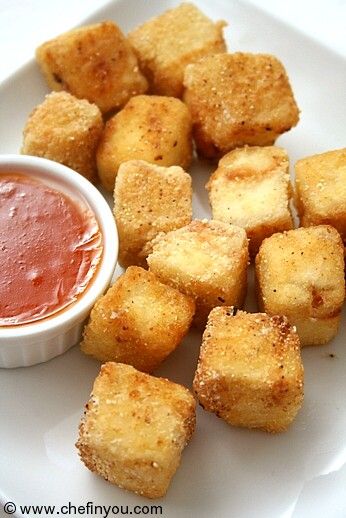 The crispiness when you first bite into it then leads to softness of the  silken tofu. Though being a lover of tofu, I can eat them all alone, my better half preferred it with the sauce.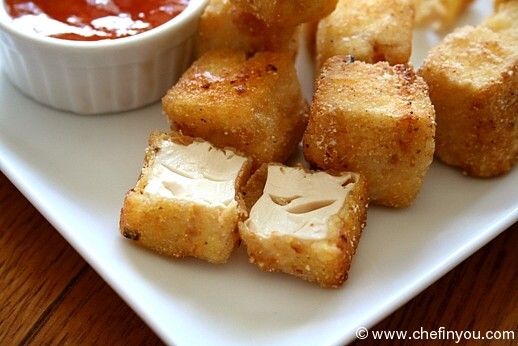 Related Recipes You May Like
Did you make this recipe?
Please click below to share your experiences while you were making this recipe. Thanks for your input!
Have a favorite recipe?
Know a family recipe your mom used to make? Or maybe a go to recipe that works everytime? Share it with your fellow foodies!