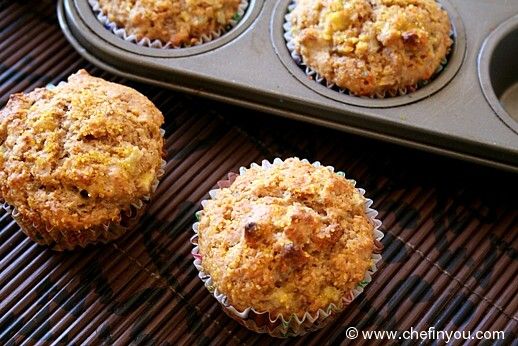 I have this weird evening curse. Cos that's when my food loving split personality takes over. Almost all my diet plans fail during the evening. I tend to eat the most "unhealthy" stuff during this time. The things my body likes (fruits, raw vegetables, nuts, home made granola, cereal, smoothie etc) are ignored while the tongue takes over with its cravings for chips, bread, cubes of cheese, bagels with cream cheese...you get the drift. While I do boast of a healthy pantry, its certainly not lacking in ingredients that have "Only to be consumed moderately" label on them. Well, my brain seems to stop working during such moments while the taste buds go on a rampage. All that guilt trip of "Sheesh! Where's your will power girl?" questions have successfully accomplished nothing!
So, I came up with a way to make me stick to my resolution. I started preparing different snacks that would tempt me to reach out to them during the evening instead of random "malnourished goodies". These Pear and Walnuts Muffins are one of such nutritious snacks. I was inspired to try these out using the base recipe from Vegetarian Times. The egg was replaced only to pave way for flaxseeds to boost omega-3 fatty acids in these muffins. Some Oat bran went it to increase metabolism and lower bad cholesterol. Wheat provides fiber additionally along with Oat bran.  The Phytonutrients, Vitamin E and Omega 3 fatty acids in walnuts makes them a beneficial addition. Vitamin C, Potassium and additional Fiber come from Pears.  For all the wholesome nutrition that this provides and the way its heartiness makes it so filling, who is worried about eating random snacks? Lousy Chips, when I can have these? naaaaaah! Whenever you find yourself at crossroads between the body and tongue just tell yourself this (like I do every single time ..till date) - " Satisfaction from mindless craving lasts only the first 5-10 minutes (that is until you start feeling full) but the satisfaction and contentment from eating the nutritious foods is for LIFE!"
Ingredients
1 cups All-Purpose Flour
1/2 cup Oat Bran (see Tips)
1/2 cup Whole Wheat Flour (see Tips)
2/3 cup Sucanat (see Tips)
1 Tbsp Baking Powder
1/2 tsp Salt
1/2 tsp ground Cinnamon
1-1/4 cups finely chopped ripe but firm Pears (about 2 to 3 medium pears)
1/3 cup coarsely chopped Walnuts
3/4 cup Oat milk, vanilla flavored (see Tips)
2 Tbsp Vegetable Oil
1 tbsp Flax seed
Decorating Sugar/regular white for sprinkling (optional)
Tips
1.
Oat bran:
You can also use Wheat bran for this. Or try Wheat Germ. If you do not have them, then replace it with all purpose flour.
2.
Whole Wheat Flour:
if you do NOT prefer the taste of earthy wheat in your baked goods, then use Whole Wheat Pastry flour or Chapathi Atta instead of whole wheat. The taste of wheat then will be milder than whole wheat (but less nutrition) or use all purpose flour instead (no nutrition).
3.
Sucanat:
It is an unrefined sugar and hence more nutritious with minerals and vitamins intact. If you cannot find it, use tightly packed regular Brown Sugar instead.
4.
Oat Milk:
Use regular milk (low fat/fat free) instead if you do NOT prefer Oat milk
If you want to
Bake using Microwave
pls refer to these articles:
1)
How to Bake in Microwave
2)
How to Bake in Microwave Convection Oven
For making
Substitutions
please refer my handy chart:
1)
Baking substitutions
2)
Egg Substitutions
Method
1
Preheat oven to 400F. Line and coat 12 standard muffin pan cups with cooking spray. Spraying the liners makes peeling them off  easier from the muffins.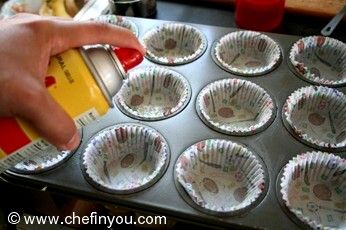 2
Toast the walnuts until aromatic. Takes around 6-8 minutes. You can either use an Oven at 350F for 5 -6 min or until lightly browned and fragrant. Or use Stove top to dry roast the same.
3
Take the flaxseed along with 4 tbsp. water and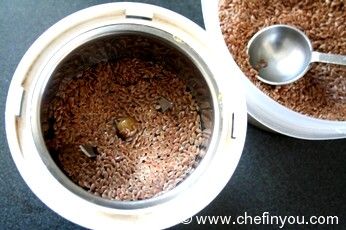 4
grind it until smooth. Set aside.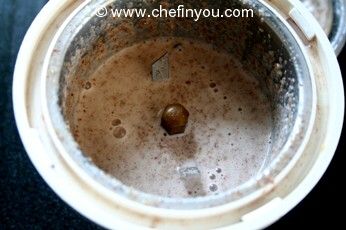 5
Combine both flours, sugar, baking powder, salt and cinnamon in medium bowl, and whisk to blend.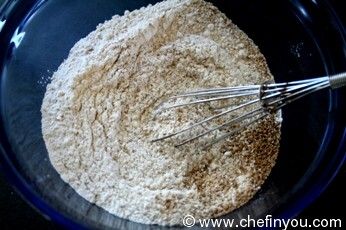 6
Add pears and walnuts, and toss gently to coat.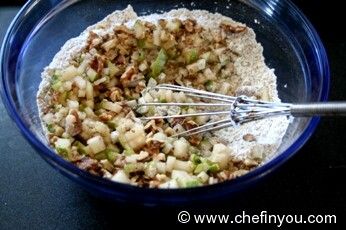 7
In another bowl combine oat milk, oil and the flaxseed mixture; stir to blend.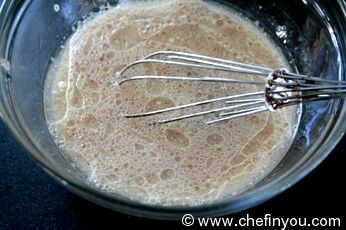 8
Make well in flour mixture, and add milk mixture,
9
stirring just until moist (dough will be sticky). Don't overmix.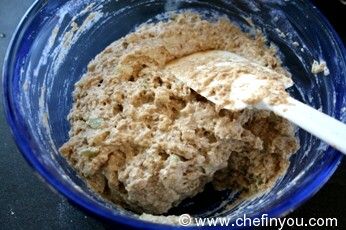 10
Divide batter evenly among prepared cups.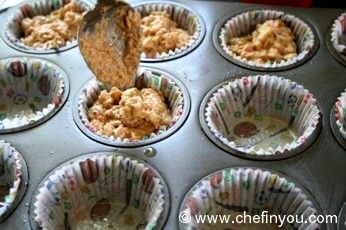 11
Sprinkle tops with sugar. I used yellow decorating sugar for no particular reason except that I had them on hand and wanted to finish them off.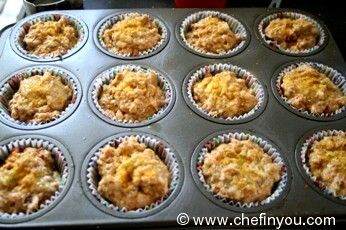 12
Bake 20 minutes, or until muffins spring back when touched lightly in center.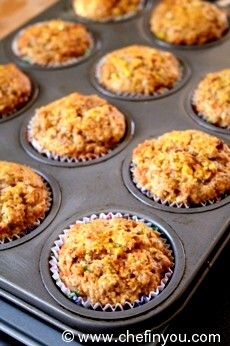 Remove from pan, and cool on wire rack. The have a slightly crusty surface with lots of crunch from the walnuts in each bite. The pears are utterly soft and melting tender keeping the insides moist. The addition of bran makes these muffins chewy and hearty. You wouldn't even know that these had Oat milk in them. These have a slight earthiness to them thanks to whole wheat. Serve them warm/hot cos that's when they taste the best. These are great for breakfast too.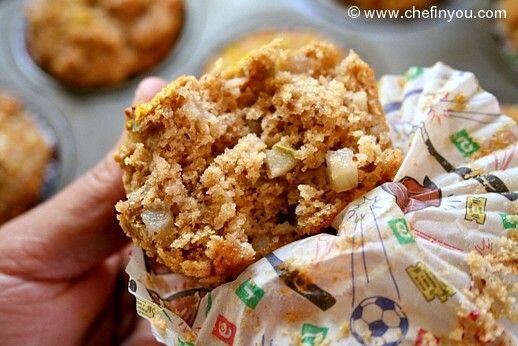 Related Recipes You May Like
Did you make this recipe?
Please click below to share your experiences while you were making this recipe. Thanks for your input!
Have a favorite recipe?
Know a family recipe your mom used to make? Or maybe a go to recipe that works everytime? Share it with your fellow foodies!