I heart the
Mexican Cuisine
. I mean, looking at a Vegetarian's point of view, I am sure you know why.
Beans
- Check.
Cheese
- "A" OK.
Rice
- Double Check, I am an Indian after all! Between
Tortillas
,
Guacamole
,
Salsa
and Sour cream, I am all set for a gastronomical heaven. So, its no surprise I love
Mexican food
. Many of the recipes are way too simple to put together at short notice. I also think that with little creativity, healthier mods are very much possible without compromise to the taste. Like these Cheese Quesadillas.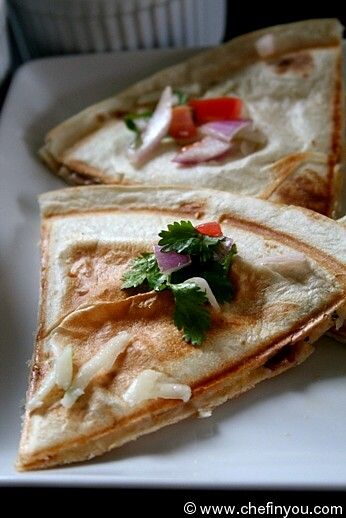 I have tasted these in quite a few restaurants and all of them follow the same rule. Tortillas stuffed with cheese and served with a salsa and guacamole. Only one restaurant served it with an optional Black beans (and you had to order it specifically.)  I now make it on and off for my little one but with a slight difference. I add a bean puree to the mix, just enough to not wary the eater of its presence yet enough to boost the nutritional value of this dish. Of course, its totally optional. Though you can use any kind of beans that suits your fancy, I use a heirloom bean mix, more often than not, for this recipe. Aren't these beautiful to look at?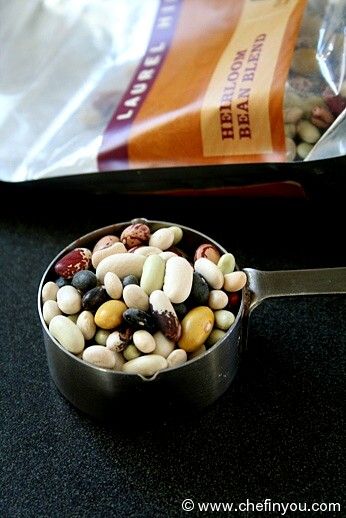 I have this one piece of  luxury kitchen item called a 
Quesadilla maker
. I have come to love it with multiple use and feel that it does makes my life so much easier. All thanks to my husband 
(who frankly did not know what to get me for my first Mother's day surprise and ended up buying this cos it looked all 

bright and shiny

!!!!! Yes - Don't even ask! But he sure achieved what he set out to do - I was surprised all right!)
References
my kitchen notes
Basic Information
Yield
:
Serves around 4-6 people as a light appetizer or 2 people as lunch
Ingredients
4 (10-inch) Tortillas (flour/wheat/multigrain)
1 cup Pico De Gallo Salsa
1/2 cup Dry Heirloom Beans, optional (see Tips)
Large pinch of Epazote (optional)
1 cup grated Cheddar Cheese, or as needed (see Tips)
1 cup grated Monterey Cheese, or as needed
Salt to taste
Tips
1.
Heirloom Beans
: Heirloom Bean Blend of 10 different beans - Light Red Kidney Beans, Mayacoba, Appaloosa, Flageolet, Cannellini, Tongues of Fire, Cranberry, Jacob's cattle, Blackeyed Peas and French Navy Beans. You can use any other dried beans instead of this blend like Black beans, Pinto beans - or even use regular
Refried Beans
instead. Or don't use beans. Its optional. The ones I have had in restaurants never come with beans.
2.
Seasoning
: Since I did not want to take away the integrity of Cheese Quesadillas, I haven't used any seasoning for my beans apart from salt. But you can try whatever herb or spices you like to the beans for more flavor.
3.
Cheese:
Try to avoid using the sharp or aged cheddar cheese in this recipe, as both tend to separate and turn greasy. This particular tip is courtesy
Cook's Illustrated
. You can also use Mexican Blend variety of cheese instead of Cheddar and Monterey.
Method
1
Soak the beans overnight.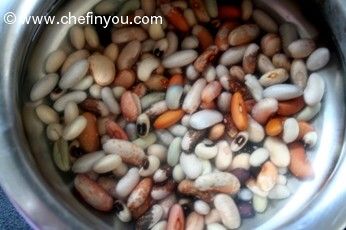 2
Pressure cook it with Epazote , if using. Add enough water to cover it by 1-2 inches
3
Since I was going to puree it anyways, I was not really specific with water.
4
I gave it a rough mash. I did not add any seasoning to it, since I did not want the flavor of beans to overpower the cheesiness of the quesadillas. But you can add spices/herbs if you like.
5
I used a large Tortilla and spread a little of the beans mash to cover the surface.
6
Next cover it with the required cheese. Leave some space around the edges.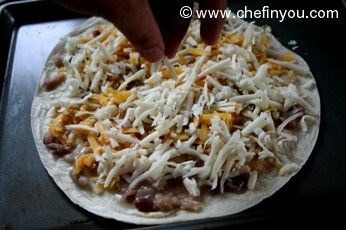 7
Now there are 3-4 ways you can cook this. You can fold this tortilla into a half moon and cook it over a skillet on both the sides.Or top it with another Tortilla to cover the filling.
1. Skillet Method:
Warm a skillet and grease it lightly. Place the Tortilla(s) and cook for about 1-2 minutes until lightly browned. The melting cheese will act as a binder. Then turn over the other side and cook likewise.
2. Oven Method:
Place the tortilla and top it with the beans and Cheese mixture. Top it with another tortilla and then broil (make sure to place the baking sheet about 4 inches away from the broiler) for 2-3 minutes on each side or until golden reddish brown.
3. Using Quesadilla Maker:
Making Quesadillas is immensely easy for me now thanks to these (not that making one is really hard! but still, suits my personality of being a lazy bum!). I place the tortilla with the topping and place it in the maker.
8
Cover it with another tortilla
9
10
and tada...Crunchy, gooey Quesadillas all ready to go!
11
Let it cool down a bit and then cut it into triangles or halves or into any shape you like. The cooling is essential cos when warm straight from the skillet/maker, the cheese is still molten and will ooze out. The slight cooling will help the cheese to set. Tastes much better this way too :)
Serve these beauties with any accompaniment of your choice -
Pico De Gallo
,
Guacamole
, thick Yogurt (or Sour cream) or all of the above.
I personally use  full fat Yogurt instead of Sour cream for my little one and my husband (he hates Sour cream). Top the slice with a little of the condiments and enjoy!
Related Recipes You May Like
Be the first to showcase this recipe!

Your Name
Did you make this recipe?
Please click below to share your experiences while you were making this recipe. Thanks for your input!
Have a favorite recipe?
Know a family recipe your mom used to make? Or maybe a go to recipe that works everytime? Share it with your fellow foodies!