Green Garlic Rice with Soya Chunks (Meal Maker)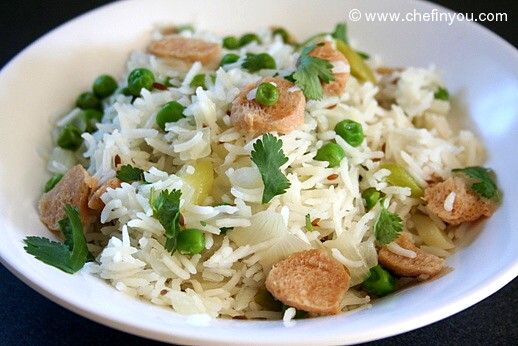 Rice
forms part of our day to day diet in some form or the other. Given that we consume it regularly, variety becomes necessary. Since rice is versatile, its not a roadblock for me. The contents of my fridge and pantry decided the kind of rice recipe I am going to make that particular day. I love Green garlic and my local Farmer's market has been carrying them in colorful bunches.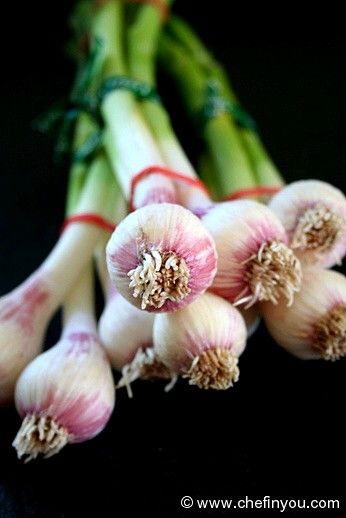 We are garlic lovers and needless to say, I was v v v happy to see them having never seen them before in any other markets. I was beyond excited and
just like I always say
- it too made a debut in rice. This simple rice is immensely aromatic - thanks to Green Garlic and Basmati. Its quick to make and is also pleasing to the eye. When your menu boasts of spicy/rich sides, then make these as a filling yet light accompaniment for it. Or when you are short on time but want something appetizing, this is the one to go.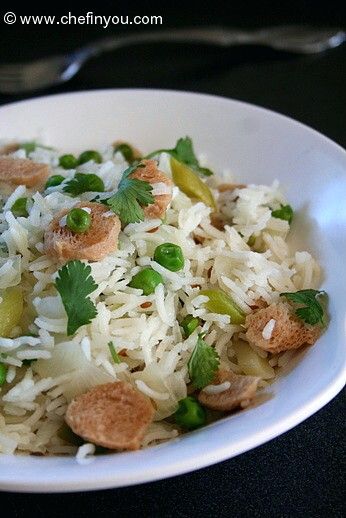 Soya Chunks (Meal Maker/TVP) was an addition to include protein to the rice. Its optional - you can either leave it or add it any other protein you like.
References
my kitchen notes
Ingredients
1 cup Basmati Rice
1 medium Onion, chopped
1 cup Green Peas (see Tips)
2 large bulbs Green Garlic, sliced (or more of you like)
1/2 cup Soy Chunks (see Tips)
1 tsp Cumin
Salt to taste
Tips
1. Green Peas :
I have used Frozen peas for this recipe. But you can use fresh, shelled peas too. In that case, add it along with the onions, so that it can cook along with rice. Or steam them separately and add them towards the end. It also tastes great with dried green peas, soaked overnight and pressure cooked the next day.
2. Soy Chunks:
Its also called as Meal maker, Soya crumbles or TVP (Textured Vegetable Protein). I used the Chunks variety that are available in the shape of mini balls, but you can use the crumble variety too.
Method
1
Drop the Soy Chunks in hot water.I usually add it along with the cooking liquid to the rice. But since my husband does not prefer this in big pieces -  I do it separately and chop it down to smaller pieces. Its optional - you can straightaway add it to the rice during cooking time or soak it separately and add it towards the end.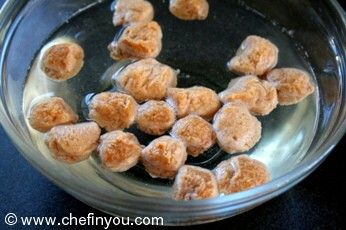 2
While that's soaking, heat a large pan and add 1-2 tsp. of oil to it. I used 2 tsp. ghee. When hot, add the cumin seeds and onion to it.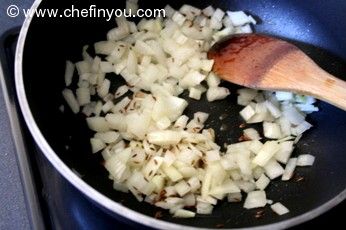 3
After a minut or 2 when the onions are soft, add the sliced green garlic,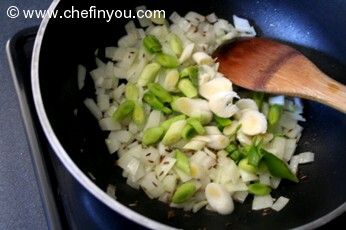 4
along with Basmati Rice. (You can clean and pre soak the rice for 10- minutes for separate strands of rice - optional). Stir for a minute or 2, until it turns slightly reddish brown. You will at this point also get aroma from the basmati and green garlic.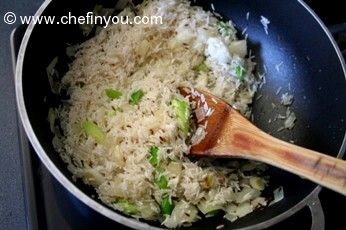 5
Add 2 cups of water along with salt.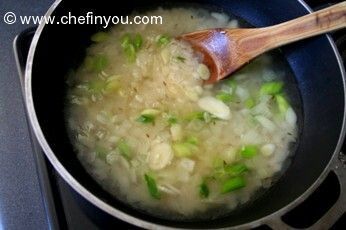 6
Close the lid and let the rice cook undisturbed for about 10 minutes.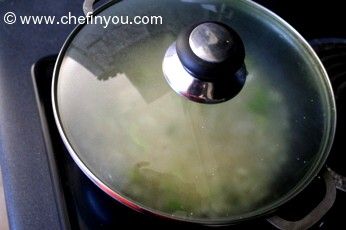 7
While the rice is cooking, remove the soy chunks from water. They will be now soft and enlarged.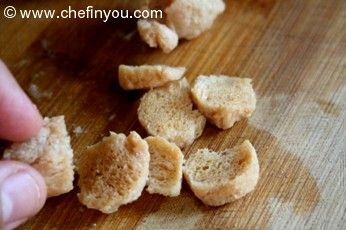 8
I slice it down into thin slices.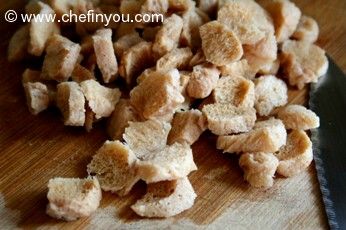 9
When the rice is 90% cooked (you will find the most of the water has been absorbed), add the frozen peas and the sliced soy chunks to the rice.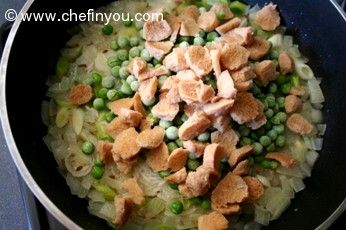 10
Give it a gentle stir to incorporate the ingredients.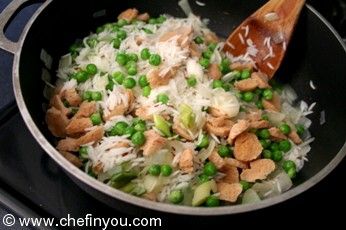 11
Close the lid and let it sit for few more minutes. Slowly fluff the rice.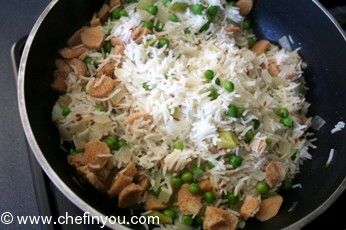 Serve it garnished with cilantro, along with any side dish of your choosing. We enjoyed it with
Aloo Baingan Subzi (Potatoes and Eggplant Curry)
, 
Oats Roti
and
Beet Greens Dal
Related Recipes You May Like
Did you make this recipe?
Please click below to share your experiences while you were making this recipe. Thanks for your input!
Have a favorite recipe?
Know a family recipe your mom used to make? Or maybe a go to recipe that works everytime? Share it with your fellow foodies!