Purple Aloo Gobhi Paratha
I have been going overboard with
multi color cauliflowers
. I have been buying them every single time I go grocery shopping.  But there has only been one hitch when it comes to these bright and colorful cauliflowers. If you have cooked with purple cauliflower, you will realize already what I am going to say - yes - these bleed color along with looking quite sad and "
not-so-appetizing
" on the plate.  I have a family that demands that I present the food beautifully. My husband even goes to the extent of comparing my "blog photos" of that particular dish and argues if I present that dish in any other way (that's below the mark). So I have to set the table likewise too(!!). And this, from a grown up "mature" adult. I cannot imagine the state of me, when the little one starts talking.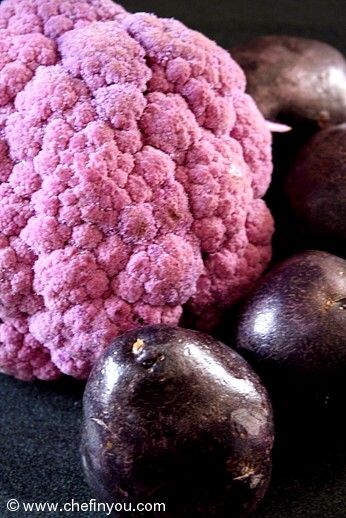 Anyways, since the purple cauliflower managed to spoil many of my dishes with its "cooked" looks, I ended up using the rest and retaining the purple cauliflower for "some other use". This is one of them. We love our
parathas
and
Naans
. I make them more often than not. These delicious Indian flatbreads are so versatile  - anything and everything goes as a stuffing.  So I used these purple beauties as a stuffing to delicious results. I also pair it with purple potatoes (that looks beautiful only if cooked certain ways) to make a flatbread version of the famous Aloo Gobhi Indian side dish.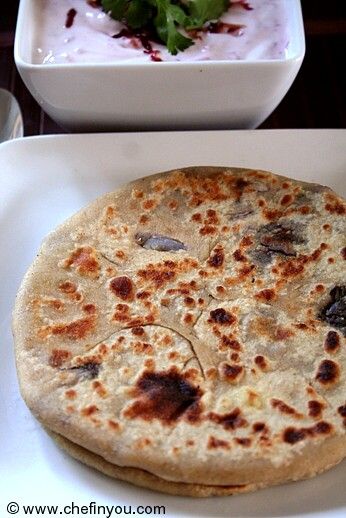 Since I was going purple on all accounts, I thought I might color my Raita purple as well and used Purple Carrots for the same. Needless, to say, this time around "Purple" did manage to win the hearts of my family. :)
References
from my kitchen notes
Basic Information
Yield
:
Makes around 10-15 depending upon the size and thickness
Ingredients
For the Bread
3 cups flour
1 cup Greek Fat Free Yogurt/ regular yogurt (optional)
Salt to taste
For the Stuffing (easily adaptable)
250 grams Purple Cauliflower Florets
250 grams Purple Potatoes
1/2 tsp Cumin seeds
1 tsp Ginger-Garlic paste
1-2 green Chillies, thinly sliced (or as per taste)
1/4 tsp Turmeric
1/2 tsp Amchoor/Dried Mango Powder/Lemon Juice (optional)
1/2 tsp Garam Masala
Salt to taste
Few sprigs of Cilantro to garnish
Tips
The Ingredients for Stuffing can be easily customized to your needs. No hard or fast rules here.
Method
1
Chop the potatoes in quarters. Steam for about 5-6 minutes or until 90% done.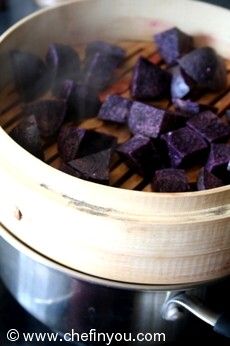 2
Now add the florets  to the potatoes and steam for another 3-4 minutes. Depending on the size of the florets it will get done from 2-5 minutes.
3
While that's happening, take the flour and salt in a bowl. Give it a stir.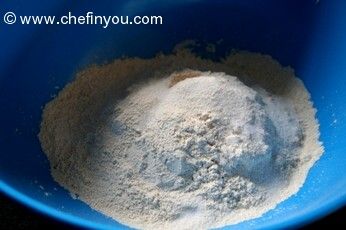 4
Now add the yogurt to the mixture. Its not really necessary, but I add it for the protein factor. You can use just water instead.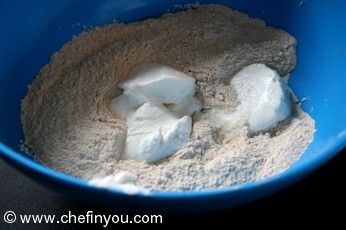 5
Give it a mix and add enough water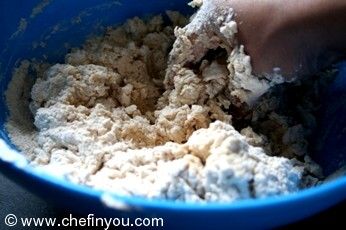 6
to knead into a pliable dough. Set aside.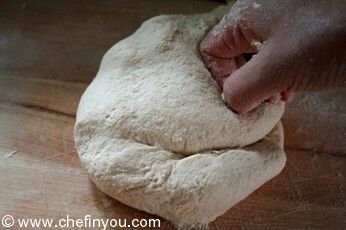 7
Switch off the steamer when the cauliflower is done.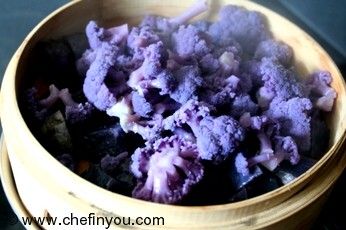 8
Drop the potatoes and the cauliflower on a bowl and give it a good mash.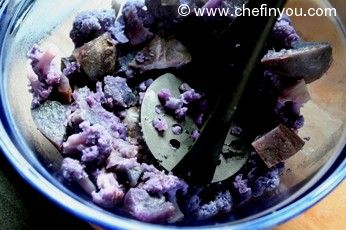 9
I use a potato masher.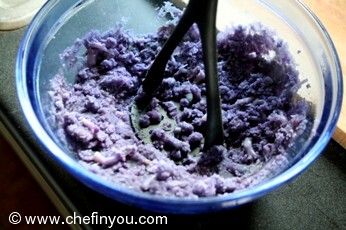 10
While you are mashing, heat up a skillet or a pan and add 1-2 tsp. of oil/ghee. Once hot, add the cumin seeds and the ginger garlic paste. Keep stirring to avoid it burning and when the aroma starts wafting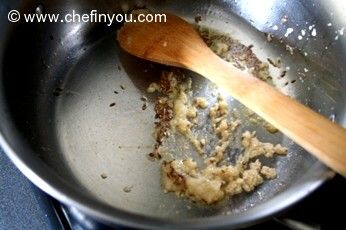 11
add the spices along with the potato-cauliflower mash. If adding lemon juice, add it once you have removed the stuffing from the heat (towards the end). There is not much cooking involved since the main ingredients are already cooked. Just enough to stir in the spices. The total time for this would be only 5-6 minutes.
12
Remove from heat and add the cilantro. Stir until combined.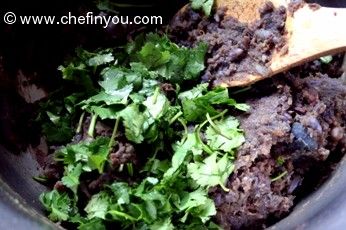 13
Meanwhile prepare small balls of dough on a floured surface.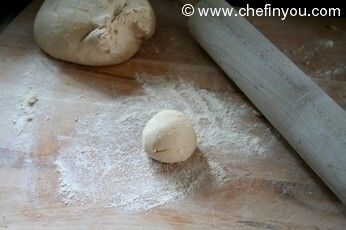 14
Roll it into a small circle
15
Place a small ball of the stuffing in the center.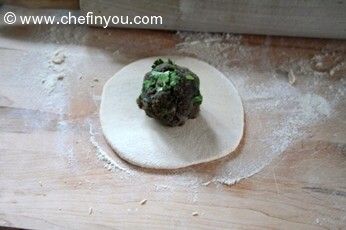 16
bring the edges towards the center, on top of the stuffing and pinch to seal the dough.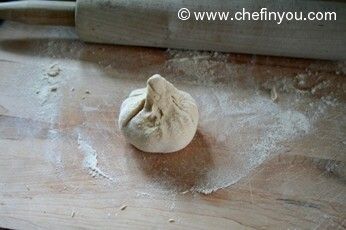 17
press it down using your palm until flattened.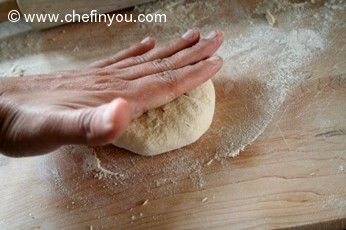 18
Sprinkle some flour on top and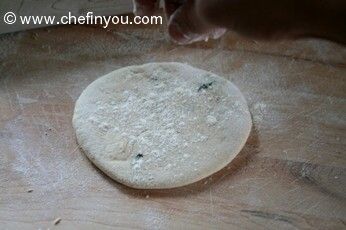 19
gently roll it out into a small circle. Its totally OK if some of the stuffing peaks out - it adds to the taste when it cooks on the girdle.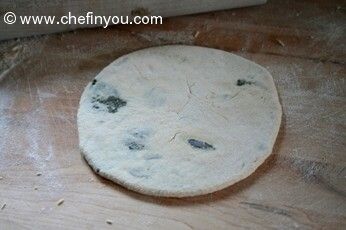 20
Place it on a hot girdle on med-high heat , pouring a little oil/ghee around the bread.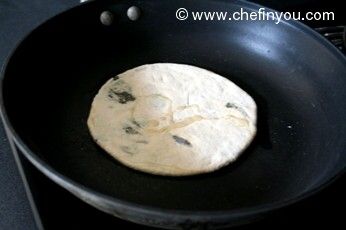 21
In about 2-3 minutes, turn the bread when dark spots start appearing on the surface. Cook on the other side the same way. No need to add oil this time around (but you sure can if you want to ;)) See the bits of purple?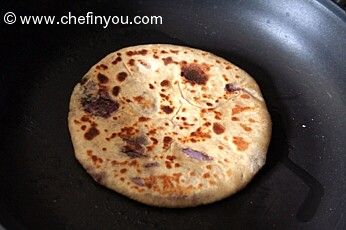 Serve it hot with spicy pickle and Raita. I went a step ahead and served it with
Purple Carrot Raita
where I used just the purple carrots to make it.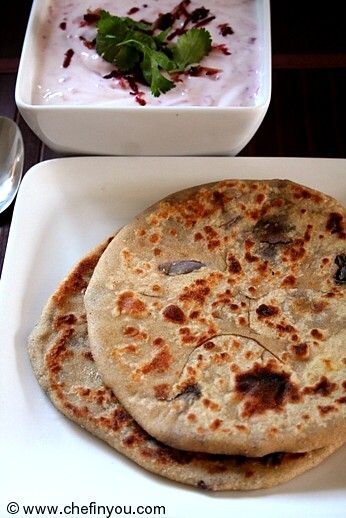 The purple themed meal was relished in my household with both my husband and little one enjoying their share with generous dollops of butter on top of their paratha and the cook looking forlornly cursing her weighing machine.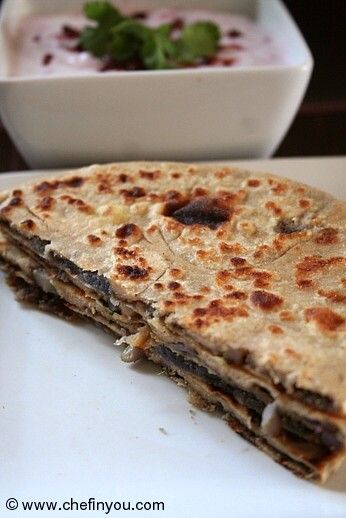 Related Recipes You May Like
Be the first to showcase this recipe!

Your Name
Did you make this recipe?
Please click below to share your experiences while you were making this recipe. Thanks for your input!
Have a favorite recipe?
Know a family recipe your mom used to make? Or maybe a go to recipe that works everytime? Share it with your fellow foodies!