Roasted (Multicolor) Cauliflower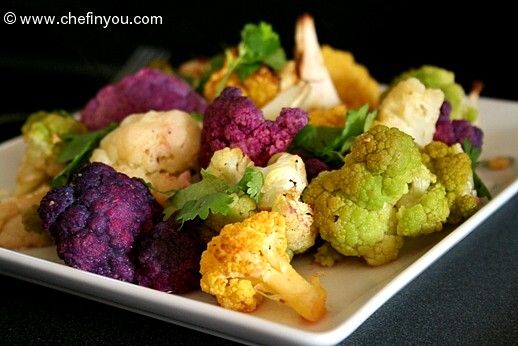 Ever since I discovered roasted
cauliflower
couple of years ago, I have been its ardent fan. Inspite of loving this vegetable already, I find that I just love it even more when its roasted. In our house, we prefer roasted cauliflower to other variants of cooking it. It also helps that its so easy to make. Toss everything in a pan, put it in the oven and tada - dinner's set! And the cleanup is a breeeeeeeze!
Given that our farmer's market is filled with aisles of freshest winter produce, I am liking how they woo me with their brightest colors every time I visit for my groceries.  Remember my
Cauliflower Pakoras
? I made them with the leftover cauliflower after making this dish.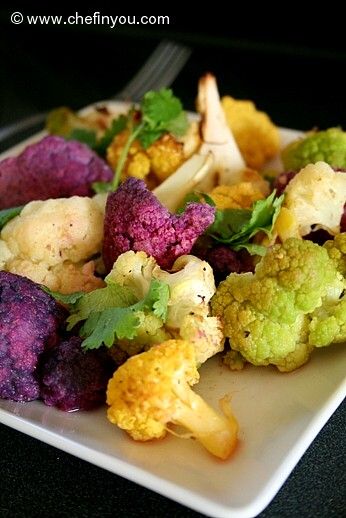 I have used multi colored cauliflower florets amounting to roughly the same amount I mention here. You can use regular cauliflower to make this instead of the other colors. I wish I did not have to take the photo so late in the day. Took them just 2 hours before dinner, hence the bad lighting :( . They don't do justice to the colors! The purple cauliflower tends to lose their color which was not as beautiful to look at as the other colors (the orange and green retain their color and I thought they actually looked even brighter once roasted!), but it tasted equally delicious. Anyways, the variations and seasonings that you can add are multifold. Very easy to adapt and use your own creative spin to this dish. Try it, you might never like cauliflower any other way :)
References
from my kitchen notes
Ingredients
1 medium head (about 3lbs) Cauliflower, cut into florets (see Tips)
3-4 Cloves Garlic, sliced and minced (or as per taste)
1 tbsp Extra Virgin Olive Oil/ Olive oil/Grapeseed Oil
Lemon Juice to taste
Salt and Pepper to taste
Few sprigs of Cilantro to garnish
Tips
Cauliflower
: I used a mix of regular, Orange, Purple and Green Cauliflower. The photos don't do it justice but the other colors deepen with the roasting and it looks fantastic on the dinner table, fresh from the oven.
Other Seasoning Ideas:
Parmesan, Nutritional Yeast, Red Chilli Flakes, Paprika, Turmeric, Curry powder, Garam Masala, Garlic Powder, Cumin Powder, Cumin-Coriander Powder, Herbs like thyme, oregano, cilantro etc
Method
1
Preheat Oven 400F. While that's happening, toss the cauliflower florets along with Garlic.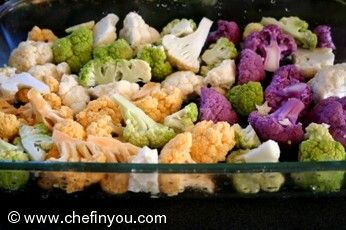 2
Add Lemon juice to taste. I used 2 full Meyer lemons, cos I love the sweet/tangy taste of this variety of lemons.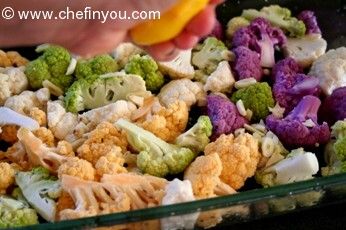 3
Next add in the oil. I used Extra Virgin Olive oil for this post but you can use regular Olive oil too. Many online recipes ask for 2 tbsp but I find that we like it even with 1 tbsp (and may be even a little less).
4
Have kept the seasoning basic for this post. But I have tried the other seasoning and love all of them, esp. the Indian flavors (no surprises there!). Give it a good mix with your hand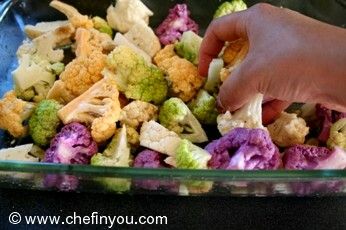 5
Roast for about 20-25 minutes or until the tops are brown (and looked slightly charred). Do a fork test to check for the tenderness of the cauliflower. If it pierces easily, its done.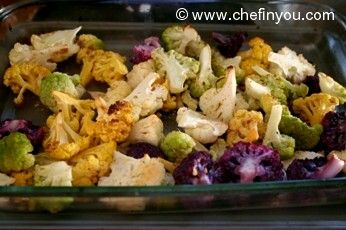 Except for the cheese, you can toss the seasoning before roasting and then once its done, add the cheese. I used fresh cilantro to garnish just before serving.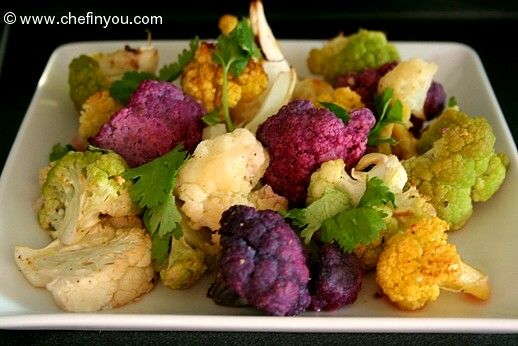 Related Recipes You May Like
Did you make this recipe?
Please click below to share your experiences while you were making this recipe. Thanks for your input!
Have a favorite recipe?
Know a family recipe your mom used to make? Or maybe a go to recipe that works everytime? Share it with your fellow foodies!