Beet Greens with Green Garlic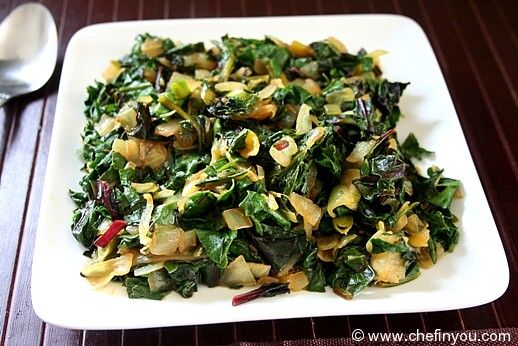 I grew up with my mom insisting that eating greens everyday was important. I also grew up not really developing a taste for greens nor appreciating the sound advise. I did not hate them, but it was pushed into the "Oh-this-is-so-boring" list.  The initial months of cooking saw the rebel coming out where I even went to the extent of taking an oath of not subjecting my kids, when they come, to eating greens on a daily basis. But well few years down the line, when I now have one of my own, I find myself repeating exactly what my mom used to tell me. Hypocrite much? Oh yeah - for a good reason though. These things are really tasty - forget the nutrition part. I found that when I did not have anyone insisting the nutrition part, I actually did like them after all ;) I, of course, do not make them every single day ("cos the truth of the matter is I am lazy with a capital L,A,Z and Y), but I try to make them at least 3 times a week :)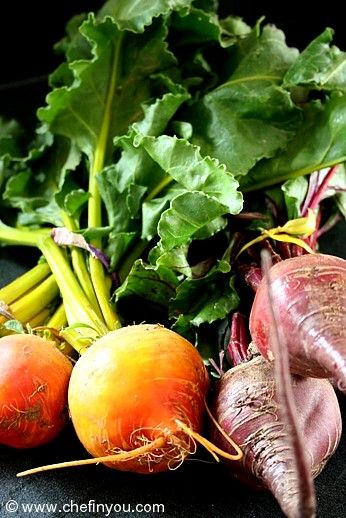 We love Beet greens. At the risk of angering the spinach Gods, have to say that I love the velvety texture and chewiness of beet greens more so than spinach. With beets flourishing in its full glory this season, I find them abundantly bursting with full color (and flavor) with freshest and greenest looking green tops. I got a bunch of both golden and red beets and made them the very next day.
I usually tend to make them as basic as possible with a simple saute of onions, cumin and garlic. On this particular day, I found a bunch (consisting of 3) Green garlic in my fridge and thought to use them too. It went very well with these greens imparting a mild garlic flavor. If you do not have green garlic, use regular garlic instead.
References
from my kitchen notes
Ingredients
2 bunches (abt 550grams) Beet Greens (see Tips)
1 large Onion
3 small bulbs Green Garlic, chopped (see Tips)
1 tbsp Butter/Oil
1/2 tsp Cumin
1/4 tsp Turmeric, optional (see Tips)
Salt to taste
Tips
1. Beet Greens
: I weighed the Greens when they were with stems. I did that with the assumption that in cases where the stems are tender, you would use it in your cooking too. I used some of the stems in my cooking and discarded the ends that were tough. But in the freshest greens, you will find that most of the stem is tender and usable. I used the greens of both Golden and Red Beets.
2. Green Garlic
: Use as much or as little of the Green garlic you like. They are milder than regular garlic and if substituting it for green garlic, use just 1-2 cloves instead.
3. Turmeric
: Though its optional, I use it almost in all my recipes since its a disinfectant and I find it a precious spice to have in my pantry.
Method
1
Chop the greens from the Beets.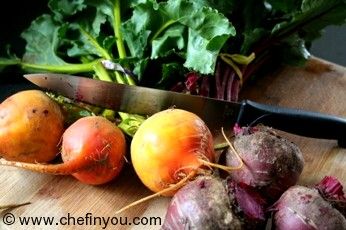 2
Strip off the greens from the tough stems. The tender ones can be chopped into small pieces.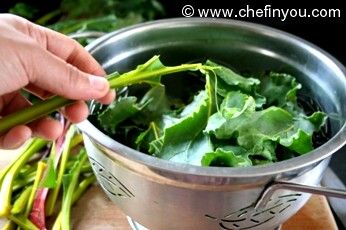 3
Clean them well.
4
Set aside to drain. While that happens, heat a pan. Add butter and then add cumin seeds. Once it starts getting aromatic, add the onion along with Green garlic.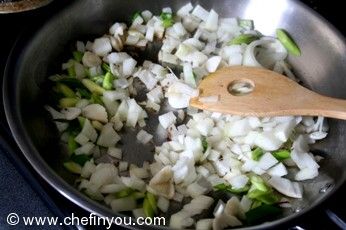 5
Add a little salt and turmeric.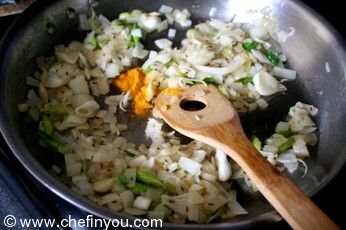 6
Give it a quick stir. Let this cook until the onions get soft - about 4-5 minutes in med heat. You can also add some red chilli flakes if you like some heat .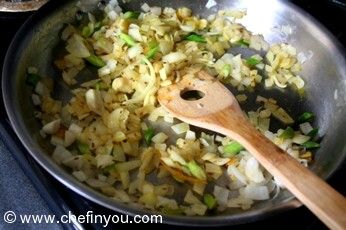 7
While that's sauteing, chop the greens into small pieces.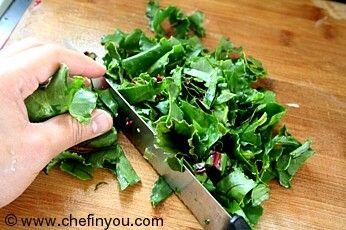 8
Add the greens to the onion mixture. Mix until combined. Note: If you are using lots of stems, then add them to the onion mixture, let it cook for a min or 2, or until soft and then add the greens to the mix.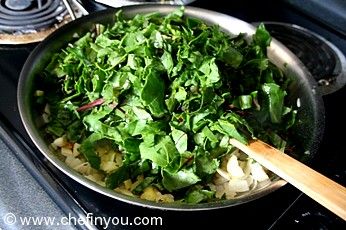 9
Cook until the greens start wilting - takes about 5-8 minutes.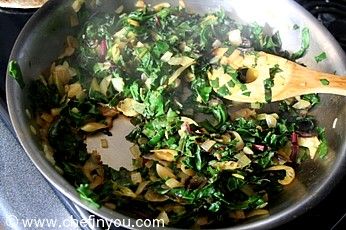 Serve hot. We enjoyed it with
Chickpeas Rice
and
Rainbow Carrot Raita
Related Recipes You May Like
Did you make this recipe?
Please click below to share your experiences while you were making this recipe. Thanks for your input!
Have a favorite recipe?
Know a family recipe your mom used to make? Or maybe a go to recipe that works everytime? Share it with your fellow foodies!