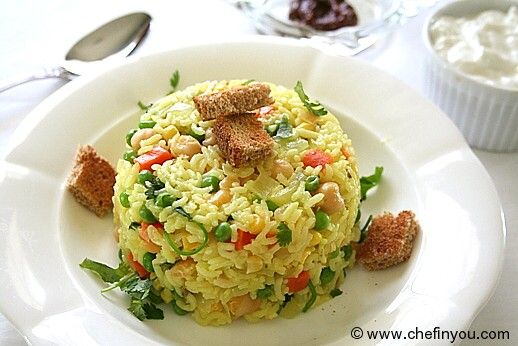 With rice being a staple food at home, its inevitable that it finds its way more often than not. On days when I am running late in the mornings, I rely on quick rice dishes to pack lunches instead of parathas/rotis (That's Indian tortillas for the non Indians). Needless to say, I like to keep them simple and quick but I look for ways and means to add some nutrition to the meal. Eating just rice is like plain calories without nutrition hence vegetables and some sort of protein is a must for me. The source of protein comes in various ways and for today - I have chosen the most simplest and humblest of protein sources. Chickpeas. They are so versatile and can be used in so many different ways. I always have soaked chickpeas on hand storing some in the fridge for days like these. They can be added to almost all dishes and make it not only hearty and delicious but also nutritious.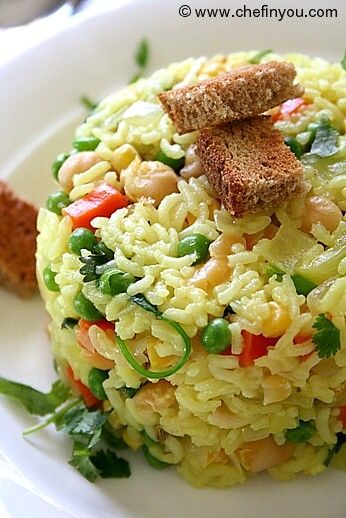 Vegetables are of course needed in the daily diet (we are vegetarians - what else is there to eat otherwise!! ;)). I love this rice for the simplicity and sheer beauty by way of its color and vibrancy. This can be made even more simple if you have leftover rice, frozen vegetables and cooked chickpeas on hand (canned one works great - just remember to rinse it very well in cold water first).  The Bread croutons that you see is entirely optional. I add it to sneak in some wholegrain to the mix too :) and they are dry toasted instead of fried. :) This dish is v minimal in fat with the entire dish being cooked only in 1 tsp of oil. A little plain curd and pickle completes this dish for us - but you can pair it up with any side dish of your choice.
Ingredients
1 cup basmati rice (or any long grained rice - leftover rice works great too)
1 to 1-1/2 cups cooked chickpeas (or use canned for quick version)
1 tsp fennel seeds (or cumin seeds)
1 bay leaf
2-3 whole cardamom pods
2-3 cloves
1/4 tsp turmeric powder
1 onion, chopped
1 carrot,cubed
1/4 cup frozen corn
1/4 cup frozen peas
about 1/2 cup toasted wholegrain bread cubes for garnish (optional)
salt to taste
few sprigs of cilantro to garnish
Method
1
I would suggest soaking the rice for about 20 minutes in some water. This helps the grain to remain separate while cooking although its completely optional. I do it when I have the time. Heat a skillet and add 1 tsp of oil. Add the fennel seeds. Once aromatic ad the onions, cloves, cardamom, bay leaf , turmeric, salt and give it a quick toss.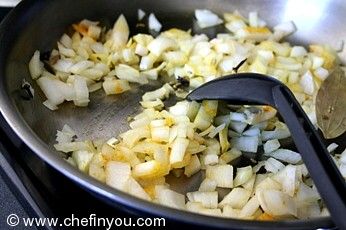 2
Add the carrots and stir for another 40 seconds or so. Add the rice (if presoaked drain it well). Saute it well until aromatic and the rice becomes translucent.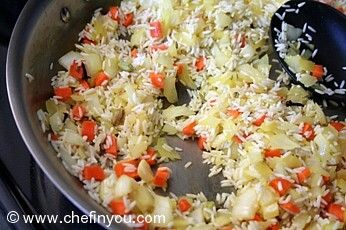 3
Add 2 cups water (you might need +/- 1 cup water depending on the quality of rice). Close the lid and cook for about 8-10 minutes until the rice is cooked and you see all the water is absorbed. Add the chickpeas along with frozen vegetables.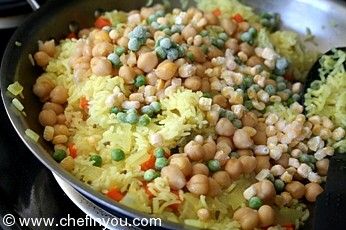 4
Give it a gentle stir and garnish with cilantro. If using cooked rice, add carrots along with frozen vegetables. Let them cook until soft. Add chickpeas and once mixed, add the cooked rice. Give it a mix and cook for 3-5 minutes or until the rice is warmed thoroughly and all the vegetables have combined well with the rice.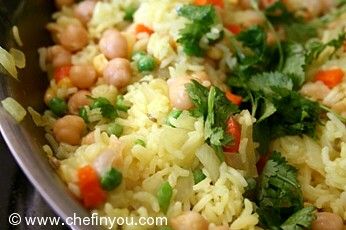 Instead of fried bread croutons, I dry toasted wholegrain bread  and garnished it with the rice. Its optional of course. I did it on a whim and fancy (or to be honest I had one stale bread waiting to be used ;)). Any curry and raita will go well with this rice.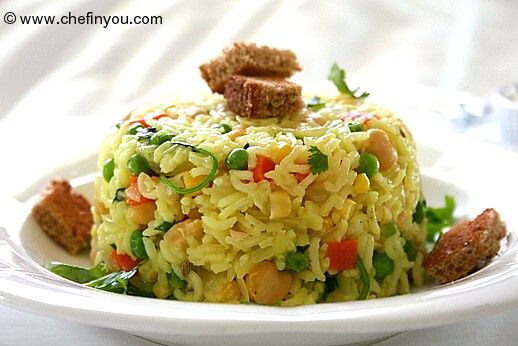 Related Recipes You May Like
Did you make this recipe?
Please click below to share your experiences while you were making this recipe. Thanks for your input!
Have a favorite recipe?
Know a family recipe your mom used to make? Or maybe a go to recipe that works everytime? Share it with your fellow foodies!