South Indian Okra (Vendakka) Curry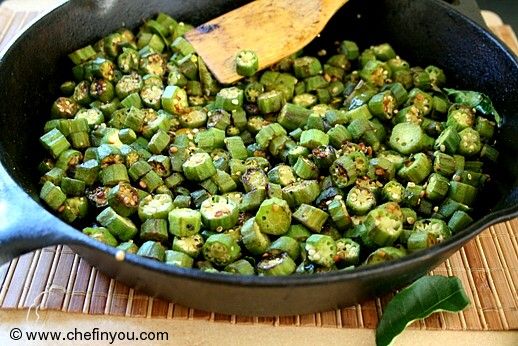 Ladies finger, as I know it and/or Okra (Bhindi, Vendakka) as you probably know it has a bad reputation. Unfortunate, I would add. 'Cos leave it in the hands of the expert cooks (
in the hands of people like my mom, my aunt, grandmom - you get the gist
) and this sticky vegetable gets transformed into crispy and a chewy addiction. Now add it as a side to
Onion Sambar
and
Rasam
(
some fried papadams dont hurt either!
), you have "
Burp
" land (
and a paunchy belly!
) guaranteed in few minutes. I never really associated mushy with Okra in my growing up years. I loved them. It is one of those rare rare things that has a "good for you" attached to it and actually tastes delicious. I grew up in a place that believes that Okra increases your brain power (or something like that) enough to turn you into a math whiz! Now for all the ladies finger that I have consumed, I should have had at least a couple of Olympiad trophies in my shelf (
instead of just dust that adorns it incessantly!
) Sigh!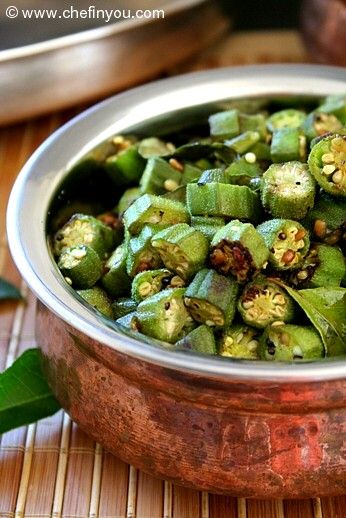 Anyways, this is a simple South Indian curry that my mom makes with Okra. Make this during the Okra season when you would find the young and tender ones, because they make the best curry - the likes you probably would be hard pressed to enjoy during the rest of the time. Mushy land is unheard of when you have tender Okra in your hands. You don't have to fry them to make them crispy nor do you have to force that gumbo down the throat 'cos "that's the only thing that lousy okra is fit for". It certainly is not. There are few tips, I have provided in there just in case you want to make do without the tender ones and yet don't want Miss Mushy in your plate. This is a mildly spiced dish, highlighting just the Okra. I am also partial to the beautiful color of ladies finger without the additional coloring it gets from the spices/other ingredients  that one tends to add to Okra based dishes.
References
my mother's recipe
Ingredients
750 grams (abt 1.6 lbs) Okra
1 tsp Mustard
2 tsp Black lentil, skinned and split (urad dal)
pinch of Asafoetida
1/4 tsp Turmeric powder
1-2 tsp Chilli powder, or to taste (optional, I did not add any)
Salt to taste
few Curry leaves to garnish
Optional Ingredients
1 Onion (see Tips)
1-2 tsp Yogurt/ Lemon juice (see Tips)
Tips
1. Onion :
I have the habit of adding Onions to everything that I, at times, wonder what will happen to me if there is an Onion famine! Shockingly, I decided to not do the same and make it just like my mother does for today's post. So, its optional, although I have to add that it not only adds volume to the dish (if you do not have enough Okra, that is) but also a subtle heartiness that only an onion can :)
Ever heard a pitch for an Onion, in the likes of this, before? ;)
2. Yogurt/lemon Juice :
Adding some kind of souring agent to Okras while making the dish tends to reduce the stickiness. The acidity reacts with the liquid from Okra and reduces the slime when cooking the vegetable. You can even add tomato for the same reason. I have also heard of adding kokum instead of lemon juice. I have personally not tried any of these methods cos I have been blessed to get tender okra (during the season) in my side of the world and never saw my mom do these either!!
Method
1
Wash the Okra well.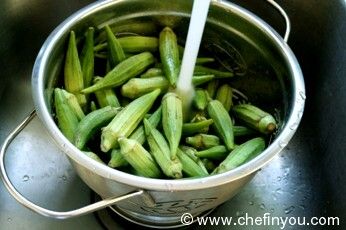 2
Now dry them doubly well. This is an important step to avoid the stickiness later on.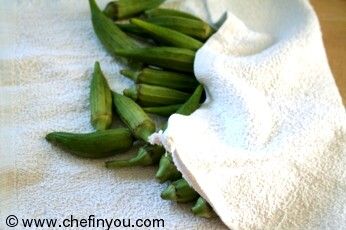 3
Cut off the ends.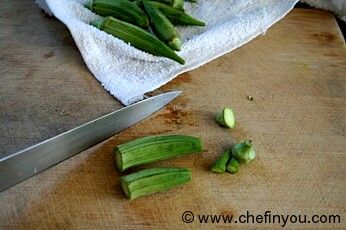 4
And chop them into small pieces.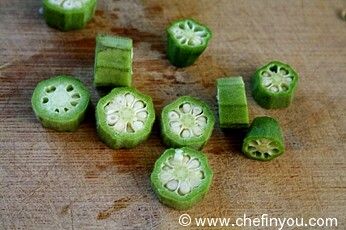 5
While chopping, remember to wipe off the slime from your knife on a paper towel or kitchen towel, at regular intervals (or as and when it happens). This is another tip to reduce the mushy texture.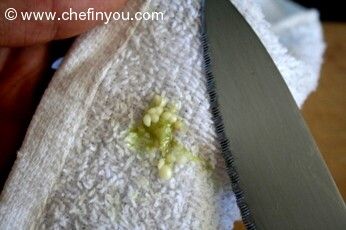 6
Heat abt 2 tsp oil to a skillet and when hot, add the mustard seeds. When it starts popping, add the black lentil  and asafoetida to it.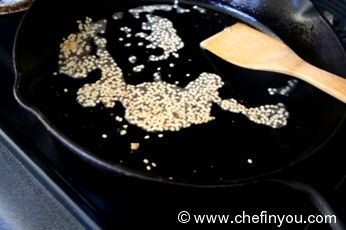 7
When the lentils are slightly browned and the whole kitchen gets aromatic (thanks to the spice), add the Okra.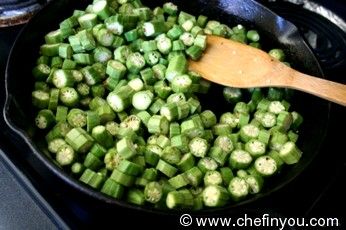 8
Add salt, turmeric and torn curry leaves to it and give it a toss to combine
9
Cover the okra with a lid for 30-40 seconds and cook in medium-high heat.  This I do to create steam to help cook the Okra. Not more than that cos too much steam will make it mushy.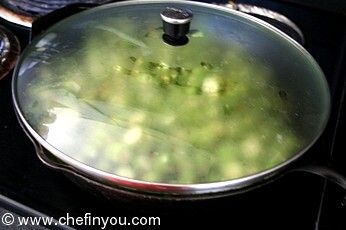 10
Remove the cover, stir slightly and now cook open in low-medium flame. Do not stir for at least 10 minutes cos that will increase the stickiness.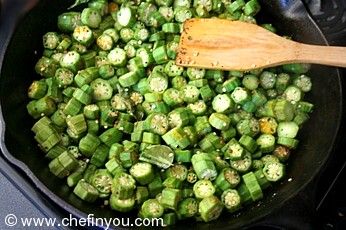 11
Gently toss the okra to cook on the other side too. Cook for another 5-6 min.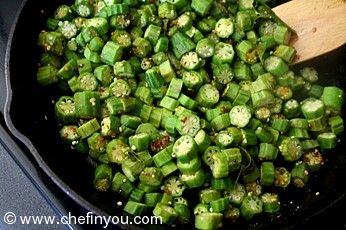 12
Its done when its soft with little crispiness to the edges ( if its crunchy/with a bite to it, then cook for a little while longer). Cooking it longer will turn it brown but more crispy. I stop it while its still green (but soft) cos it looks better (duh!)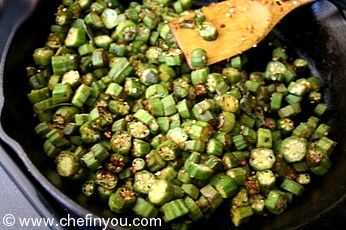 Serve hot as an accompaniment to steamed rice or with rotis.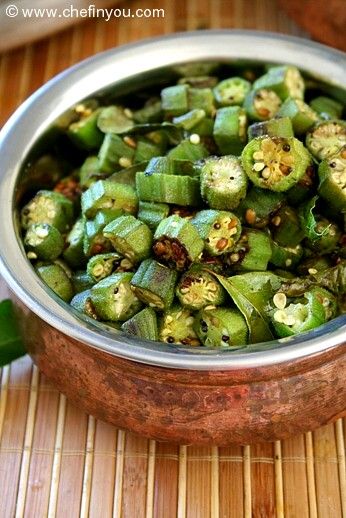 Related Recipes You May Like
Be the first to showcase this recipe!

Your Name
Did you make this recipe?
Please click below to share your experiences while you were making this recipe. Thanks for your input!
Have a favorite recipe?
Know a family recipe your mom used to make? Or maybe a go to recipe that works everytime? Share it with your fellow foodies!