One of the best (and an absolute must) desserts to make during summer is Strawberry Shortcake. And if you can get your hands on those luscious, very sweet strawberries, then count yourself blessed. The simplicity of this dessert undermines the fact that it relies heavily on its key ingredient -
Strawberries
. So if you think Strawberry shortcakes are a "
blah
", then I would say that you haven't tasted the best strawberries.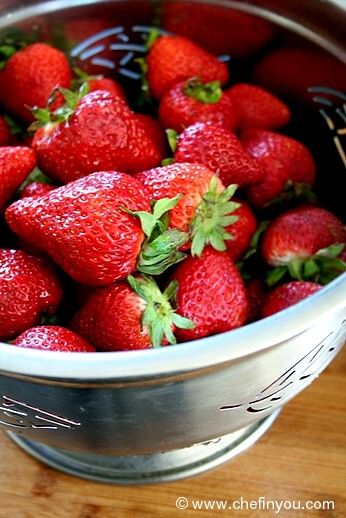 On that count, I think myself extremely lucky to feast on the absolutely sweet and fresh
Strawberries
from our local Farmer's Market. As it happens with most fruits in our house, they get eaten raw in abundance. Wash well and plop it goes into the mouth. But occasionally, I get the cooking bug - to make something (
dessert
or otherwise) out of them. But this time around, I made these shortcakes that retain the strawberries at its best - raw --
err well almost
. Make the biscuits, add some strawberry chunks, pipe some whipped cream and tada -
dessert
ready.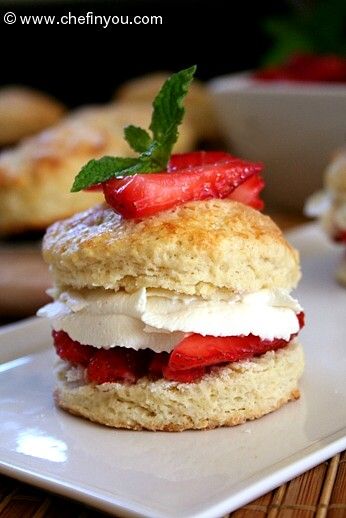 I have tried few shortcake recipes in my life and this one, to me, tastes the best. I usually tend to tinker with the recipe by cutting down some of the refined ingredients. But since I was making it as a treat for one of my colleagues, I kept it to the original version. Cake'y rich tasting biscuits that are also moist pairs extremely well with in season sweet strawberries. Whipped cream - well what's not to like! In short - a light and refreshing dessert that has gourmet written all over it for being so easy.
Basic Information
Prep Time
:
30 min to 1 hour
Yield
:
Makes 6 to 8 (2-3/4 inch) Shortcakes
Ingredients
For the Fruit Layer and Topping
8 cups (abt 2-1/2 lbs) Strawberries
6 tbsp (2-1/2 oz) Sugar
2 cups Whipped Cream (see Tips)
For the Shortcakes
2 cups (10 oz) All Purpose flour, plus more for dusting the work surface
5 tbsp (abt 2-1/4 oz) Sugar
1 tbsp Baking Powder
1/2 tsp Salt
8 tbsp cold unsalted Butter
1 large Egg, lightly beaten, or see Tips
1/2 cup plus 1 tbsp Whole Milk (see Tips)
1 large Egg white, lightly beaten
Tips
1.
Whipped Cream:
To make 2 cups, you would need 1 cup chilled (preferably pasteurized instead of ultra-pasteurized), 1 tbsp sugar and 1 tsp vanilla extract. In a chilled bowl (and the beaters preferably) add all the ingredients together and beat until small bubbles form, around 30 seconds. Increase the speed and continue beating until the cream is doubled in volume, is smooth and thick. It takes around 20 seconds for soft peak and about 30 seconds for a stiff peak. Recipe from the cookbook.
2.
Whole Milk:
Instead of milk you can also use half and half.
If you want to
Bake using Microwave
pls refer to these articles:
1)
How to Bake in Microwave
2)
How to Bake in Microwave Convection Oven
For making
Substitutions
please refer my handy chart:
1)
Baking substitutions
2)
Egg Substitutions
Method
1
Hull the strawberries.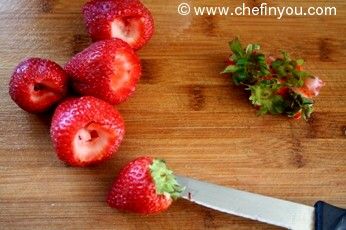 2
Place 3 cups of the hulled strawberries in a bowl and crush with a potato masher.
3
Crush until it resembles a thick coarse puree. This helps to bind the shortcakes together.
4
Slice the remaining berries.
5
Stir these sliced berries into the crushed berries along with  the sugar. Stir to combine and let it macerate for at least 30 minutes or upto 2 hours.
6
While that's happening, adjust the oven rack to lower middle position and heat the oven to 425 F.  In a bowl, combine the flour, 3 tbsp of sugar, the baking powder and salt to combine.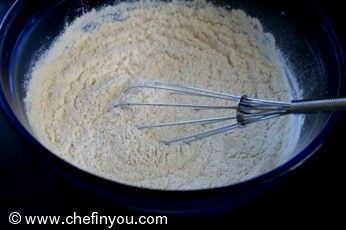 7
Grate the butter into the flour. Since I was going to be using my hands, I grated the butter.
Note: But if you have a food processor, then just cut the butter into 1/2 inch cubes, scatter the pieces over the flour and process until it resembles coarse meal.
8
I simply used my whisk to combine the butter into the flour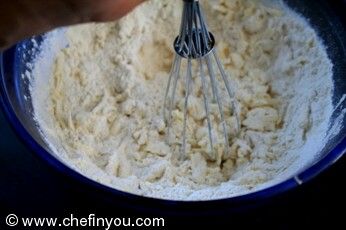 9
until it resembled the coarse meal.
10
In another bowl/measuring cup, mix the beaten egg with the milk.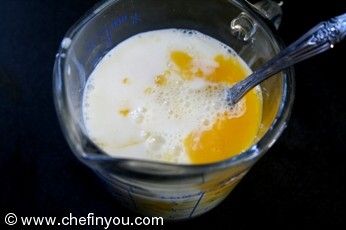 11
Pour this mixture into the flour mixture.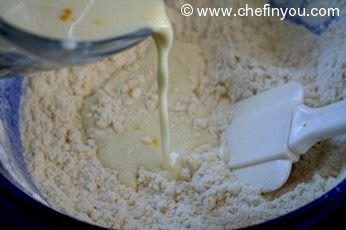 12
Combine with a rubber spatula until large clumps form.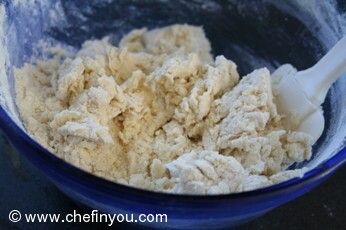 13
Turn the mixture onto a floured work surface and lightly knead until it comes together. DO NOT OVERWORK the dough.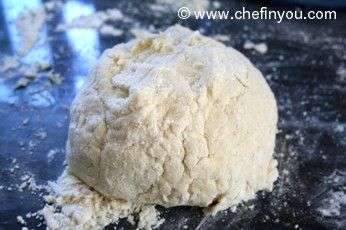 14
Use your fingers tips to pat the dough into a 9 X 6 inch rectangle about 3/4 inch thick. Be very gentle with the dough. Flour a 2-3/4 inch biscuit cutter and cut into 6 dough rounds. You might be able to get 1 or 2 more rounds with the remaining scraps though they might look more rustic and a tad tougher than the the first 6 rounds.
Note:I used a smaller cutter and hence got many more biscuits.
15
PLace the rounds 1 inch apart on a small baking sheet, brush  the tops with the beaten egg white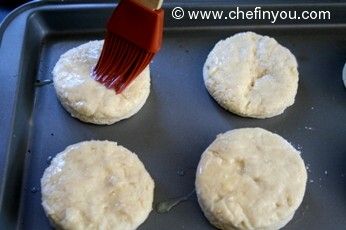 16
and sprinkle with the remaining 2 tbsp sugar.
Note:For Advance Prep : Dough rounds can be covered and refrigerated for up to 2 hours before baking.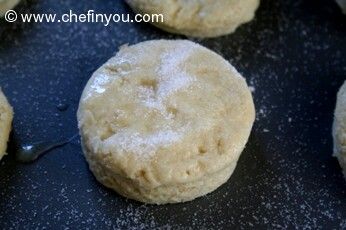 17
Bake until the shortcakes are golden brown, about 12-15 minutes. Place the baking sheet on a wire rack and cool the cakes until warm - about 10 minutes.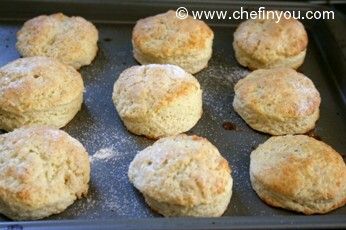 18
Meanwhile prepare the whipped cream. Refer to the Tips section on how to's.
19
To assemble, split the cooled shortcakes into halves. Place each cake bottom on individual serving plate and portion of the fruit on top
20
and a dollop of whipped cream (I piped some on top of the fruit) and the cap it with the cake top.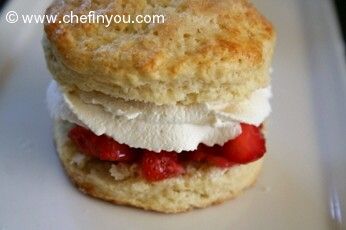 I added a few pieces of strawberries on top of the shortcake and garnished with mint for color.
Related Recipes You May Like
Be the first to showcase this recipe!

Your Name
Did you make this recipe?
Please click below to share your experiences while you were making this recipe. Thanks for your input!
Have a favorite recipe?
Know a family recipe your mom used to make? Or maybe a go to recipe that works everytime? Share it with your fellow foodies!