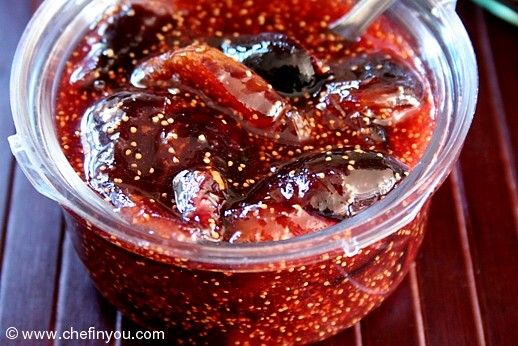 Figs have been flourishing in the aisles of my local Farmer's market. I haven't been as welcoming of Figs as it supposedly deserves, at least not until recently. The thing with "Good Habits" is that it always meticulously chooses (with 99% success rate, I tell ya!) the stuff which you don't like to do. Sigh! Anyways, with its standard motto of "Its good for you", I finally convinced myself to include it in my "I am reforming when I ...." list.
I assure you, I have progressed from keeping my face as if in pain, to being indifferent as far as consuming the fruit goes. To be honest, its not as bad as my mental vision (of self torture - no less) conjured it up to be. I can at times be such a drama queen. The dudes in my family love Figs and hence I judiciously buy them year after year. And this year I even helped in creating a dent to the numbers - not only by eating them raw but also by making this delicious (yes, I actually did use that word along with figs...I told you, I am reformed!) Jam or preserves if you will.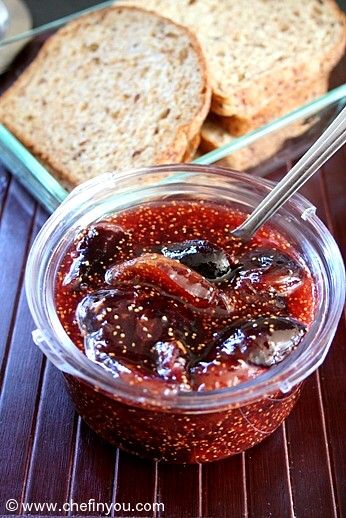 I have been making Jams for quite a number of years, but in last couple of years have restricted myself to making small quantities. The kind that probably would last me 10-15 days. The main reason being I like variety and opt to try jams with various seasonal ingredients. Secondly, low sugar Jams have less shelf life than their full sugar cousins. So my latest guest to the refrigerator is this Fig jam with some warming spices added to it.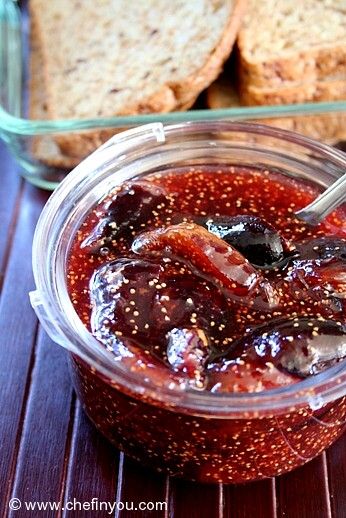 In my opinion, this Jam is a cornucopia of flavors. The minute you put it in your mouth, you get a blast of sweetness from the honey and hint of cinnamon. It travels down your throat leaving a trail of warmth thanks to the ginger and with the lingering taste of figs in your mouth. All in all, it will brighten up your morning (noon, evening or (mid)night!)
References
from my kitchen notes
Basic Information
Yield
:
Makes around 2 cups of Jam or 1 pint ( or two 1/2 pint) Jars.
Ingredients
1 lb (abt 455 grams) ripe Figs
1/4 cup Lemon juice, freshly squeezed
1 tsp Lemon zest, or from 1 med-large lemon
1/2 tsp ground Ginger, see Tips
1 Cinnamon stick
1/2 cup honey, see Tips
1/2 cup Sugar
Tips
1.
Honey:
Using honey is a matter of taste. If you are not sure of your preference, I would suggest starting off with 1/4 cup and 3/4 cup sugar and taking it forward from there. Though you can use all honey, our taste defines that 1/2 cup is the perfect balance before it overpowers the taste of figs (and anything else we might add to it). Honey has a strong flavor and tends to take over both aroma and taste. Hence I stick to 1/2 cup. But you can use any other sweetener you like or go the traditional route and use all sugar instead. Honey and Sugar have almost same shelf life, but since this uses less sugar than traditional Jams, consume it within 10-15 days.
2.
Ginger:
You can also use 1/4 cup of chopped crystallized ginger instead of the ground ginger. Want to go for fresh ginger? Then use abt 1 tbsp grated ginger root plus sugar to taste instead.
Method
1
Wash the figs well.
2
Trim the stems.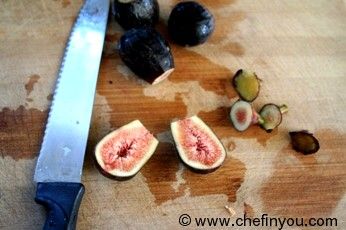 3
Now add all the ingredients together in a heavy pan.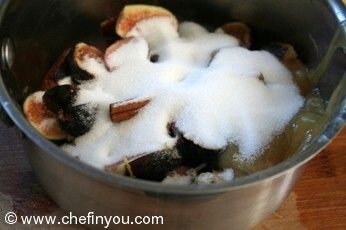 4
Place in on a stove top on low-medium heat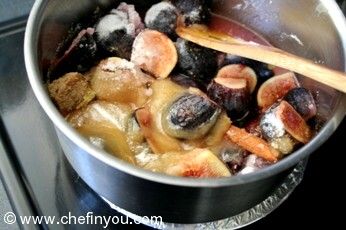 5
until the sugar dissolves.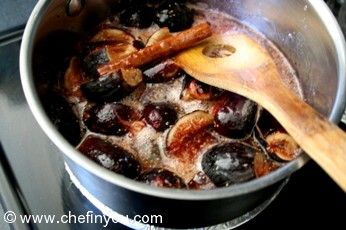 6
Increase the heat to med-high until it comes to a boil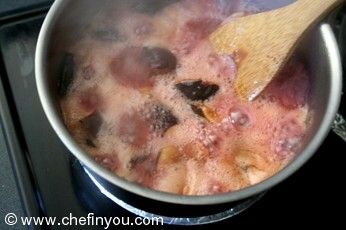 7
and starts thickening. Make sure to keep stirring on and off.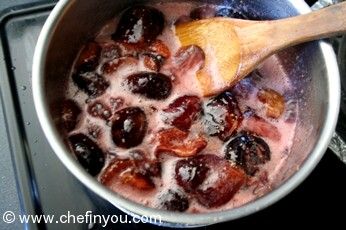 8
When the Jam starts reaching the setting stage, remove the cinnamon stick.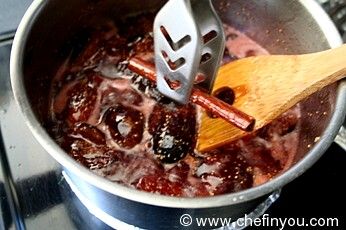 9
Check for doneness. I usually dip a chilled spoon into the boiling jam mixture. In the beginning, you would notice that syrup simply runs of the side of the spoon, but as the time passes it will start becoming heavier and would fall slowly as drops. You know its done when two drops form together and "sheets" off together from the spoon. Another test I do is by placing a plate in the freezer. When I am ready to test, I remove the plate and add few drops of the boiling jam mixture to the plate. I place it back in the freezer for few seconds. If the mixture gels, then the jam is ready.
10
When ready, remove the jam from the heat and set aside. Ladle the jam into 1 pint jars, let them cool and then store them in the refrigerator. If you planning for longer shelf life, then do
the canning process as picturized
here.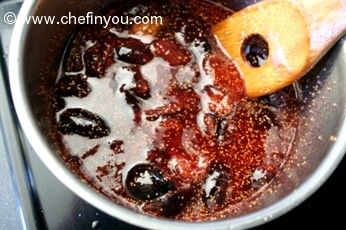 Enjoy it with your toast, oatmeal, on top of a baguette and anywhere your fancy takes you :)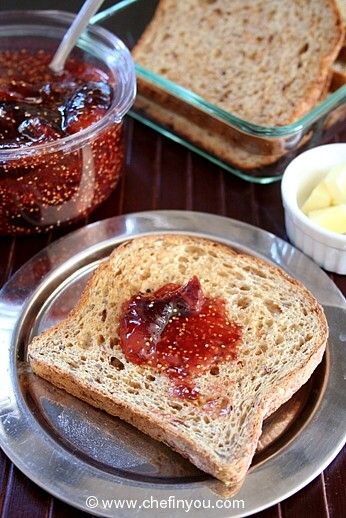 Related Recipes You May Like
Did you make this recipe?
Please click below to share your experiences while you were making this recipe. Thanks for your input!
Have a favorite recipe?
Know a family recipe your mom used to make? Or maybe a go to recipe that works everytime? Share it with your fellow foodies!