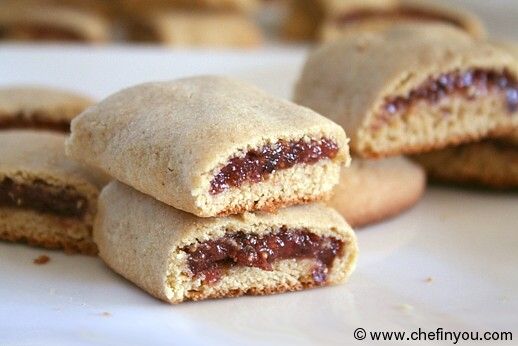 I first got to know of Fig newtons ages ago during my debut hike. Not used to so much exertion, I was bordering irritable. It dint help that my "company" kept insisting on the scenery.  Agreed, I am a Nature girl out and out, but amidst facing shocking reality ("waaiittaaaminute? You mean that's muscle pain? Whoa! I have Muscles?!!!"), I was not in the mood for any greenery (except for something on my plate!). I was utterly famished and my uber fit partner brings out some Fig Newtons from our back pack. I was like - "Nah! Can we have some food please?. Isn't it like lunch time already?". He quips -"Oh yes, it is. And that's what I am giving you - Lunch!".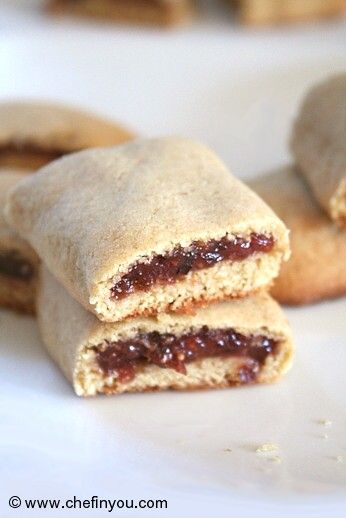 Only non-hikers and/or foodies will be able to conjure up my face at that time. So, as you can see, not a great introduction to Fig newtons ;) Now, years later - I count myself amongst the hikers (err..at least Hiking wannabes!) and I can survive a day of hiking on such bars without losing my sanity. Bye bye naivety (and rusty muscles). So you can imagine my excitement, when I got to know that I can actually make these myself at home. This is actually my first attempt at making these and the cook in me is feeling uber proud. Like I climbed Mt.Everest (OK I am not THAT fit, yet!)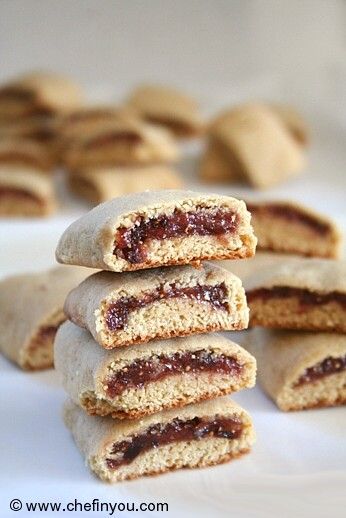 These are cakey with a nice chewiness to it, with that spiced fig jam giving it a delicious sweetness. Though the author of the original recipe insists on using dried figs to give that authentic Fig taste and for avoiding moisture from fresh figs, I couldn't help myself from using the homemade
Fig and Ginger Preserve (Jam)
I made few days earlier. That added to a nice moistness to these cookies. My little one and the Fig Newton Connoisseur in the house (the husband), loved these. You can use the dried fig filling as mentioned in the Tips section.
Basic Information
Yield
:
Makes anywhere from 20-30 cookies depending on the size
Ingredients
For the Dough
8 oz (abt 1-3/4 cups/ 230 grams) Whole Wheat Pastry Flour
4 oz (1/2 cup/ 113.4 grams) unsalted Butter, room temperature
3 1/2 oz (1/2 cup/100 grams) Sugar
1 oz (1 heapful tbsp/28 grams) raw Honey
1/4 tsp Baking Soda
1/4 tsp Salt
2 tsp Vanilla Extract
1/8 tsp Cinnamon
1 tsp Orange zest
3 Egg yolks
1 oz (abt 2 tbsp/28 grams) orange juice
Tips
1.
Figs Jam :
You can use any store bought jar or your own recipe for the Jam. Or you can use the recipe given at the original source where it combines 12 Oz dried black Mission figs, 2 oz unsweetened applesauce, 1-1/2 oz honey and 1/4 tsp cinnamon and pulsed until no chunks remain (smooth consistency).
If you want to
Bake using Microwave
pls refer to these articles:
1)
How to Bake in Microwave
2)
How to Bake in Microwave Convection Oven
For making
Substitutions
please refer my handy chart:
1)
Baking substitutions
2)
Egg Substitutions
Method
1
Sift the flour in a bowl.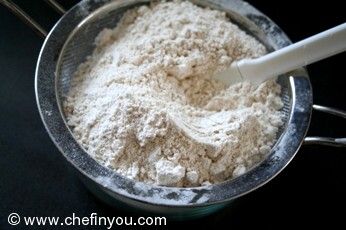 2
In another bowl, add the butter along with the sugar, honey,  baking soda, vanilla, cinnamon, and orange zest
3
and cream together on medium speed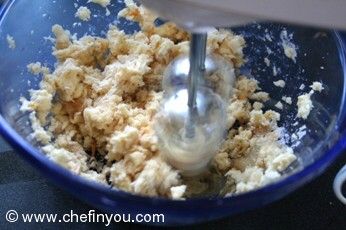 4
until the mixture is light and fluffy.
5
Next add the egg yolks one at a time,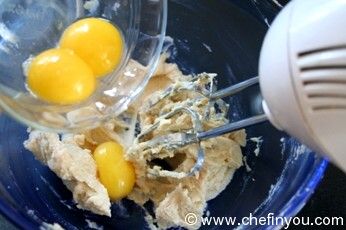 6
mixing thoroughly after each addition.
7
Next add in the sifted flour all at once.
8
Drizzle in the orange juice and beat the mixer on low.
9
Continue mixing until just homogenous. The dough will be very soft and wet.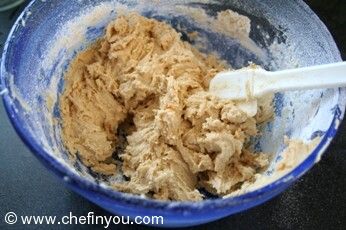 10
Using a rubber spatula, transfer the dough to a large sheet of plastic wrap.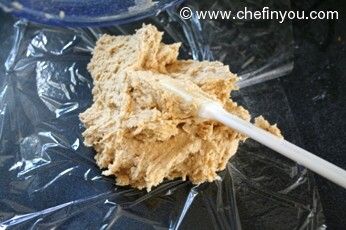 11
Fold the plastic over the dough and flatten into a disc. Refrigerate it for 4 hours or overnight.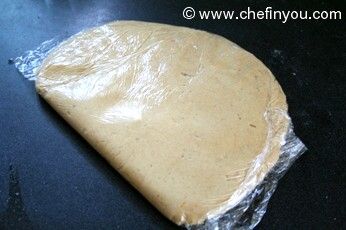 12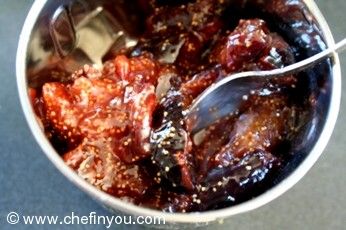 13
into smooth consistency to avoid fruit chunks in my filling.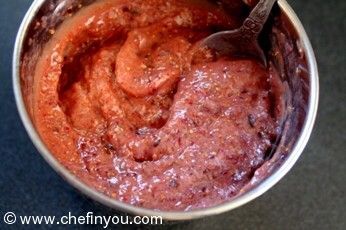 14
Making the Cookies: Preheat the oven to 325F.  Even after chilling the dough will be very soft.
15
The original recipe source suggests  to roll the dough on a heavily floured surface to 1/4 " thickness and cut the dough into several 3 1/4" wide strips. After trying  3-4 times and giving up with a sticky dough ( no thanks to humidity, heat and mess in the kitchen  and "I want all your attention for myself" toddler in tow), I opted to pinch of a small ball of the chilled dough ( with the remaining in plastic wrap in fridge while I worked with this one), I rolled it to abt 4" width and abt 6 " length.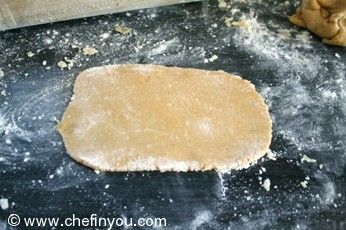 16
Dust the surface off excess flour with a dry pastry brush.
17
Place a strip of Fig filling in the center of the dough abt 1" wide.
18
Now to folding the dough over the filling. If its difficult, you can use a (offset) spatula to assist you in this process.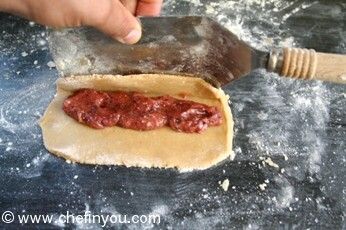 19
Lift one long end of the dough and fold it over the filling.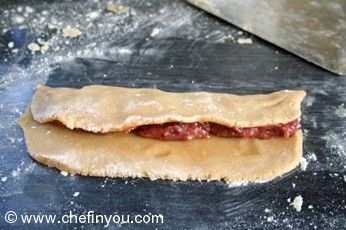 20
Repeat for the other end.
21
With your hands, you can pat down the bars and emphasize the shape. Dust off the excess flour with the brush like before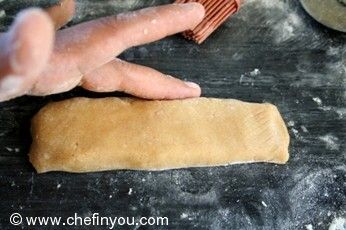 22
and place the cookies one by one on a parchment lined cookie sheet.  This folding is quite a work and you will see that you will improve with time.  You will see where I was enthusiastic, where I lost the patience and at what point my paining back said - "enough is enough" ;) But hey - lets forget that and say - Nothing better than a rustic looking home made Fig Newtons.
23
Bake them for about 12 minutes or until puffed and light brown. They will be only slightly firm to touch and in case you find that they are still puffy and moist to touch, then bake them for few minutes more.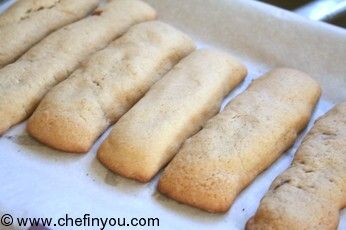 24
Now trim them (as soon they are out from oven) into several 1"  long cookies. I wasn't really precise so to speak. I was too impatient to just pick one up and bite into it :)
Storage: The author suggests to transfer them into a plastic container (with a lid) while still warm. You can also use a zip lock bag. This is to slightly steam the cookies ensuring that they will remain soft and cake like from end to end. If you don't do this, its still tastes as good, with the Newtons taking on a lightly drier texture, more like a cookie and less cake like. The cookies will keep, at room temperature, for about two weeks.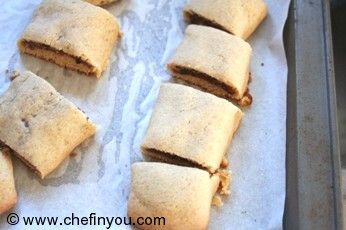 Since mine has a filling of fresh Jam, I asked Bravetart for the storing suggestion. She was kind enough to get back with a prompt reply - "
I don't imagine that would change the shelf life dramatically. Maybe shorten it a bit because of the excess moisture making the cookies soft? If you have any concerns, just store the newtons in an airtight container, refrigerated; that should help them keep longer.
" But from the looks of it, guess I need not have worried, cos they are half empty already!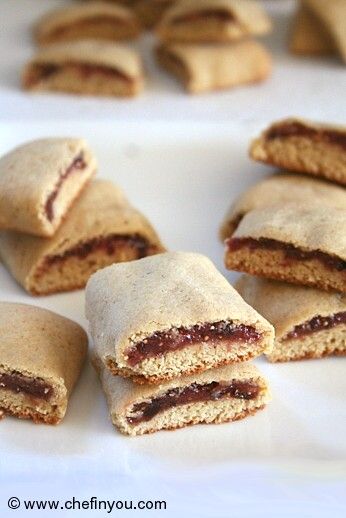 Related Recipes You May Like
Be the first to showcase this recipe!

Your Name
Did you make this recipe?
Please click below to share your experiences while you were making this recipe. Thanks for your input!
Have a favorite recipe?
Know a family recipe your mom used to make? Or maybe a go to recipe that works everytime? Share it with your fellow foodies!