American (White) Sandwich Bread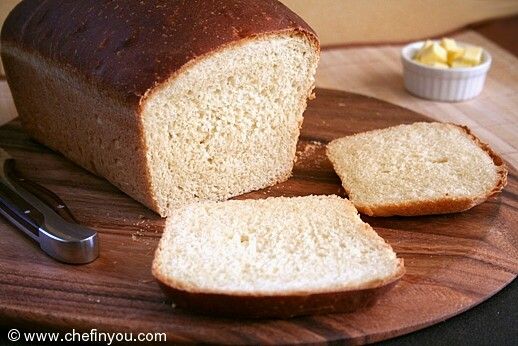 In how many ways can you possibly describe your love for bread? 5? 10? 15 perhaps? Now add 200% intensity to each of the sentences - and then you *
might
* just come to understand my love for these crusty, pillow
y
goodies. I can survive (
and have in the past on couple of occasions
) on these alone. And those who have been regular to this site must already know of this
bread obsession of mine.
These 
yeasty breads
take the first place followed by the 
Quick breads
. I know I am starting to sound like those TV show hosts of celebrity channels - repeating the same thing again and again till the viewer's start resembling 
Kim Kardashian's new Donna Summer look
.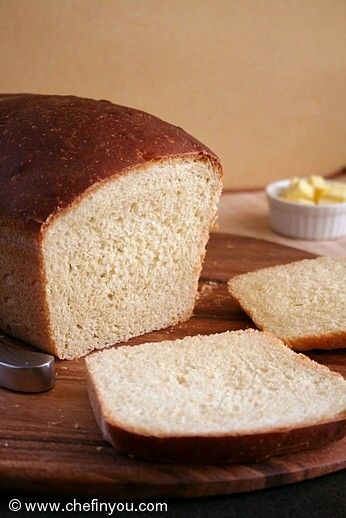 Err, well, I told you - I am obsessed. So, given this kind of fixation, I was shocked that I had not blogged this recipe till now. It was brought to my notice courtesy of my Recipe request section. I saw it and was like - "Why don't people search first?". I looked for the link and.."what? waiiit a minute? I don't have this in this site yet?". Needless to say, the quip from the better half - "Of course! Well, are you telling me that you are shocked, your site, does not carry recipes that people actually search for? I knew that ages ago!" - did not go well with me! Husbands - they sure know how to make you feel better, NOT.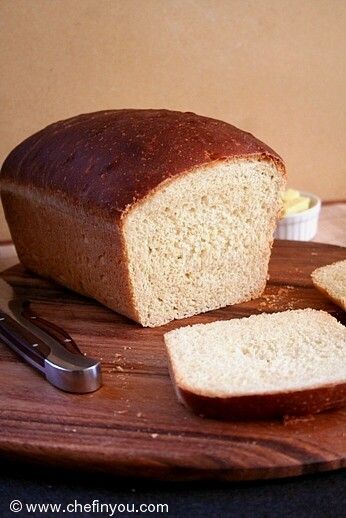 Anyways, THIS recipe, people, is my most favourite'stestest of all bread recipes. I don't make white bread often but when I do, I make this. I always have to make at least 2 loaves per batch 'cos otherwise it does not last me through the week. At times, it still doesn't. I mean, its not hard to see why anyone would love a good spongy piece of white bread. What's not to like.  This bread is all it should be - crusty with a tender crumb, spongy and soft textured - with the yeast playing merrily to make those beautiful holes we all love in our breads. These are perfect for toasts, sandwiches and for bread puddings.
Basic Information
Cook Time
:
30 min to 1 hour
Yield
:
Makes one 9-inch loaf
Ingredients
3-1/2 cups Bread Flour, plus some for dusting (see Tips)
2 tsp Salt
1 cup lukewarm 2% Milk (or Whole Milk)
1/3 cup lukewarm Water
2 tbsp unsalted Butter, melted
3 tbsp raw Honey
2-1/4 tsp rapid-rise/instant Yeast
Tips
1. Bread flour:
Normally from what I have read in many places, you are asked to substitute equal amounts of All-purpose flour as a substitute for Bread flour. But from what my readers told me w.r.t my
Homemade White Dinner Rolls
, it was not enough and that they required additional 1-2 cups of all purpose flour (maida). Keeping that in mind, since I was going to be substituting all purpose with bread flour, I reduced the amount by 1/2 cup. The idea is to use as little as flour possible. Too much will not give that beautiful texture and make tougher loaf instead. So if you want to use
All Purpose flour, use 3-3/4 cups
(start with 3-1/2 cups and add tbsp by tbsp not exceeding the 3-3/4 cups)
If you want to
Bake using Microwave
pls refer to these articles:
1)
How to Bake in Microwave
2)
How to Bake in Microwave Convection Oven
For making
Substitutions
please refer my handy chart:
1)
Baking substitutions
2)
Egg Substitutions
Method
1
Add 3-1/4 cups of bread flour and salt in a bowl and whisk to combine.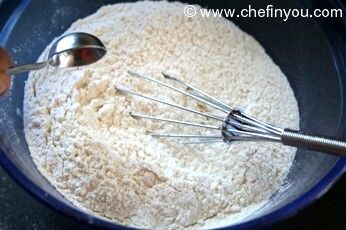 2
Mix milk, water, butter, honey, and yeast in another bowl and combine. Make sure that the temperature of milk and water is around 110 degrees.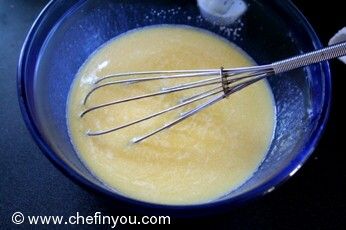 3
Add the liquid to the flour.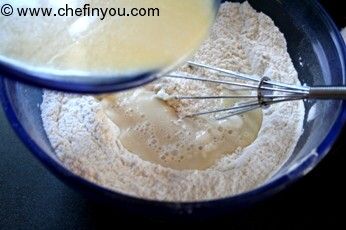 4
Start kneading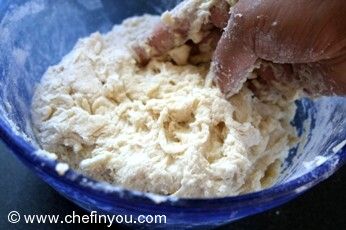 5
until the dough comes together.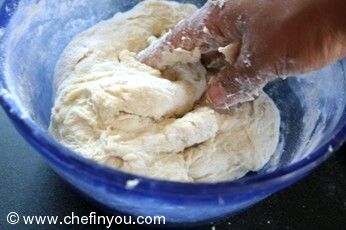 6
Turn the dough into a lightly floured work surface and start kneading until the dough is smooth and satiny, about 10 minutes.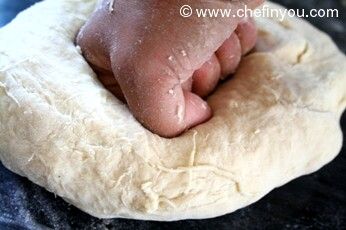 7
If you think that the dough is too wet, then add the remaining 1/4 cup of flour - tbsp by tbsp until it gets pliable. Avoid using excess flour.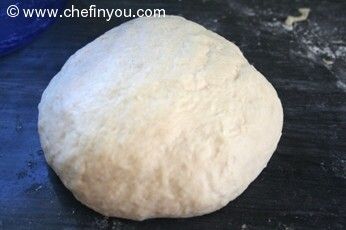 8
Place dough in very lightly oiled bowl, rubbing dough around bowl to lightly coat.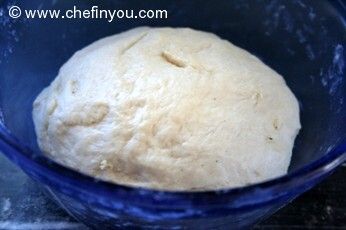 9
Cover bowl with plastic wrap; place in warm place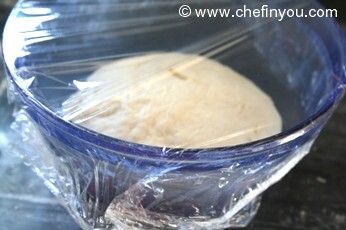 10
until dough doubles in size, 40 to 50 minutes.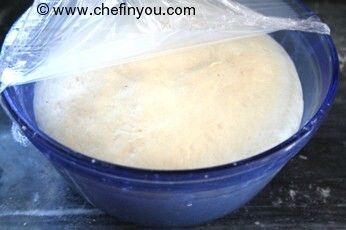 11
Shape the dough into a loaf and place it in a greased 9-by-5-by-3-inch loaf pan. I had a 8.5 X 4.5 X 2.5 (1.5 L) pan and used the same.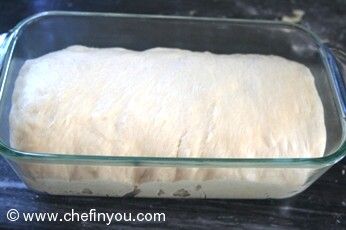 12
Cover with plastic wrap;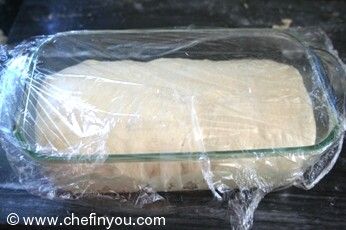 13
set aside in warm spot until dough almost doubles in size, 20 to 30 minutes.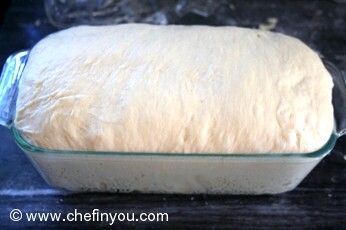 14
Heat oven to 350 degrees, placing empty loaf pan on bottom rack. Bring 2 cups water to boil. Remove plastic wrap from loaf pan. Place pan in oven, immediately pouring heated water into empty loaf pan; close oven door. This water in the lower rack is to create steam. Bake for about 40 to 50 minutes. Its done when you tap the bottom of the loaf and it sounds hollow.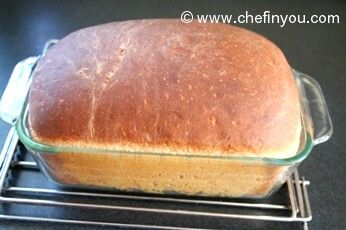 15
Remove bread from pan, transfer to a wire rack, and cool to room temperature.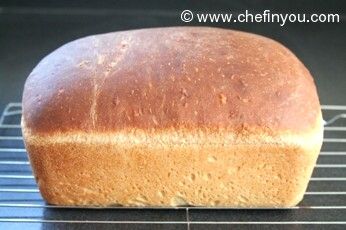 Slice and serve.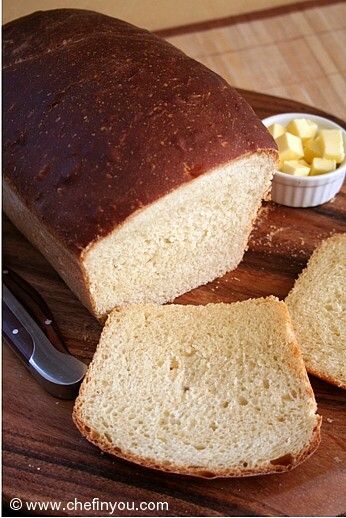 See that beautiful texture of the bread. Can you imagine how this would taste with some butter on top? And some jam perhaps? And...and..err...OK, will let you go overboard instead of me :)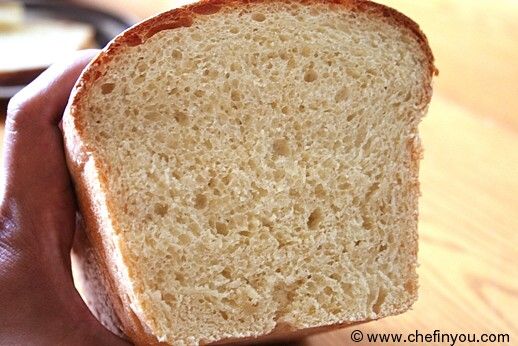 Related Recipes You May Like
Did you make this recipe?
Please click below to share your experiences while you were making this recipe. Thanks for your input!
Have a favorite recipe?
Know a family recipe your mom used to make? Or maybe a go to recipe that works everytime? Share it with your fellow foodies!