White Dinner Rolls (Indian Pav)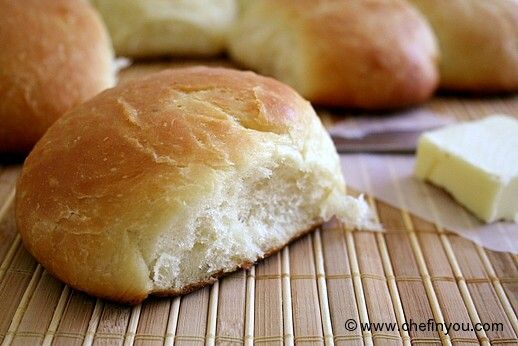 What Indians refer to as Pav
(as in Pav Bhaji)
is probably the dinner rolls to the western world! The soft textured buttery rounded bread is a world of its own! There is something to be said about the pillowy texture of these rolls which makes me go totally crazy for them! They are so versatile - use them as starters along with your soups, they make great breakfast bread with some butter and jam or use them as a side for something very spicy
eg. Indian Pav Bhaji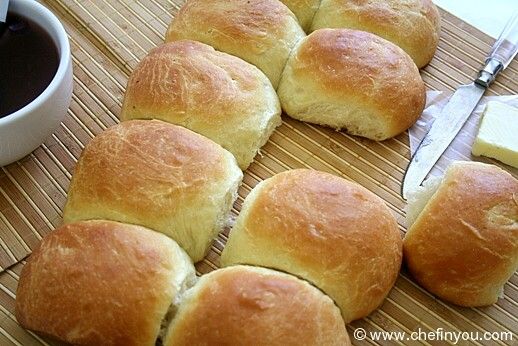 Its one of those rare baked goods which finds its way in without me tinkering it to add some wholegrains in it. Of course I have some healthy wholegrain versions too like this
Quinoa dinner rolls
but these are also most welcomed in my kitchen. I esp. love them with some butter and jam! Bliss!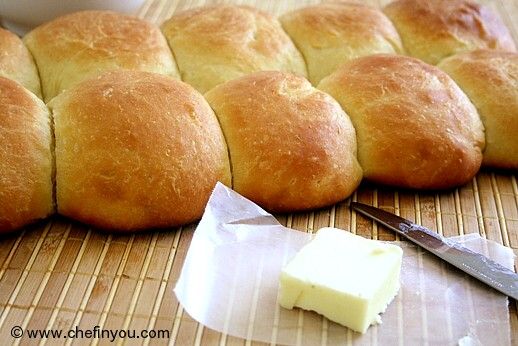 They are v easy to make and don't require lengthy or strenuous effort. They also make great presentation at your dinner table while entertaining. After I made them for the first time, I stopped getting the store bought ones. These are as good as any you can find and what more they are home made too! (not to say Fresh!). This is a basic dinner roll recipe.
References
my kitchen notes (original source misplaced)
Basic Information
Yield
:
Makes around 12 rolls or pavs
Ingredients
3 cups Bread flour plus few more for dusting (See Tips)
2-1/4 tsp Active Dry Yeast
1/4 cup lukewarm Water
1-1/4 cups milk ( replace 1/4 cups with 1 beaten egg if you prefer)
3 tbsp Butter
2 tbsp Sugar
3/4 tsp Salt
Tips
1.
Bread Flour :
If you do not have Bread Flour, you can use All Purpose flour. It has come to my knowledge thanks to few members and others who have tried this recipe that using equal amounts of all purpose flour makes a very wet dough and you need more flour to make it into pliable consistency. Normally I would recommend not more than 1/2 cup (with 3/4 cup max) all purpose flour but many members mentioned that it was more like an additional 2-3 cups flour. But thanks to
Mittu's feedback
, I would stick to only 1/2 cup additional flour. Pls refer her perfectly explained comment for details.
If you want to
Bake using Microwave
pls refer to these articles:
1)
How to Bake in Microwave
2)
How to Bake in Microwave Convection Oven
For making
Substitutions
please refer my handy chart:
1)
Baking substitutions
2)
Egg Substitutions
Method
1
Warm the milk to lukewarm (not hot) and add the butter to it so that it melts in the milk. Set aside. Mix yeast and water together along with sugar. Give it a stir and set aside until frothy.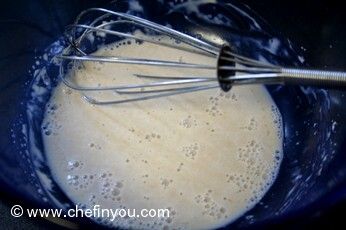 2
Now add the salt and milk+butter mixture to the yeast and stir well. Slowly add the flour one cup at a time to this mixture until slowly incorporated.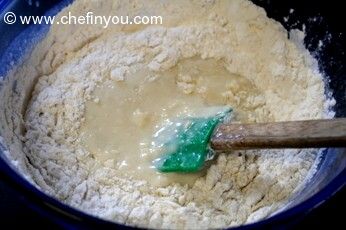 3
It will slightly sticky - dont add in more flour until really necessary. The stickiness will be replaced by smooth elasticity while kneading.  On a lightly floured surface , use all your muscles (or develop them!) to knead the dough very well. This exercise is important for the gluten to develop in the dough. This process (depending upon how much you have been working out at gym) takes about 8-15 minutes!!!!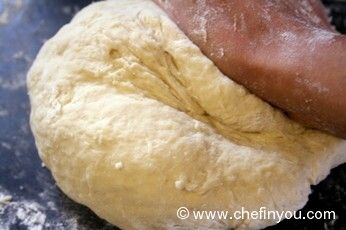 4
Once done, the dough looks this - soft yet v lightly sticky.
5
Place this on a lightly oiled bowl and cover it with a plastic wrap. (or damp towel).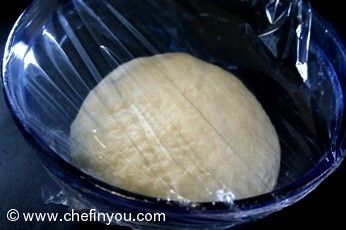 6
Place it aside in a humid place until doubled.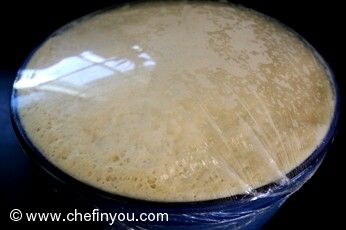 7
Turn out this dough on a floured surface and roll it out into a square.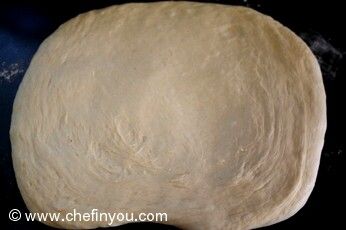 8
Using a knife cut it into 12 pieces.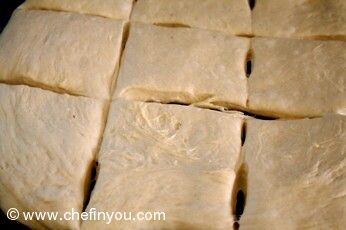 9
Roll each piece out in your palm to form a rounded shape (or rolls). Place them side by side on a baking sheet taking care to leave about 1-1/2 to 2 inch space in the middle. Place them aside once again to double. Its fine if they dont look perfectly round.
10
They will take a beautiful shape once they double again. They will also stick to each other once doubled giving that great roll shape.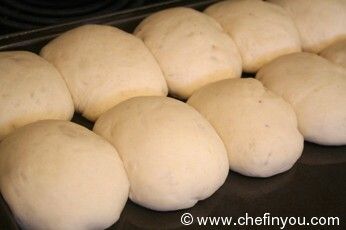 11
Now bake them in a pre heated 350F oven for 20-30 min until golden brown.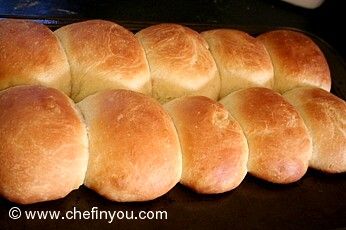 12
Cool them for few minutes before serving them
We enjoyed it both with our soup for dinner and with Jam and butter for breakfast the next day! Needless to say these rolls dint last long for me to consider storage for long term!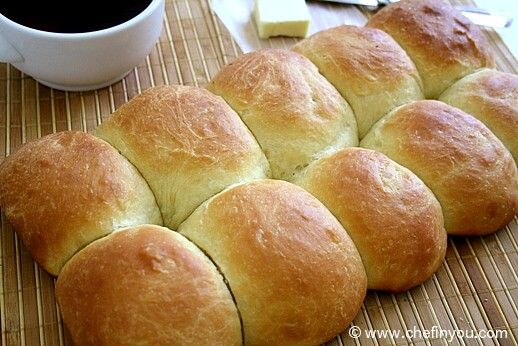 They can be very beautifully pulled apart to make single serving.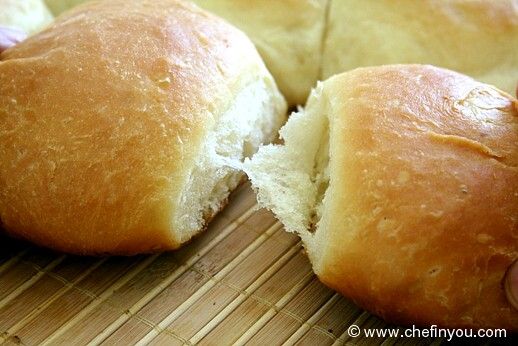 Related Recipes You May Like
Did you make this recipe?
Please click below to share your experiences while you were making this recipe. Thanks for your input!
Have a favorite recipe?
Know a family recipe your mom used to make? Or maybe a go to recipe that works everytime? Share it with your fellow foodies!