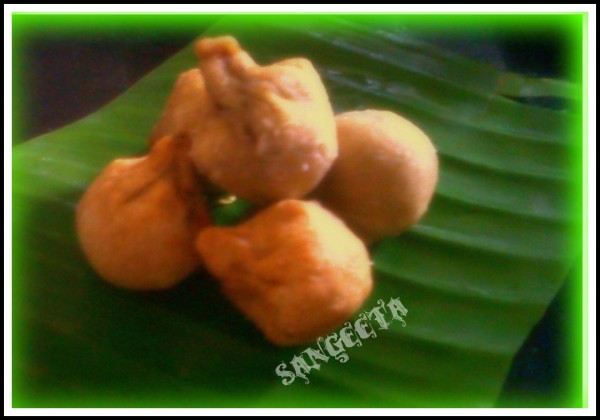 On Holy day of Ganesh Chaturthi...many types of modaks are prepared.......out of which this one is quick n easy 2 make....:)It is called talniche moak as in marathi frying is called talne....:)
References
i owe this to ma mom:)
Ingredients
For Cover:
1 cup all purpose flour /wheat flour / rice flour(for gluten free)
2 tablespoon oil(hot)
Salt
Oil for deep frying
For Stuffing:
1 cup fresh coconut (scraped)
1/2 cup jaggery (grated)
2 teaspoon poppy seeds(roasted)
2 teaspoon sesame seeds(roasted)
1/2 teaspoon cardamom powder
pinch of nutmeg powder
Method
1
For Cover:
Mix all purpose flour and oil,till give crumble look.Add salt and water to make it a very stiff dough. Keep covered for 1/2 an hour.and make balls to the equal numbers of the stuffing balls.
2
For Stuffing:In a pan add jaggery and coconut together till jaggery melts and forms a uniform mixture with coconut.Mix remaining things.Mix well and make small lemon size balls.
3
For Modak:roll the dough balls into small puris,keep the stuffing ball and cover with the dough to give modak shape.
4
In a hot oil,deep fry the modak on medium heat.......serve hot...if wish can drizzle caramel or chocolate sauce for that extra oomph to ur dish:)
This recipe was contributed by a ChefInYou member.
Related Recipes You May Like
Be the first to showcase this recipe!

Your Name
Did you make this recipe?
Please click below to share your experiences while you were making this recipe. Thanks for your input!
Have a favorite recipe?
Know a family recipe your mom used to make? Or maybe a go to recipe that works everytime? Share it with your fellow foodies!