South Indian Kadambam Rice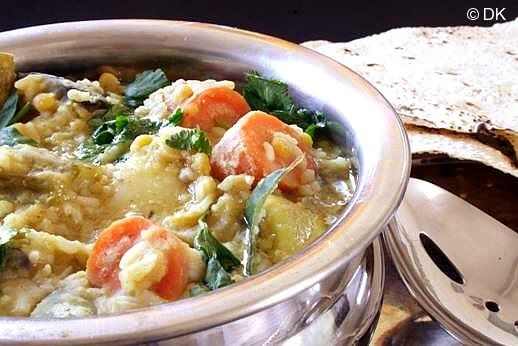 Some dishes never fail to remind you of home, of the warmth of mom's touch - in short that luxurious comfort which we never thought we will leave. But life moves on, and so do we. The ache slowly is replaced by new responsibilities and in accommodating new changes in our lives - but BAM! a spoonful of that special dish, one fine day, teleports your memory cells back to the days bygone. And this is exactly what happened when I made Kadambam(mixture in Tamil) Sadam(rice) Usually on the last day of
Pongal
- for Mattu pongal, we have a custom of making flavored rice like
coconut rice
,
lemon rice
etc. Few households also make this rice. It is an excellent option esp. if you like me get this sudden urge to throw everything you have in the fridge into a pot! If you like Sambar Rice and if you like
Bisi Bela Bath
, then this is another likable option for you, since I think this dish is between those two dishes. This is my mom's version which was given to her by her elder sister who is an excellent cook herself.
Basic Information
Cook Time
:
30 min to 1 hour
Ingredients
1 cup rice
1/2 cup Bengal gram (channa dal)
1 cup pigeon peas (toor dal)
1 tbsp tamarind paste
approx 3 cups of mixed vegetables chopped (ex. ladies finger, taro root, potatoes, sweet potatoes, eggplants, capsicum, peas, green pumpkin, drumsticks etc)
1/2 - 1 tbsp Sambar powder
salt to taste
few sprigs of curry leaves, cilantro and 1 tsp of sesame oil/ghee for garnish
Method
1
Cook rice with 3 cups of water. Meanwhile cook both the lentils together until cooked. Set aside. Par boil the vegetables for approx 10min.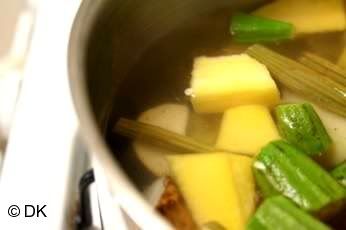 2
Mix the tamarind paste in 3 cups of water and bring to a boil in a pan. Add salt, sambar powder, curry leaves along with vegetables and let it cook for 5 min. The vegetables are par boiled since they are further cooked again here.
3
Add the lentils mixture and stir for another 2-3 min.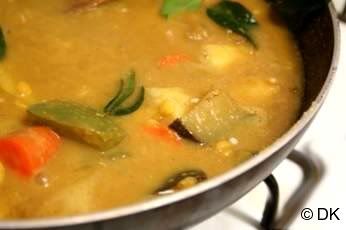 4
Finally add rice
5
and gently mix making sure not to mash the vegetables.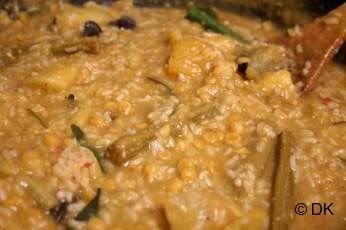 6
Garnish with cilantro and sesame oil/ghee and serve hot with papad.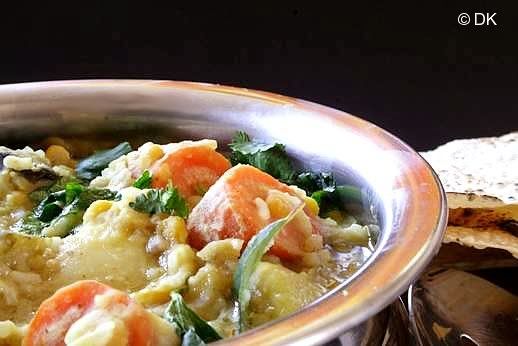 Related Recipes You May Like
Did you make this recipe?
Please click below to share your experiences while you were making this recipe. Thanks for your input!
Have a favorite recipe?
Know a family recipe your mom used to make? Or maybe a go to recipe that works everytime? Share it with your fellow foodies!