South Indian Coconut Rice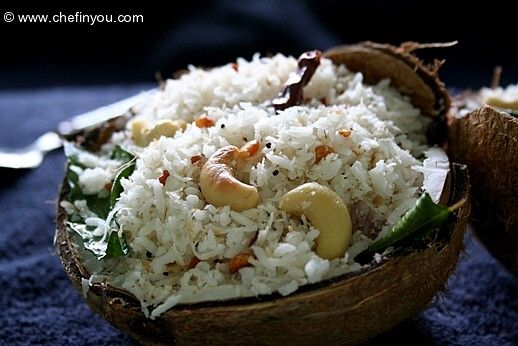 Its amazing how sometimes my mind works so differently from many of my friends. Not always in a good way am sure :). See weekends are the time when everyone needs that 'family' time together having hustled and bustled throughout the week- isnt it? That's the time when the woman of the house tends to cook something special for her family. My mother was like that, many of my aunts are that way and so are my friends. I especially remember one of my aunt who used to live one floor above us. Come Sunday, we would hear the coconut scraping at a predictable time. My father would immediately in good humor order me and my sister to go around the house and verify if all our clocks are running correctly! That's how precise my aunt was.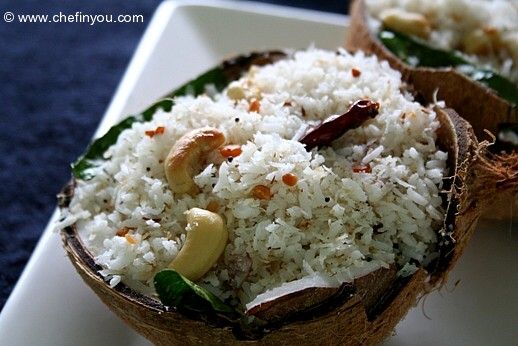 My brain works differently. I might be running late, I might be tired - whatever the reason might be, I prepare all the diverse dishes during the week. Come weekend - NADA! My kitchen except for baking my weekly bread would be as clean as it can get. My logic? Same as rest of them - "Family" time. I don't like slogging in the kitchen when I could instead be spending time with them. I used to wonder why my mother always insisted that we (esp. when my father was at home) sit near the kitchen and do whatever we were doing (mostly jabbering). She just wanted us around so that she could hear and join in. I am JUST the same, now that I am in her position. I would only agree to go and cook something provided my better half come and sit somewhere near me where I could watch what "he was upto"! ;)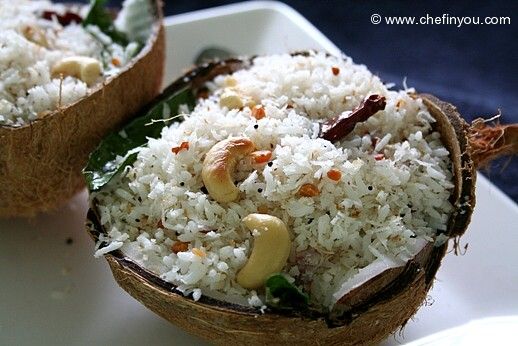 Inspite of that, the meal would be simple, something light, something 'not-so-special' in a normal sense! Like for example, this Coconut rice. It is a tasty dish of course, but this was a normal day to day affair during my 'growing up' days. Lunch box item, evening tiffin (extension of lunch) or in some case a quick and light dinner. Very common. Very Plain. And something like this is what I would make. :) I would rather 'spend' it with my family (be it may that we have to eat out) than sitting all alone in the kitchen while the rest of them have their own fun. Yup, I am selfish!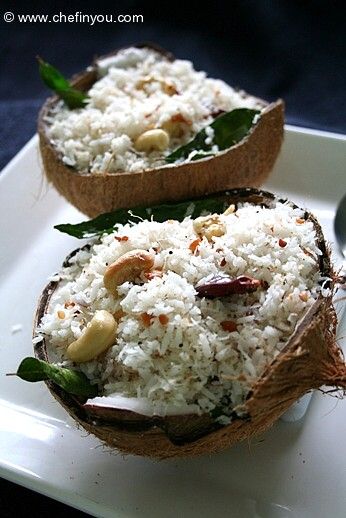 This rice as I said is a common and staple in South of India. It works great with leftover rice and if you have grated coconut ready on hand, then this is a cinch to make. Frozen coconut would work, but for some reason I simply don't like that bland taste that it gives no matter what I try. Fresh is the way to go for this. Coconut grater is a common appliance back in India and here it doesnt  seems to be as easily available. My mom used to have this
grater (or something which looked like this one )
. Smart that she is, she got me a wet grinder which has an attachment for this.
Ingredients
About 2 cups freshly grated coconut
1 cup of medium grained rice, soaked in some water for at least 20 min and cooked such that grains are separated. Left overs work great too.
2 tsp split black gram (urad dal)
2 tsp Bengal gram (channa dal), soaked in some warm water for 10 minutes
3-4 dried red chillies (or as per taste)
1 tsp mustard seeds
1/4 tsp asafoetida powder
few sprigs of curry leaves
few cashews (anywhere from 5-10)
salt to taste
Method
1
Before going into the recipe, let us first see the grating process of coconut.
2
As I said, I have this wet grinder which I use to make the traditional
Idli/Dosa batter
. I have an attachment - coconut grater - which is such a boon for me .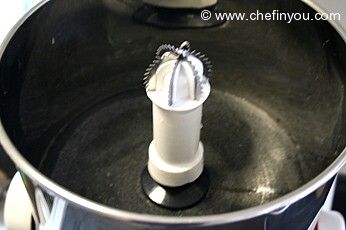 3
I let the grinder run and place one half of the broken coconut and place it on top of the grater.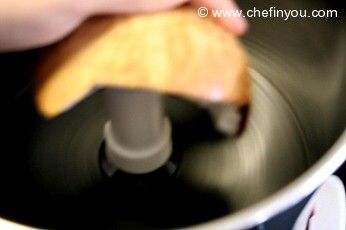 4
Slant it on the sides to grate the coconut from all the sides. Unless you are highly skilled, pls dont talk on the phone or day dream like me. I was so lost in nostalgia thinking of me scraping fresh coconut in my mom's kitchen which she needed for making absolutely delicious coconut burfi. (She otherwise did not use coconut in any other dish - since my father had diabetes). Anyways - thanks to all that day dreaming - guess what happened?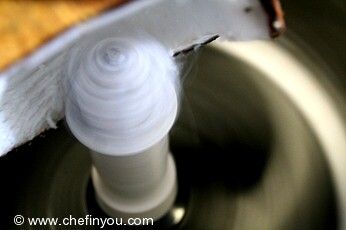 5
This of course!!!! Of course its a teeny weeny cut, but you want to be careful around it. I, of course, made sure that I din't lose my blood over the coconut! It would have been such a 'bloody' mess ;) ..and such a waste of.....my blood of course! What did you expect me to say? Coconut? Umm....well I sure know where my loyalties lie - not so much of yours!!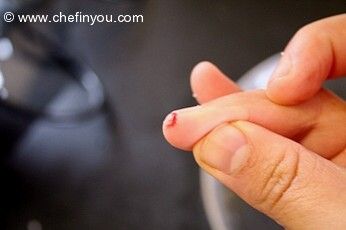 6
OK OK will go to the recipe (now I realize how my allotted blog drafting time always seems so short..I write way too much nonsense! oops there I go again!!!). Once you are done with the scraping, you get some fresh coconut. I love eating fresh coconut! Tastes Yum!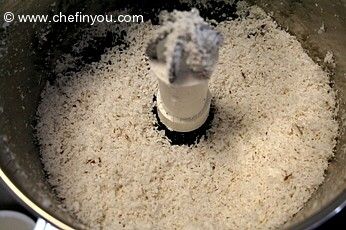 7
Now meanwhile, in a 1 tsp oil (or ghee for added flavor), temper the seeds. Once they start popping, add the black gram, drained bengal gram, red chillies, cashews , curry leaves and asafoetida. You don't have to add curry leaves now - can add it later. But I prefer this way.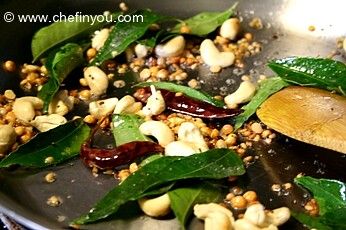 8
Once the lentils have browned and cashews roasted, add the grated coconut and stir for 5-10 min or until the coconut gets toasted and turns slightly reddish brown.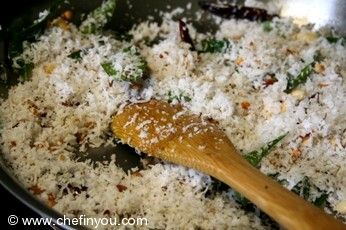 9
Now add the rice.
10
Mix well until combined.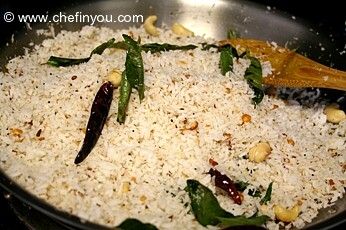 Serve hot. It's good plain, with papad (or popadam) or with delicious roasted potatoes!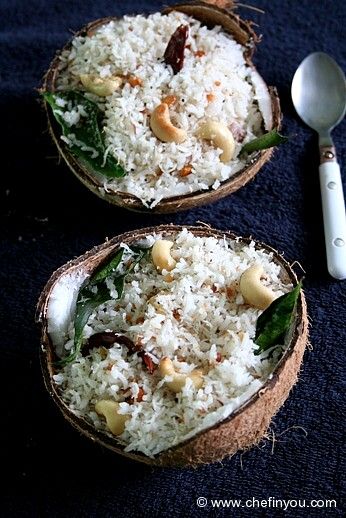 Related Recipes You May Like
Did you make this recipe?
Please click below to share your experiences while you were making this recipe. Thanks for your input!
Have a favorite recipe?
Know a family recipe your mom used to make? Or maybe a go to recipe that works everytime? Share it with your fellow foodies!