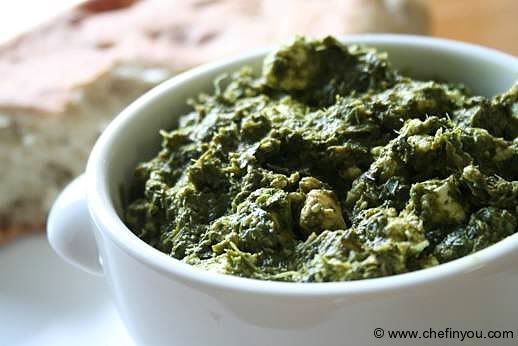 Adding greens is a must in my home. Having said that sometimes it so happens that I see fresh greens at the aisle and I cant help myself from grabbing all of them at once. What's wrong in that you might ask? Well, its just that I don't prefer to buy all my greens at one go, since every day spent lurking in the fridge corner, it loses nutrients and freshness. And who wants to eat greens on a daily basis anyways - yeah, sounds ideal but is it realistic?So the last time I went to grocery store, I saw super fresh bunch of mustard leaves, spinach and fenugreek leaves(methi). Its not often that I get fresh fenugreek (frozen rules my kitchen). With so many goodies what does one do? They make saag/sag paneer of course!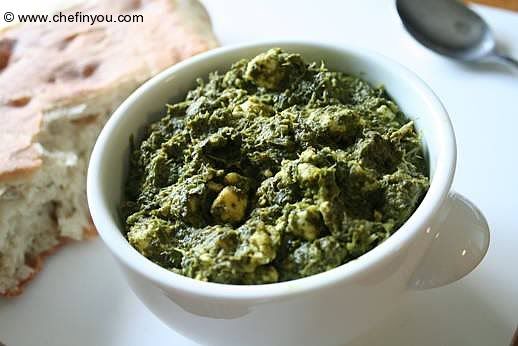 I have seen sag paneer, palak paneer and sarson ka sag being used interchangeably and at the end of the day, I don't see any difference between them most of the time. With lots of research and asking experts, I have come to a conclusion. So the question..
What is the difference between Sarson Ka Sag, Palak Paneer and Saag Paneer?
Palak Paneer
- Palak (spinach) Paneer (Indian cottage cheese) is a gravy based dish made by pureeing Spinach, cooked and enhanced with blend of mild spices and fried (or otherwise) Paneer.
Sarson Ka Sa(a)g
- Saag basically means any curry (In Punjab,India) made with any green leafy vegetables with mild assortment of spices. Sarson (Mustard Leaves) Ka Saag means a green side dish made predominantly with Mustard leaves. Since the taste of mustard by itself takes time getting used to, spinach is added to bring down its somewhat bitter, pungent/peppery taste.
Saag Paneer
- Paneer cooked in a green leafy gravy makes Saag Paneer. The greens can be varied to include mustard greens, spinach, fenugreek leaves or even something like mint/cilantro. So since I had all the greens in place, I made my saag with all the above mentioned greens. Also to enhance the health factor, instead of boiling the greens, I steamed them.
Less contact with water = more nutrition
. It also helps to retain the rich pleasing green color of this dish. You can make it as rich or as low calorie as you want. I opted for something in the middle to maintain the authenticity of the dish.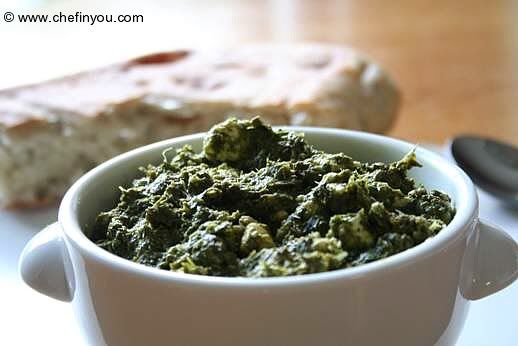 Ingredients
1 bunch Mustard leaves (if you like the taste, go for 2 bunches)
1 bunch spinach leaves
1 small bunch fresh fenugreek leaves
few leaves of fresh mint leaves (add freshness to the dish)
handful of fresh cilantro
1 tbsp ghee
1 onion,grated (or chopped v finely)
1 tsp ginger-garlic paste
1-2 green chillies (as per taste)
1 tbsp Makai ka atta (maize/corn flour)
1 cup Paneer, crumbled (you can cube it if you like)
1 tsp garam masala
pinch of turmeric (optional)
1/2 tsp coriander-cumin powder (optional)
salt to taste
Method
1
Cut the stems of the greens. Wash the greens well. The best way to wash them for me is to fill my kitchen basin with water and then put the greens in it. clean it well and most often you would find a residue of mud on the surface of the basin.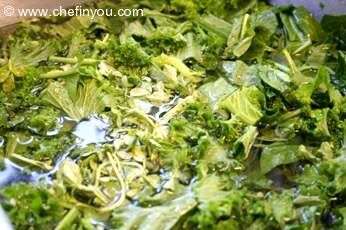 2
Chop them coarsely and place them in a steamer. You can alternatively boil the greens if you wish.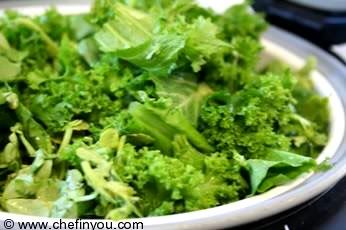 3
I don't prefer the greens to wilt completely since the beautiful color is lost. Steaming for approx 2-3 minutes should do it.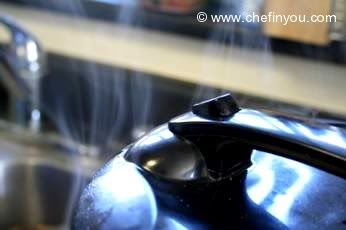 4
Blend the greens into a puree along with the green chillies. You can do it coarse or smooth as per your taste. I keep mine not too smooth nor too coarse.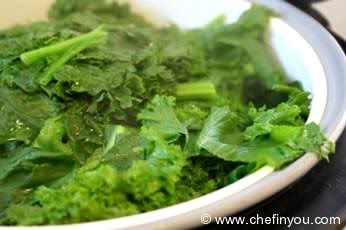 5
Now in a skillet, saute the grated onions, turmeric,ginger-garlic paste and coriander-cumin powder (if using) in Ghee (or oil).
6
Add the crumbled paneer and cook for 5 minutes until paneer is soft.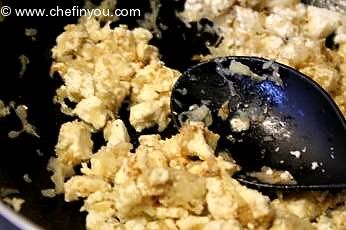 7
Add the greens puree.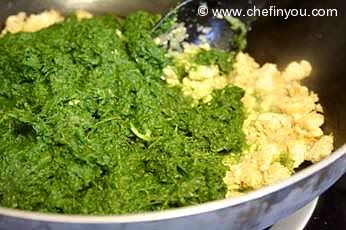 8
Stir the mixture until everything comes together and the it comes to a boil. You can thicken the mixture if watery with Makai Ka atta (Maize flour/corn flour) for that authentic touch, followed while making Sarson Ka sag. Or else a little cornstarch should do it too. If too thick , add little water to get your desired consistency. Add salt. You can also add lemon juice.
I like mine a little on the thicker side so that I can scoop out the mixture with my Naan bread or in this case, a piece of fresh home made olive-rosemary bread ( talk about fusion!).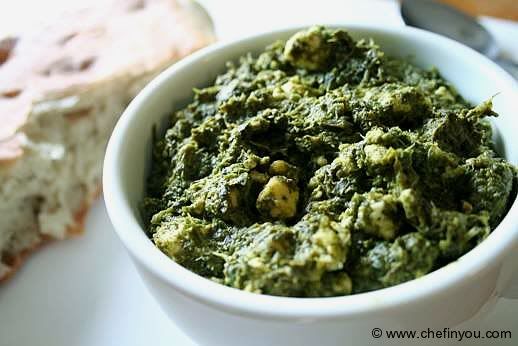 Related Recipes You May Like
Be the first to showcase this recipe!

Your Name
Did you make this recipe?
Please click below to share your experiences while you were making this recipe. Thanks for your input!
Have a favorite recipe?
Know a family recipe your mom used to make? Or maybe a go to recipe that works everytime? Share it with your fellow foodies!