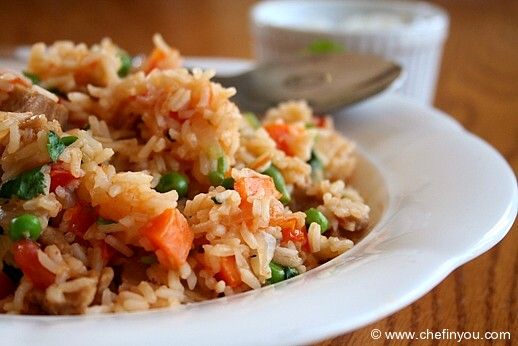 I am always on the lookout for rice recipes - and if it is simple enough, it makes my life much easier. Also it helps for packing lunch box. Talking about which - I have to say that while it is indeed a god saver to have a husband who has some international taste in food ( having eaten in countless restaurants for many years) since you get some free tips on different recipes all over the world - it also comes with unwanted package. You know you are always going to be judged with some restaurant standard tastes. So when I try to create some 'had-this-dish-in-so-and-so-restaurant' recipe (of course without knowing how it should taste in the first place, I most often end up with 'uhh-nice-but-well-that-one-was-different'. Ask 'what's different?' and pat comes the most unhelpful answer 'mm-dunno-something-missing'! Great! Now I know!!!!!!!!!!!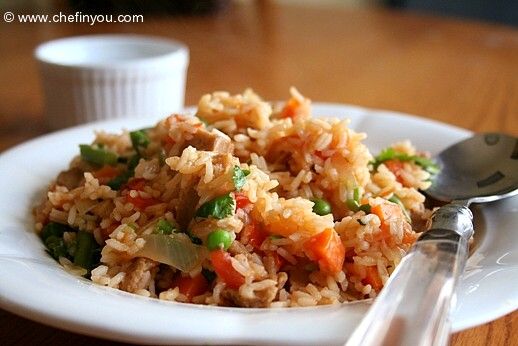 Few recipes work bang on - like
Focaccia
,
Kimchi
,
Bee Bim Bap
and
Ratatouille
which worked bang on with him the very first time I made it (and which I had never tasted before then). On those cases when I actually have them later in the restaurants, it amazes me sometimes how close many of my such tries come so close :) In this list is this Jollof rice. He has had the vegetarian version of this dish. It is similar to Indian Tomato rice only with some protein (meat, fish etc) added to it. I used Seitan to replace the meat (which is entirely optional). One can use only vegetables alone. The variety of vegetables depends on you.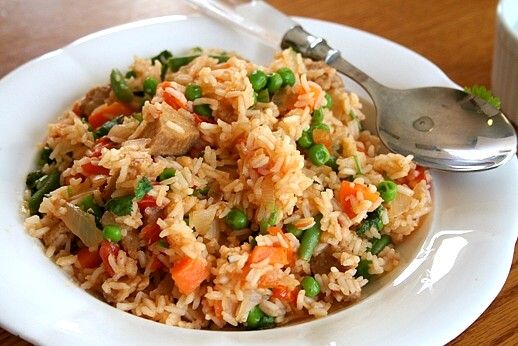 African Jollof
is also called as ''Benachin'' which means 'One Pot' in the Wolof Language. It is a popular dish especially in Nigeria and Ghana and enjoys quite a handful of variations. The basic components seem to be the same which has ingredients like Tomatoes, tomato paste, rice and onions. The kind of meat or vegetables is entirely up to you along with spices. Here is my version with more vegetables and vegetarian protein - seitan.
Ingredients
1 cup rice (long grained or medium variety)
1 tsp cumin
1 tsp curry powder
1/4 tsp nutmeg powder
1 onion
2-3 cloves of garlic (as per taste)
1 inch piece of ginger, peeled and grated
1-2 green chillies ( or as per taste)
1 tbsp tomato paste
2 large tomatoes,chopped finely
1 carrot,cubed
1 pkt Seitan, cut into small chunks ( about 2 cups - Skip it make this recipe gluten free
1/2 cup each of chopped beans and peas (I used frozen hence added last. If using fresh cook it along with the rice)
salt to taste
cilantro or parsley to garnish
Method
1
Add 1/4 tsp groundnut oil, add the cumin seeds and when they splutter add onions along with ginger,garlic and chillies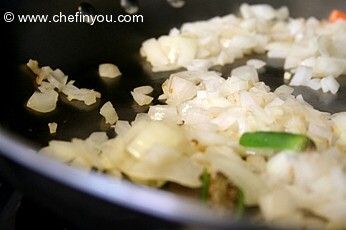 2
Add the chopped carrots next and saute for a minute with little salt.
3
Add the tomato paste, tomatoes along with curry powder. Cook until tomatoes get slightly soft. Add the rice next. Saute for another 2 minutes or so.
4
Add 3 cups of vegetable stock/water, required salt,close the lid and cook until 90% cooked
5
Add the frozen peas and beans along with Seitan. Since I used to precooked variety, it just needed warming up and not cooking per se. Hence added them last along with frozen vegetables. If using fresh add it along with rice.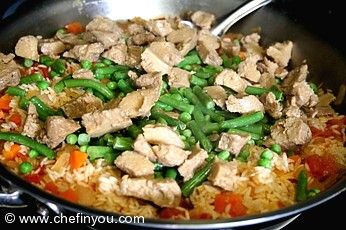 6
Stir it until well combined, add nutmeg and  cook for another 5-6 minutes or so for the flavors to get together. Add lots of garnish and serve hot.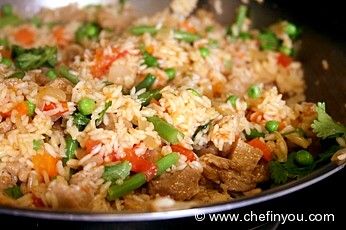 I served with some
vegetable chips
and some raita. Any raita will go well with this dish.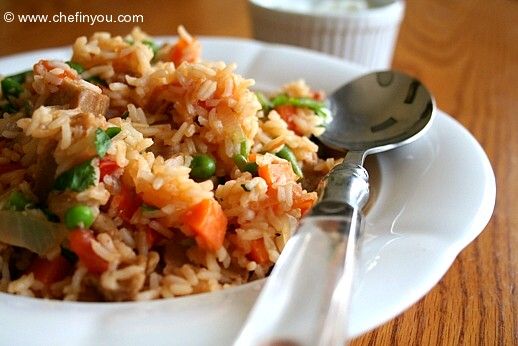 Related Recipes You May Like
Did you make this recipe?
Please click below to share your experiences while you were making this recipe. Thanks for your input!
Have a favorite recipe?
Know a family recipe your mom used to make? Or maybe a go to recipe that works everytime? Share it with your fellow foodies!