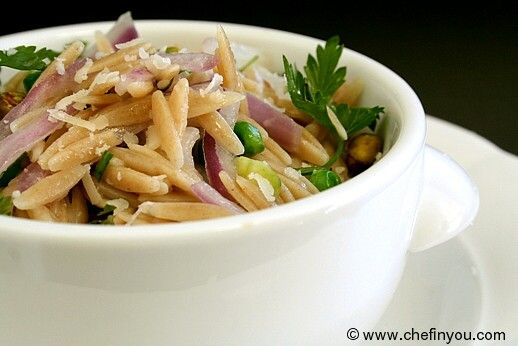 I dig simple recipes - after all one should be incentivized, for even thinking of cooking at home after a hectic day at work isnt it? But cooking same old day to day meals can be boring! And who has the time to think of new stuff anyways? When I wanted to make changes to my same old meals, I thought of simply revamping some of my oft repeated dinners with minor changes. Instead of kidney beans, switch it to cannellini beans, instead of couscous try quinoa, try brown rice instead of regular white rice, go for hearty one pot soups instead of elaborate 3 course meal, go for Orzo instead of regular macaroni or spaghetti pasta! Probably same recipe but with a new makeover! Avoids tedious 'oh-no-same-old-stew' voices around the house and you don't have to struggle to make this happen to!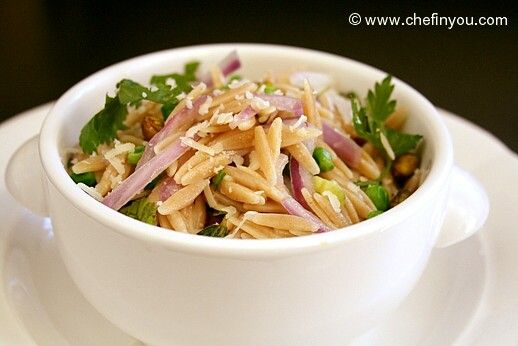 Just like the other day at
Facebook
many of us bloggers had an interesting discussion around the
African Jollof Rice
. Many of you, especially Indians, have already made it - only you never called it that! But give your tomato rice a new makeover - add a dash of this and that, call it African Jollof and you know you just cooked up a meal which will get over in a jiffy! What more - its not 'same-old-tomato-rice' anymore and you din't have to lift up an extra finger :) Here is a regular pasta recipe which I make but instead of using my regular pasta, I used Wheat Orzo instead. It gets done in a jiffy. Healthy, Simple and Hearty
under 15 minutes
!.
Ingredients
About 2 cups wheat orzo
1/4 tsp olive oil
1 medium red onion, sliced
1/2 cup peas
1-2 cloves minced garlic, as per preference
zest and juice of 1 lemon
1-2 tbsp pistachios
approx. 3 tbsp mixed herbs, chopped ( I used parsley,chives,marjoram,thyme,oregano etc)
salt and pepper to taste
1-2 tbsp freshly grated vegetarian Parmesan (optional, skip to make it vegan)
Method
1
Cook orzo as per the packet instruction. Set aside.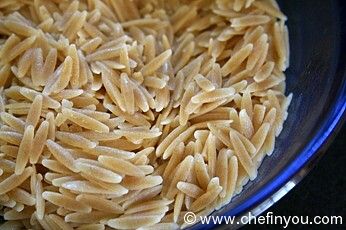 2
Alternatively in a skillet, heat 1/4 tsp oil and saute onions and garlic with little salt, until soft.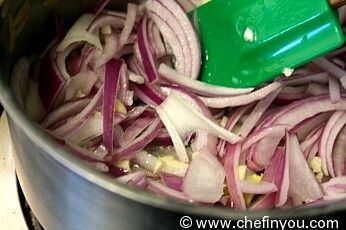 3
Add the peas and cook for another 2-3 minutes. Switch off the heat.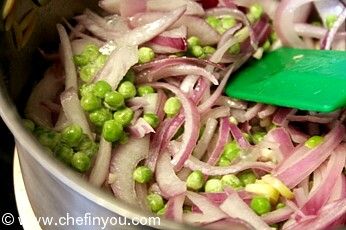 4
Add this mixture to the orzo along with lemon juice, zest , herbs and pistachios. Toss to mix well. If you desire, you can add some more olive oil to get a glossy sheen to make it more presentable.
Top it off with some freshly grated Parmesan. Dinner's served!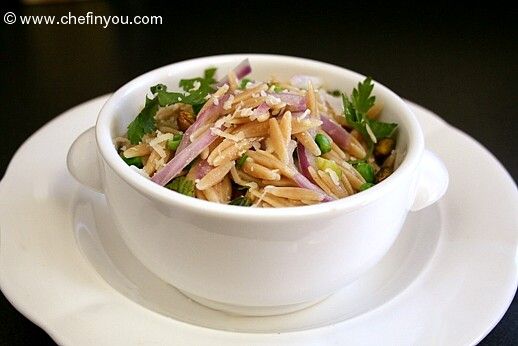 Related Recipes You May Like
Be the first to showcase this recipe!

Your Name
Did you make this recipe?
Please click below to share your experiences while you were making this recipe. Thanks for your input!
Have a favorite recipe?
Know a family recipe your mom used to make? Or maybe a go to recipe that works everytime? Share it with your fellow foodies!