Kheer/Pal Payasam (Indian Rice Pudding)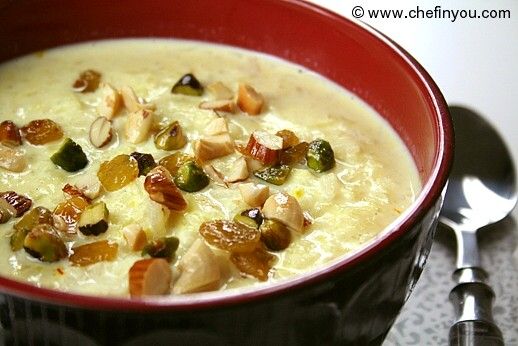 Just like Halloween is unthinkable without
Pumpkins
, so is an
Indian festival
without this Kheer. "Kheer" in Hindi denotes sweet pudding commonly referring to Rice Pudding. Although there exists myriad varieties, this rice pudding rules the roost. You might even call it the King of the Indian sweet puddings. Any celebration, any traditional function and what more, even for day to day entertaining this Rice pudding finds its way into the menu. It is also known as "Pal Payasam" in the South of India - "Pal" denotes milk and "Payasam" is for Pudding.
Unlike most of its counterparts, this is one Indian sweet which is very simple and easy to make. In fact bringing out the richness and elegance with simplistic of ingredients is what makes it numero uno in my opinion. The slow cooking of the milk along with rice creates that delicious thick rich flavor. Though it takes time to prepare, there exists multitude of quick versions which make life so simple. If you have say only 20 or so minutes and you need to make this sweet, then simply pressure cook rice with milk for 2-3 whistles (takes about 10 minutes in small pressure cooker). Now pour this in another saucepan, add condensed milk, sugar and nuts. There you have it :)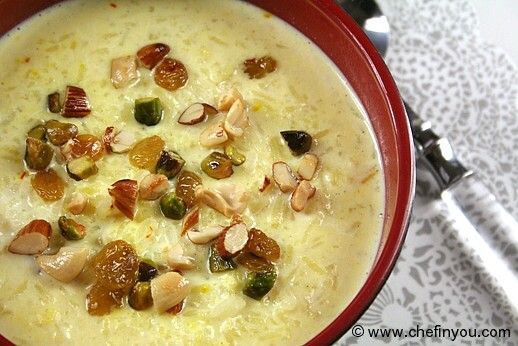 But try the following method at least once. Its totally worth it if you have never made it. This is most loved pudding in my family and especially my father is a die-hard fan of this sweet. I could not help but miss him terribly while making it in my kitchen miles away! You can make it as sweet you want. I prefer very mild sweet hence added only 2-3 tbsp but you can add more if you want to. My recipe is in no way different from many of them available on the net although I use short grained / medium grained rice. I think this is more suited than the Basmati rice which is asked for in many recipes.
Basic Information
Cook Time
:
30 min to 1 hour
Ingredients
1/4 cup short/medium grained rice
4 cups whole milk (go for low fat only if absolutely necessary)
sugar to taste - I used 3 tbsp ( 1/4- 1/2 cup should be enough )
pinch of saffron
1/4 tsp cardamom powder
1-2 tbsp nuts ( I used almonds, pistachios and cashews)
4-5 raisins (or more if you like it)
1 tsp Ghee (preferred more than butter)
Method
1
In a saucepan, heat the ghee. Add the chopped nuts along with raisins. Set aside when raisins get plump and nuts turn reddish brown.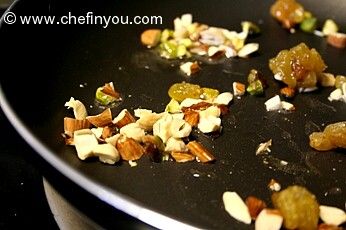 2
In the same pan, roast the rice for 2-3 minutes in low heat.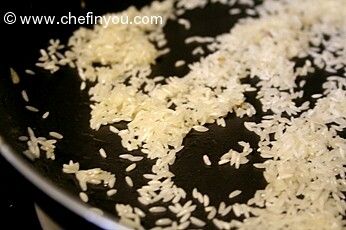 3
Now add the milk. Increase the heat to med-high and let it come to a boil
4
Give it an occasional stir so that the milk does not stick to the bottom. Non stick pan works great for this. Also take care not to let the milk burn. Even a little burn spoils the milk. Add sugar and give it a stir.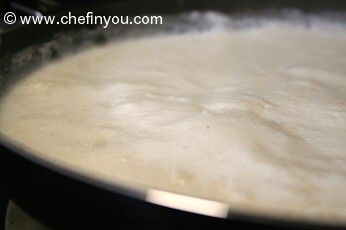 5
Reduce the heat to medium and cook until the milk has reduced in half. Keep stirring often. You know its done when the milk has reduced and also the rice has cooked and is soft (not mushy). This process takes approximately 20-30minutes.
6
Add rest of the ingredients - saffron, cardamom and half of the roasted nuts.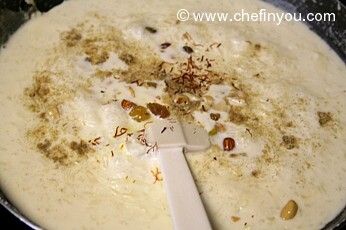 7
Give it a stir until combined and serve garnished with the remaining nuts.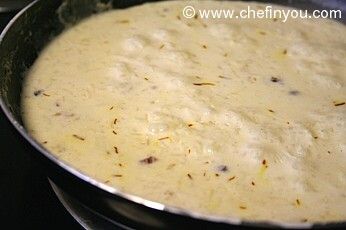 You can serve it hot or cold.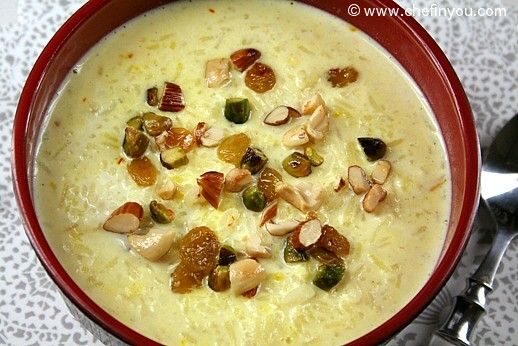 The pudding thickens with time - you can rectify it by adding more warm milk to it.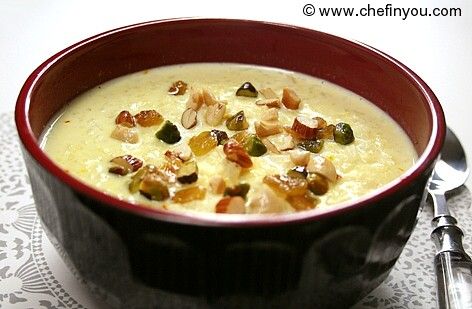 Related Recipes You May Like
Did you make this recipe?
Please click below to share your experiences while you were making this recipe. Thanks for your input!
Have a favorite recipe?
Know a family recipe your mom used to make? Or maybe a go to recipe that works everytime? Share it with your fellow foodies!