Vegan Tofu Turkey ( Tofurkey )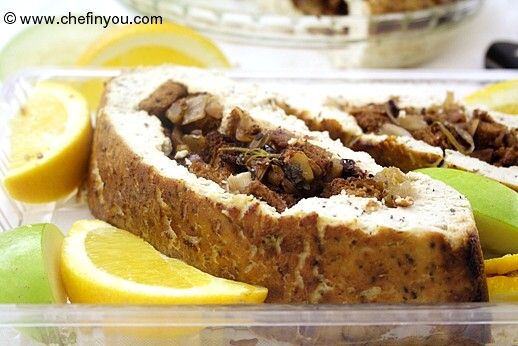 This is the closest I am going to get, as far as cooking and eating meat goes. A shocked husband and a helpful (American) neighbor's advice on how to carve this "bird of mine", was enough to make this a big success for me. It took a whole 5 minute of prodding and smelling by the husband to finally convince himself that this was indeed
TOFU
! Tastes wise, not knowing how a Turkey originally tastes like, I would still maintain that this was flavorful and appetizing.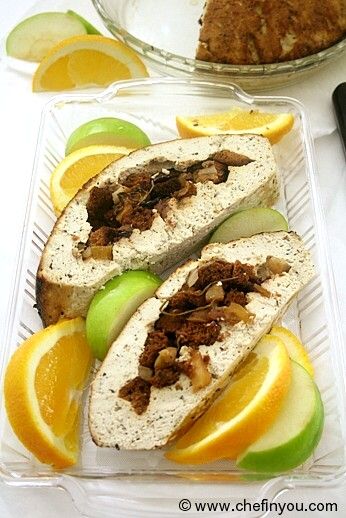 But when you are making it, just add flavors as per your tastes or how you would normally prepare yours. Tofu will absorb more flavor if you let it sit along with seasonings. Tofu is a common ingredient that I use often for its protein. With this being the case, it was inevitable I get curious about Tofu Turkey or Tofurkey. I have followed this recipe from Vegetarian times.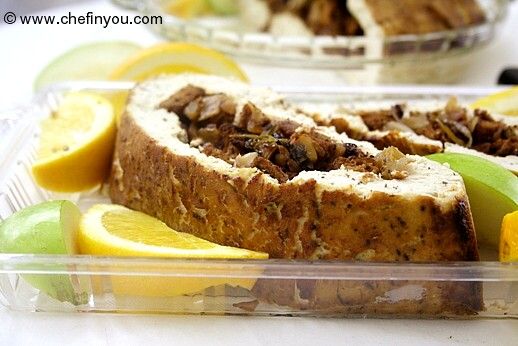 I changed the technique and few ingredients to suit my palate and comfort zone. I absolutely LOVED the stuffing. I usually don't like to mix savory and sweet ingredients, but I loved this one so much so that I almost finished 1/4 of the stuffing before I even got to stuffing. This recipe is Vegan, Diary Free, Gluten Free, Egg free but absolutely NOT flavor free ;)
Basic Information
Prep Time
:
8 hours to 1 day
Ingredients
For the Tofu Turkey
5 14-oz. tubs extra-firm tofu
2 tsp. ground dried thyme
2 tsp. rubbed sage
1 tsp. onion powder
1 tsp. garlic powder
about 1 tsp orange zest (optional)
salt and pepper to taste ( if you want to use vegan bouillon powder, skip the salt)
For the Marinade
1/4 -1/2 cups low sodium tamari or gluten free soy sauce
2 tbsp olive oil
2 tbsp orange juice
1/2 tsp sesame oil
For the stuffing - approximate measurements, use as per taste ( original recipe in VT 35th anniversary issue, Or use your own stuffing of choice)
about 4 cups of gluten free bread cubes ( or use oatmeal or whole wheat bread cubes)
1/2 cup almonds, coarsely chopped and toasted
1 small-medium red onion
1 celery stick
1 apple, peeled and diced ( i kept the peel)
1/2 tbsp fresh sage, cut into thin strips
1/2 tbsp chopped cilantro or parsley
1/4 tsp crushed red pepper
1/4 tsp ground peppercorns
1/4 tsp ground nutmeg
1/2 tbsp maple syrup
1/2 tbsp balsamic vinegar
1/4 cups dried cherries
1/2 cup no-salt vegetable broth or water
Method
1
Method ( Tofu Turkey - Previous night Bring the tofu to room temperature. Squeeze tofu of excess water and take small bits and place them in a processor.
2
Process them little by little until smooth.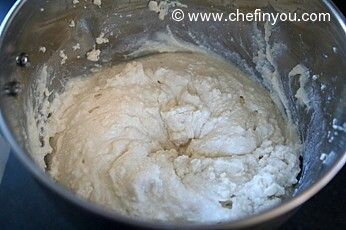 3
Place them in a large bowl and mix all the seasoning. You can at this point even taste the tofu and add more seasoning or flavor to make sure it does not taste real bland.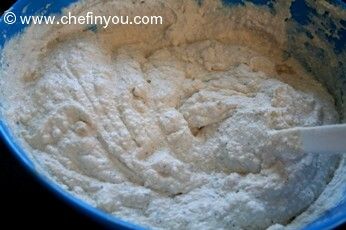 4
Wet cheesecloth, wring it out and smoothly line a colander with it—no wrinkles.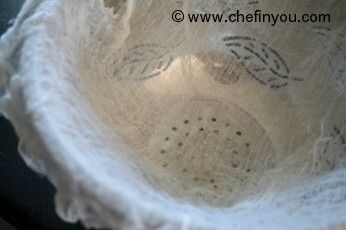 5
Drop the tofu inside the colander and press it into the sides and bottom of the colander.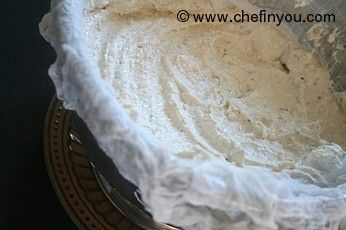 6
Place this colander on a plate. Bring the hanging cheesecloth on the sides into the center to cover the tofu.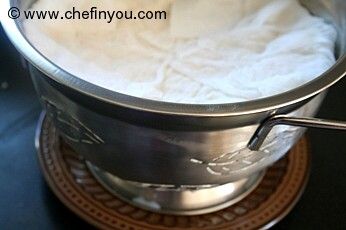 7
Now place a plate right on top of the tofu and give it a slight press. Use a heavy object to place on top of the plate. This is to help the tofu drain excess water through the colander. Place this inside the refrigerator overnight (ideal time). This helps the tofu to absorb the seasoning well too.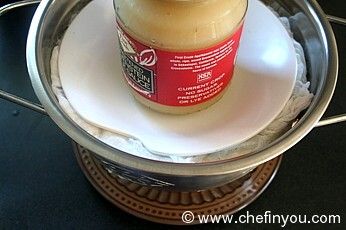 8
Method (On day of making the tofu turkey) - For the Stuffing I eyeballed most of the ingredients, so use your discretion when preparing them. Place the cubed bread cubes on a baking sheet and bake them in a preheated 225F oven for 20-30 minutes or until dry and crisp.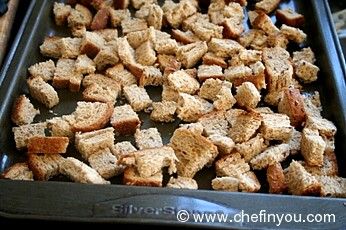 9
Meanwhile, heat a skillet. Add about 1 tsp oil and saute the onions and cook for 3-4 minutes or until soft. Add celery and saute for 2 minutes more.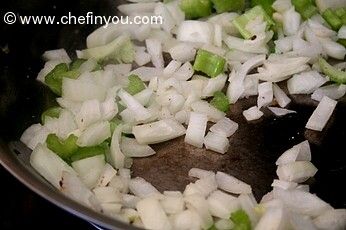 10
Stir in the apples along with other seasonings. Cook for 5 minutes. Add maple syrup and the vinegar and remove from heat.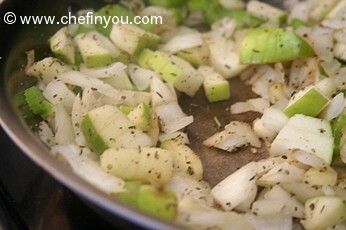 11
Combine the bread cubes along with apple mixture. Stir in almonds and dried cherries. Transfer to a greased baking sheet and pour broth over the top. Cover with foil and bake for 20-30 minutes or until the stuffing begins to brown on top. You can make a crisp filling by removing the foil and baking for 10 minutes more.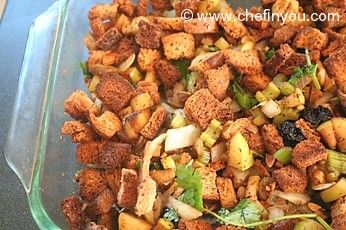 12
Method - For the Marinade Mix all the ingredients for the under the marinade until combined.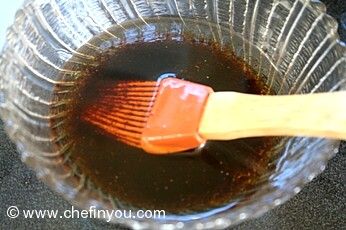 13
Method - For the Assembly Preheat oven to 375F. Drain the Tofu water from the plate on which you placed the colander.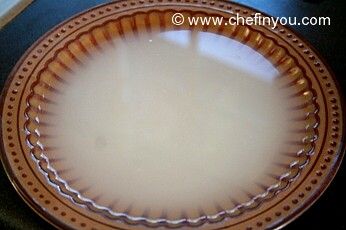 14
Remove weight and plate from colander.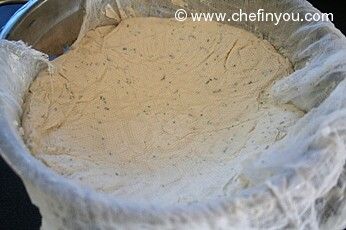 15
Now scoop some tofu from the center. Make sure to leave at least 1-2 inches on the sides and bottom.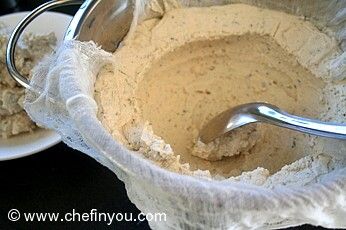 16
Now fill this hollow with the stuffing.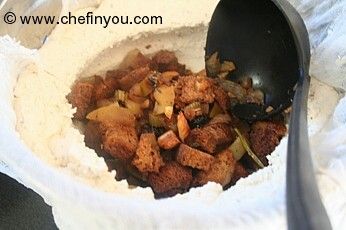 17
Now top the stuffing with the scooped out tofu.
18
Make sure to smooth the surface and level it out.
19
Place a large oven to table baking sheet (I used a pie plate large enough to cover the colander opening) on top of the colander.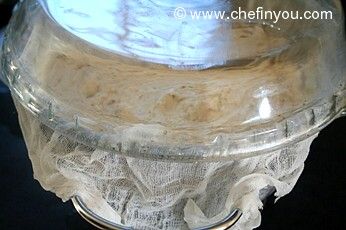 20
Hold tightly, and slowly invert colander onto the plate so that tofu-turkey drops gently onto dish.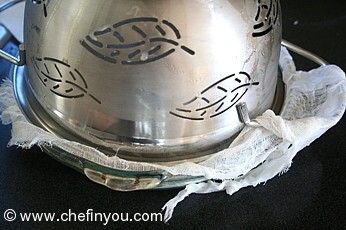 21
Now slowly remove the cheesecloth from the tofu.
22
Can you see the white dome now?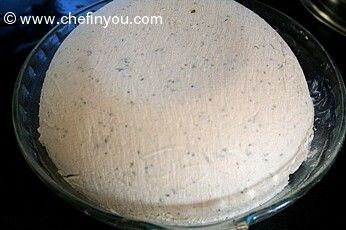 23
Baste the tofu turkey with the prepared marinade.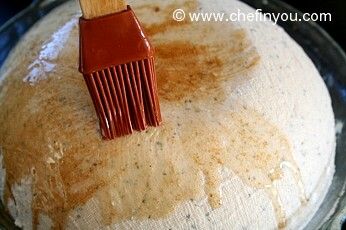 24
Bake for 15 minutes.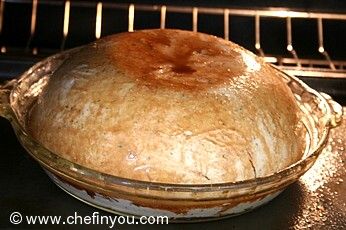 25
Baste again. reduce the heat to 350F and bake for another 1 hour, basting as many times it strikes your fancy.
26
Once baked, you see a beautifully crisped tofu surface.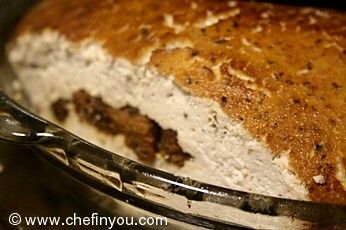 The most amazing after effects of this meal with striking similarities to the real thing -
1) We felt full in matter of minutes. The tofu protein did it.
2) The crust was crispy and meaty inside. The stuffing added amazing combo to the tofu. A few bites of the orange and apple in the middle (which I placed as a garnish) also went v well with this tofurkey.
3) We had LEFTOVERS and lots of them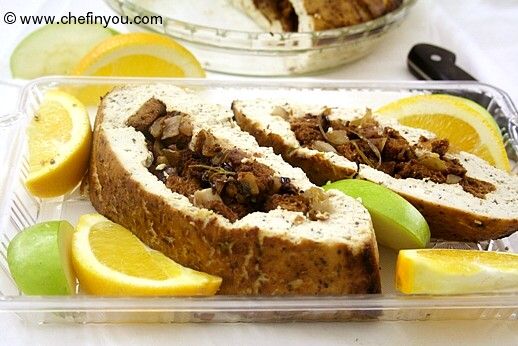 Related Recipes You May Like
Did you make this recipe?
Please click below to share your experiences while you were making this recipe. Thanks for your input!
Have a favorite recipe?
Know a family recipe your mom used to make? Or maybe a go to recipe that works everytime? Share it with your fellow foodies!