Green Peas and Paneer Pulao
This is another rice recipe loved by all. Its not only easy to make and quick but it extremely appetizing not only to the palate but for presentation too. Sudden guests?  Whip this up in matter of minutes. Lazy Sunday? Don't feel like cooking anything elaborate yet want to please the family - this needs no major prep. work. The Paneer as I always repeat on and oft in my blog is a staple and which I just add to enhance the dish.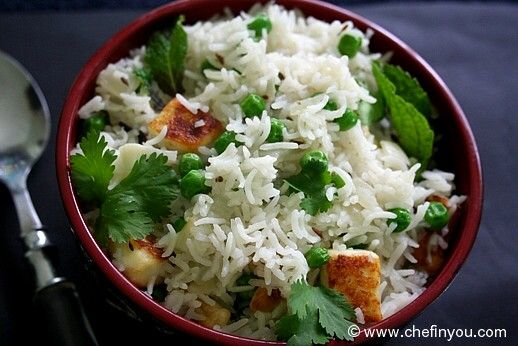 Ingredients
1 cup Basmati, pre soaked for at least 20 min
1 onion,chopped
2-3 garlic cloves, minced
1 cup peas, boiled or frozen
1-2 green chillies, sliced
1 cup cubed paneer ( + or - depending on your taste)
1/4 cup cashews, dry roasted (in oven or skillet)
1 bay leaf
1 tsp cumin
3-4 cloves whole
2-3 green cardamom, slightly crushed
salt to taste
few sprigs of cilantro and mint for garnish
Method
1
Soak rice in water for few minutes. Its not necessary but it helps the grains to separate while cooking and prevents it getting mushy.
2
In a skillet, add 1 tbsp oil, spread it around the pan and fry the paneer lightly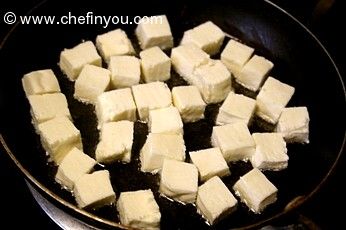 3
Turn when browned.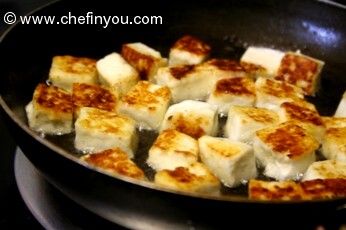 4
Once done, drop the paneer in a bowl of cold water. I do this for 2 reasons. One the excess oil floats to the top in the water and fried paneer tends to harden a little, so dropping them in water helps them to get soft. Remove and set aside
5
Meanwhile in a skillet in 1/2 tsp oil, saute cumin, chillies, bay leaf, cardamom, cloves, onions and garlic with some salt until onions get soft.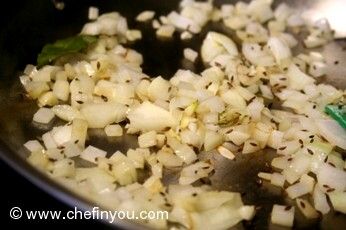 6
Add the drained rice and saute until the rice gets translucent.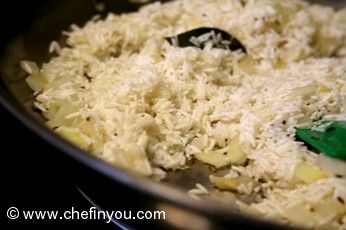 7
Add 2 cups water, close the lid and cook for 10-15 minutes.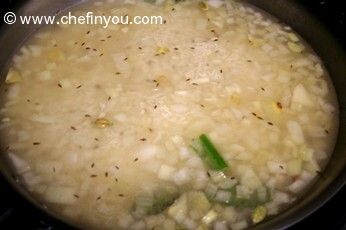 8
When the rice is cooked, add the paneer, peas and cashews and toss them altogether.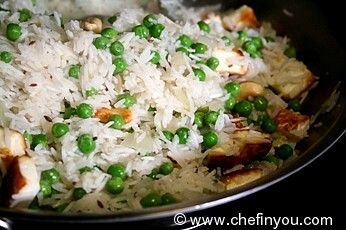 Just before serving add cilantro and mint - give it a toss and serve hot. Any spicy side dish would work very well with this rice.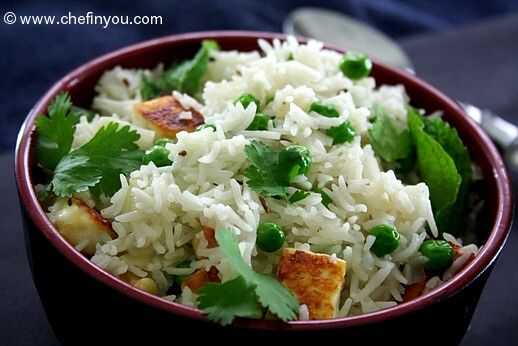 Related Recipes You May Like
Did you make this recipe?
Please click below to share your experiences while you were making this recipe. Thanks for your input!
Have a favorite recipe?
Know a family recipe your mom used to make? Or maybe a go to recipe that works everytime? Share it with your fellow foodies!