Paneer Bhurji (Scrambled Indian Cheese)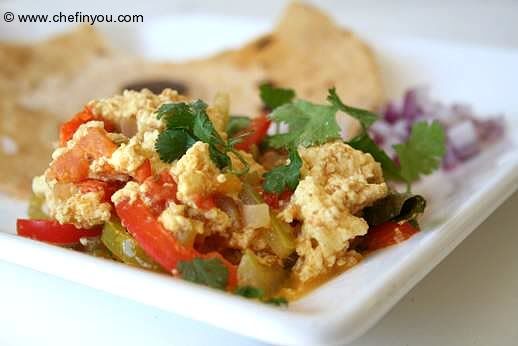 The protein sources for vegetarians are not that myriad. And especially for Indians, they are few. Among them one is Paneer. If you work out regularly, then Paneer (Indian farmer's cheese) can be consumed on a daily basis. We love Paneer, I mean whats not to like? I recently checked my recipe diary (where I note down all my tried and tested recipes) and on my last count, I have 52 different recipes with them!! They are so immensely versatile and I use them in so many ways.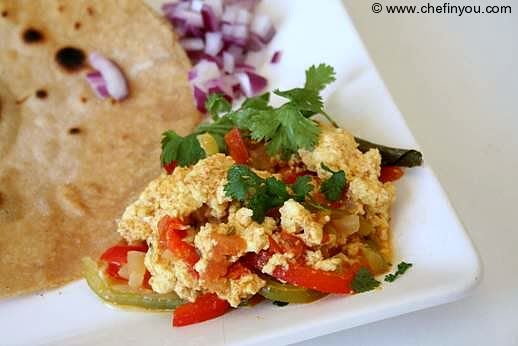 One of the most well known version of preparing Paneer is Paneer Bhurji. Bhurji is similar to scrambling only its not egg but crumbled paneer.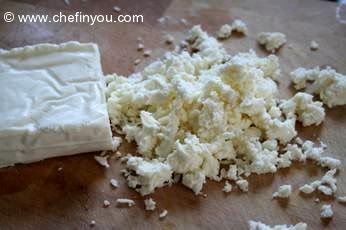 Its not only immensely delicious and hearty, its so easy and quick that one minute you put them all together, another minute the dish is almost done!! Its my go to dish when I am short on time, energy or inspiration. This recipe is very similar to
Tofu Bhurji - a more healthier version
than this and more nutritious.
Ingredients
Approx. 3 cups crumbled Paneer
1 red onion
1 each of medium red,yellow and green bell peppers (or use any color you happen to have)
2-3 ripe tomatoes,chopped (or use tomato puree)
2-3 green chillies to taste
1/2 tsp garam masala
1/4 tsp cumin seeds
1/4 tsp turmeric
1/2 tsp coriander-cumin powder
salt to taste
few sprigs of cilantro, curry leaves for garnish
Method
1
In a skillet in 1 tsp oil, saute the seeds and spices until aromatic. Add the onions and rest of the ingredients - sprinkle salt, close the lid and cook until soft. It takes about 5-6 min.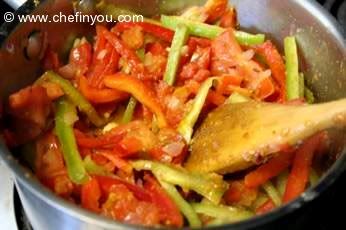 2
Next add the crumbled paneer and cook for another 5 minutes for the paneer to soak up the flavors.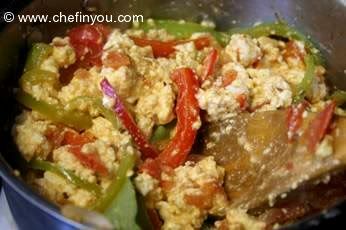 Garnish with cilantro and curry leaves and serve warm. I love it with phulkas/roti's. You can enjoy it with
Indian flatbreads of your choice
Related Recipes You May Like
Did you make this recipe?
Please click below to share your experiences while you were making this recipe. Thanks for your input!
Have a favorite recipe?
Know a family recipe your mom used to make? Or maybe a go to recipe that works everytime? Share it with your fellow foodies!