Multigrain (5 grain) Spelt Bread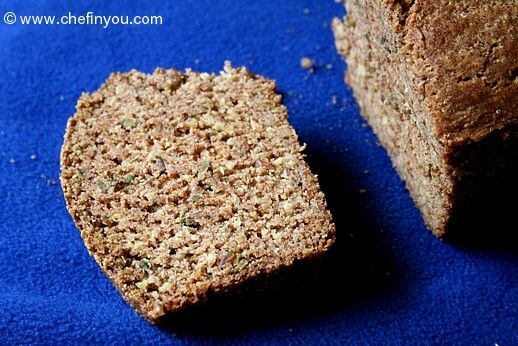 trrringggggg...triinngggggggggg
"Hello..this is 911..What can I do for you?"
(frantic voice) "911? Oh yes! I really need your help. My situation is the pits...Please save me"
"We would do our best of course. Tell us what your problem is?"
"The lady of the house is choking me. I can hardly breath. I am suffocating to death"
"Tell us the address and our emergency team will arrive shortly"
"Thank you so much.! Too much of stuffing is never good....."
"Stuffing?...I did not get you..."
"I meant food! The lady stuffs me with Food! I know I am made specifically for that..but this is going too far"
"(confused) Made for that? One sec - before you explain, can I have your name for the records"
"Name? What name? - I don't have a name"
"(confused all the more) But..but what do ppl call you! Clearly you must have a name!!!!!"
"Dunno about the name, but the lady calls me as "her fridge""
"........................................."
Aaah well, when the 911 team arrived heeding my fridge's SOS call...I was left with no choice but to accept and promise them that I wont suffocate my fridge no more! Who would have thought that a fridge could do that to me? But it did and here I am in dire straights. If that was not enough, my better half threatened me with
"No more buying or gawking at the aisles (esp. Whole Foods) until things in the kitchen start looking like a famine hit it!"
So if you see a pattern in my posts in the coming days, (except for few drafts making their appearance in the middle) don't blame me - blame my fridge for squealing on me and on my better half for being unsupportive to me in this regard :(! He even menaced that he will throw my stuff away from the freezer if I *don't start using it* ! Not using it? What does he know! Of course I use them - What can I do if my stocking talents are better than my expending? Tell me?..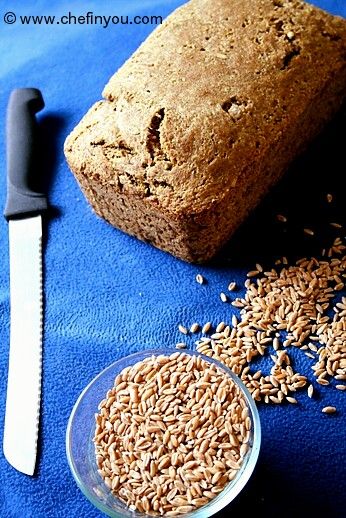 I usually thrust my fridge with 'wholegrains' and 'wholegrain flours' hence there's going to be lots of it in the coming days. Recipes which uses the term wholegrain, legumes, some exotic sauce (which has been a resident in my fridge for a long time) are all going to be featured. So with the above in mind lemme kick start this with my
"Five Grain Spelt Bread"
. Yup! Healthy - needless to say and immensely nutritious, to say the least. Chef Peter Berley comes to my rescue once again. His 5 grain bread recipe was all that I needed to start depleting my 'savings'! I adapted his recipe slightly to adjust to include ingredients on hand
Well this was one of the toughest assignments I had in a long time. No, not in the way of making it - it was easy, but it was when it came to capturing it. It made a ugly bread. Something which wont scream
"Eat Me"
from the roof tops. I do not believe in
'makeups'
for food hence was left in a fix. The problem was this bread looks too healthy and boring when in fact it tastes
YUM
!
Moist on the inside, chewy to nibble with a slight crunch from the crust.
And yes -
its wholesome and hearty
....So my humble request (yes I am doing the PR for the bread) -
don't go by its looks! It has real good stuff in it (pun intended!).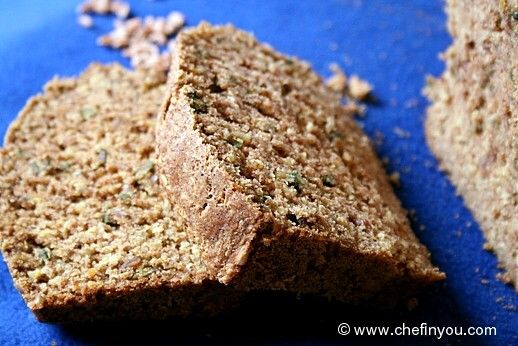 Other Wholegrain Recipes:
Sprouted Ragi Dosa
,
Eggless Triticale and Currant Scones
,
Wholegrain Pumpkin Pie
,
Oatmeal Raisin Cookies
,
Orange Whole Wheat Bread
,
Bulgur Dinner Rolls
,
Quinoa Dinner Rolls
Basic Information
Prep Time
:
30 min to 1 hour
Yield
:
Makes one 9X5 inch loaf
Ingredients
1/2 cup sunflower seeds
3-1/2 cups water
3 tbsp each of wholegrain teff, amaranth, quinoa and millet
1-3/4 tsp salt
3 cups whole spelt flour ( I had only 2-1/2 cups. I used additional 1/2 cup of wheat pastry flour)
2-1/2 tsp baking soda
1/2 tsp baking powder
9 tbsp vegetable oil
2 tbsp cider vinegar
Method
1
Preheat Oven to 350F. Spread the sunflower seeds on a baking sheet and toast them for about 5-8min. Set aside.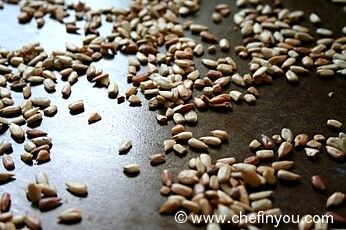 2
In a saucepan, bring 2 cups of water to a boil. Add the teff, amaranth, quinoa, millet along with 1/4 tsp of salt.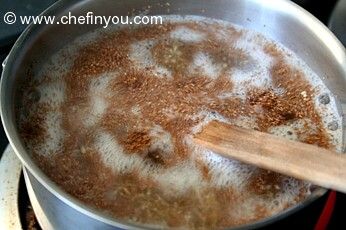 3
Reduce the heat and simmer, covered, for about 30-40 minutes or until the water is absorbed.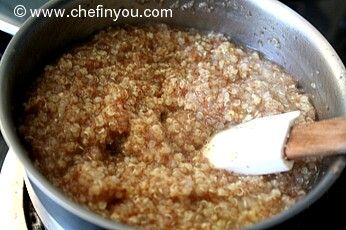 4
Transfer the grains to a bowl to cool.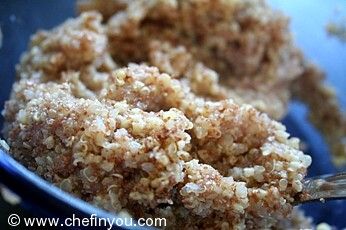 5
In another large bowl, mix together the flour, seeds, baking soda, baking powder and the remaining salt.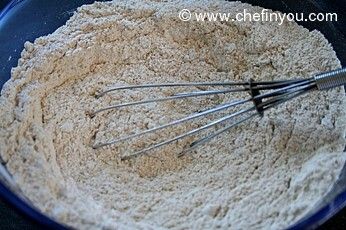 6
Add the remaining 1-1/2 cups water, oil and vinegar to the cooked grains and whisk well.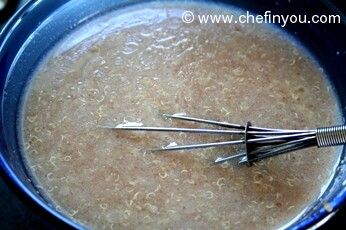 7
Fold the grains into this mixture to form a thick batter. Handle it gently, few lumps wont matter. Over mixing will not give a fluffier/lighter bread.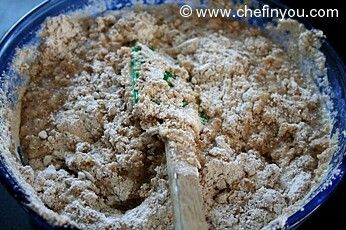 8
Pour the batter into a greased 8 by 4 inch loaf pan (or a square dish works too - whatever your preference).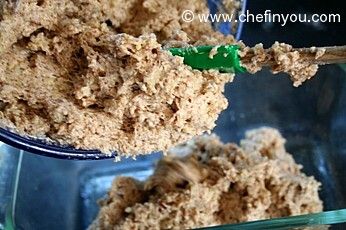 9
Smooth the top and bake for 50-60 minutes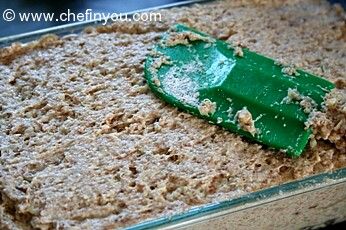 10
or until a toothpick inserted into the middle of the loaf comes out clean.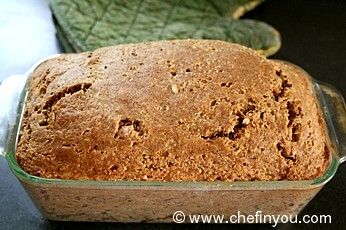 Allow it to cool for 30 minutes before slicing. Serve it warm.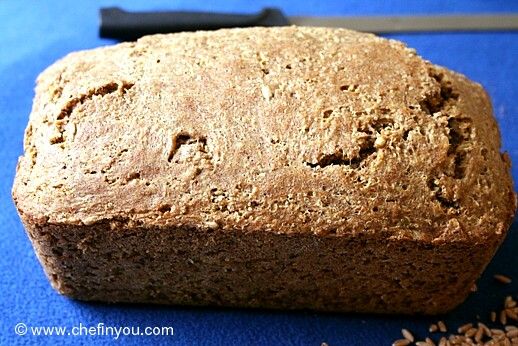 It made a hearty breakfast for us in the morning the next day. Although it was good enough for starting the day, I personally think that this would make a great sandwich bread.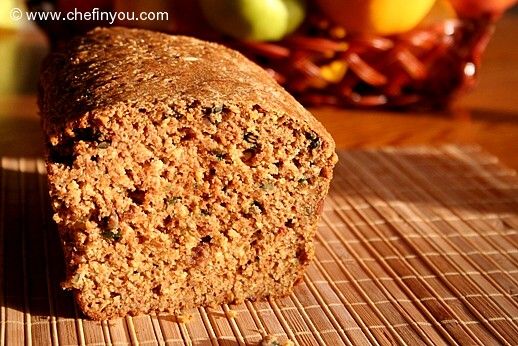 Related Recipes You May Like
Did you make this recipe?
Please click below to share your experiences while you were making this recipe. Thanks for your input!
Have a favorite recipe?
Know a family recipe your mom used to make? Or maybe a go to recipe that works everytime? Share it with your fellow foodies!