Butternut Squash & Quinoa Risotto
I have been on a Quinoa spree! Its quick cooking and so nutritious. All I have to do for my lunches is cook up come quinoa, add few vegetables and tada! - Quinoa Pilaf ready. Agreed, that health apart, I was doing it more so cos of sheer laziness, since I did not have to cook much. Of course, to my better half 
'I am eating healthy baby!'
was all that I felt necessary to elucidate. I mean,'
eating better'
sounded, ah well, better than saying,
'What to do, your wife is lazy!'
Who knew even such a silly thing as this could actually come back to bite the very same slothful bum of mine? My TH in one of those '
See, I am such a good husband. I wonder why you even think I don't care for you?"
moments, very graciously "gifted" with VIOLA - A
4 pounds
(that's like
1.8 Kgs
!!!!!) of Quinoa; from where else but Costco! I mean who else sells such gargantuan sizes. He waited with a big smile , his hand held out holding this huge bag of quinoa when just a day ago, I was glad to have finished the last bit of quinoa I had. Of course I was shocked and speechless (yes, me actually speechless! That doesn't happen often!) Few bickering later, with the husband grumbling - "
Woman! One just cant understand them
" and me grumbling ".
.and he expects me to cause famine in my kitchen
with THIS?" I sat down in front of my Quinoa, both of us watching each other - eye to eye, each wondering how the heck they landed up with one another.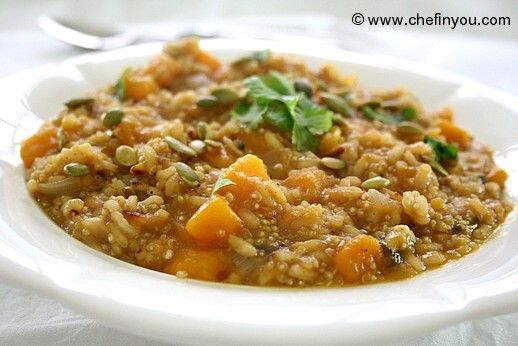 Basic Information
Cook Time
:
30 min to 1 hour
Yield
:
Serves 2 as main course and 4 as appetizer
Ingredients
2 cups peeled and cubed 1/2 inch butternut squash pieces (or use Pumpkin)
1/2 cup arborio rice
1/3 cup quinoa
1 large onion, chopped
4-5 cups of vegetable broth or water (warm water)
1/4-1/2 cup toasted pumpkin seeds
salt and pepper to taste
few sage and parsley leaves to garnish
Tips
* This dish can also be served as an appetizer
Method
1
Keep the broth/water warm by first bringing it to boil and then simmering in low heat. On the side in another skillet, add 1-2 tbsp olive oil (or butter), add the onions - saute until soft and then add the squash. Cook for another 3-4 minutes.
2
Add the rice and quinoa and saute for another 2-3 minutes until you get the aroma from the grains.
3
Add the sage leaves, stir and then slowly ladle by ladle add 1/2 cup of simmering broth/water to the rice. Let the rice absorb the liquid and then add more liquid. Continue until grains reach a creamy texture and is tender. Make sure to stir continuously, otherwise the rice will stick to the bottom and get burned. This whole cooking process takes about 20-30 minutes. Garnish with the seeds and parsley/cilantro.
Usually adding a little butter towards the end enhances the taste well. I do it when I am cross with my weighing machine! Counter intuitive, I know - but well who ever said I was normal like average ppl?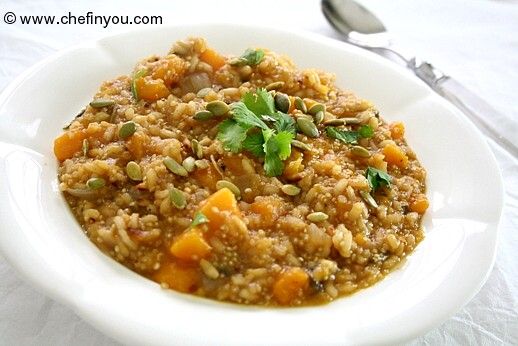 Related Recipes You May Like
Did you make this recipe?
Please click below to share your experiences while you were making this recipe. Thanks for your input!
Have a favorite recipe?
Know a family recipe your mom used to make? Or maybe a go to recipe that works everytime? Share it with your fellow foodies!