Kachori (Khasta, Pyaz & Peas )
This month's
ICC-Challenge
spoiled my precious 'never-to-end' diet. I mean I was all about following this diet, which I started just the previous day of making these, diligently! But Valli spoiled it! ;) So I am off my diet ..yet again! Before I go to the post, I have one important
disclaimer
- These photos were not taken by me. It was my split personality 'KD' and anyone who is familiar with the local Tamil slang and lingo will laugh at this! And I have a reason to call it that - I was literally - ooops not me - KD's attention was all on grabbing these and gobbling and not about taking photos! KD was on a diet the previous day and this was too much on her fragile
soul
tongue. So she caved in. And she completely took a lousy half hearted photo! Well Valli - you told me you wanted to see the beautiful photos, sorry KD screwed it up! I am not responsible!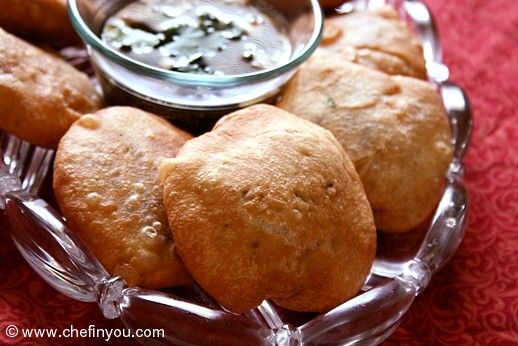 OK forget the photos - Where and how shall I start explaining the antics these play on your taste buds! These delicious snacks are enjoyed in Pakistan and northern India in places like Rajasthan, Gujarat, Punjab etc. The extremely crunchy outer layer, the pastry, is a keeper! I suspect that is the reason for the addiction. Something about the pastry getting fried probably develops some heroin kinda chemical condition or even better -
some witch from Hogwarts sneaks in few drops of pastry love potion
or...or whatever!! The thing is it has this "Nobody can eat just one' tag attached to it. The crumbly spicy moong dal filling literally falls apart in your mouth making you reach out for more!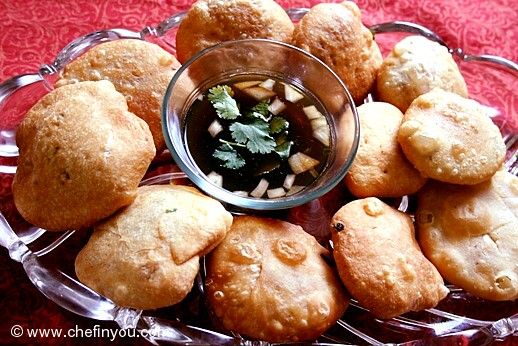 If you think, I am just off my rockers, then I ask you to make these. And NO, no touching them. Instead sit and take photos for next few minutes!!!!!! We were given 3 fillings for this recipe - Moong dal filling which is the traditional filling for making khasta kachori, then peas filling and Onion (pyaz) filling. I made a little of all the fillings. Its hard to choose between them, they were all v good. But if you forced me with one, I would go with traditional one - Moong dal :) The pictorial below is with this only. Resting Time for the Dough is app 1/2 hr - 1 hr Frying time for the Kachoris - 20 mins for each batch app. Soaking Time for the Filling is app. 1 hr Cooking Time for the Filling is app 15 mins Yields - 15
Basic Information
Yield
:
Makes around 12-15 kachoris
Ingredients
All purpose flour / Maida - 2 cups
Oil/ Ghee - 1/4 cup ,
Salt - 1/2 tsp
Water for kneading
For Khasta Kachori - Moong Dal Filling
Split Moong Dal (yellow) - 1/2 cup
Cumin Seeds - 1 tsp
Hing / Asafoetida - a pinch
Curry Leaves - 2 tsp chopped fine (opt)
Green Chilli - Ginger paste - 1 tsp
Sauf / Fennel seeds powder - 1 tsp
Garam Masala - 1/2 tsp
Red Chilli powder - 1/2 tsp
Mango powder / Amchur - 1 tsp
Oil - 1 tsp
Salt to taste
For Muttar Ki Kachori - Peas Filling
2 cups green peas
1 teaspoon green chillies, chopped
1 teaspoon ginger, grated
1/2 teaspoon nigella seeds (kalonji)
2 teaspoons fennel seeds (saunf)
2 bay leaves
1 teaspoon chilli powder
1 teaspoon garam masala
4 tablespoons chopped coriander
2 tablespoons oil
salt
For Pyaz Ki Kachori - onion filling
2 cups onions, finely chopped
1 teaspoon nigella seeds (kalonji)
2 teaspoons fennel seeds (saunf)
2 bay leaves
1½ teaspoons green chillies, finely chopped
2 tablespoons Bengal gram flour (besan)
2 teaspoons coriander (dhania) powder
2 teaspoons chilli powder
1 teaspoon garam masala
3 tablespoons chopped coriander
2 tablespoons oil
salt to taste
Method
1
Method - For making the Pastry
Mix the flour and salt, Add the oil/ghee and mix till you get a bread crumbs texture.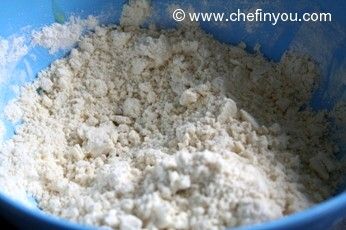 2
Slowly add water and make a soft dough. Knead well for about 8 minutes.
3
Cover and keep aside to rest for at least half hour.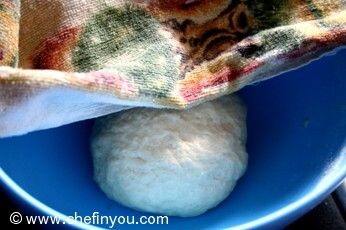 4
Special Tips / Notes for the dough:
1. Keep the dough covered at all times, if not it will dry up and not puff up when frying. If the dough is made right wet cloth can be used if not just a towel.
2. The dough could spring back for many reasons:
-Dough is too cold (If wet cloth is used)
-Dough is not soft enough.
-Not kneaded for enough time.
-Oil is less.
-Not rested enough.
Method - to make the Moong dal filling
Wash and Soak dal in water for atleast 1 hour. You can go upto 4 hours not more. Drain the water well.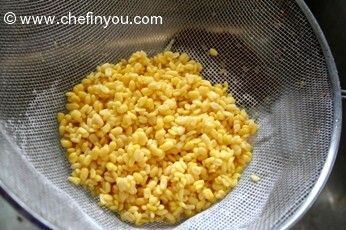 5
Grind the dal to a coarsely.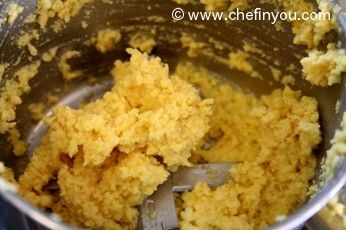 6
Heat oil in a pan. Add the hing and cumin seeds. Once the seeds splutter add the curry leaves. Add the dal. Lower the heat and keep stirring for 5 minutes till the dal stops sticking to the pan.Cook for another 10 minutes on low till the dal turns slightly brown.Add all the masala. Cook for few minutes till the aroma of the spices hit you. Add Salt. Remove from heat and keep aside to cool.
Note:
Have to apologize! Just when I was drafting this post, did I realize that I have forgotten to take this step completely! I think in the heat of the moment, it completely slipped my mind. But the instructions are straight forward and you can see how it looks in the pictures below.
Special Tips / Notes for the filling:
1.The fillings have to be really dry if not when rolling they will ooze out when rolling.
2.Adjust the masalas according to your taste. What is given in this recipe is spicy to the extent one can still enjoy.
3.For idea on pressing the filled kachori, check out Manjula's method. If you try to press out using a rolling pin, the filling may come out and make holes in the kachori.
4.Fry the kachori's on medium low to get a crisp outer layer, that is the key. For people using electric stove, the numbers can be going from 6 to 4.
Method To Make Kachori's
Make a small ball from the dough.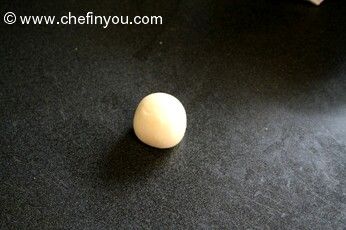 7
Roll out into a 2 inch diameter circle. Or flatten the ball using your fingers having the center thick and sides little thin.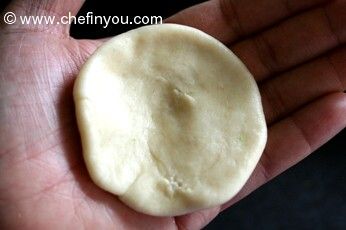 8
Place about 1.5 tsp of the filling in the center of the rolled dough.
9
Cover the filling with the dough by slowly stretching it over the filling.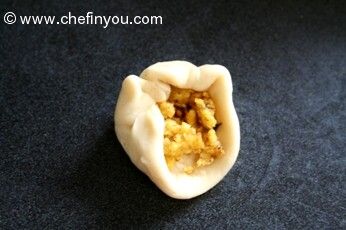 10
Seal the ends and remove excess dough.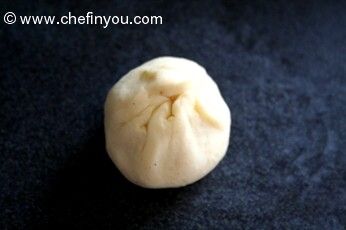 11
Repeat with all the balls and keep aside for 5 -7 mins.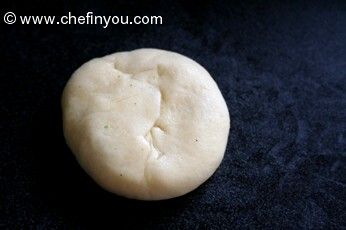 12
Then using your palm, flatten the balls by lightly pressing it, as using the rolling pin will make the filling come out. (See notes below). Keep aside covered. Repeat with the remaining dough.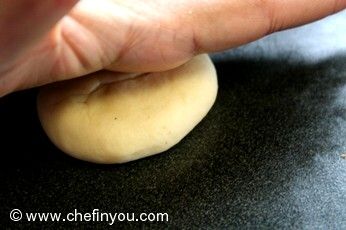 13
Meanwhile heat some oil for deep frying. The oil should not become smoking hot. Test to see if the temperature is right by dropping a tiny ball of dough and see if it is rising slowly to the top. 6. Drop the kachoris in batches of 3-4 gently into the oil.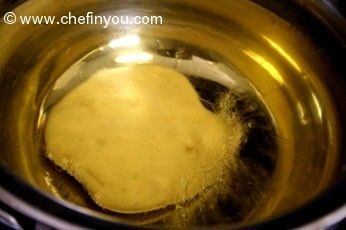 14
It should rise up slowly.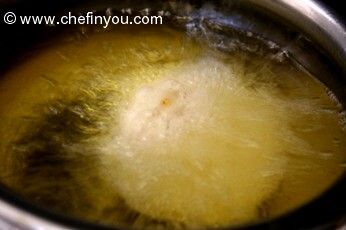 15
If you don't want to use lot of oil, use just enough for two or three at a time and fry them.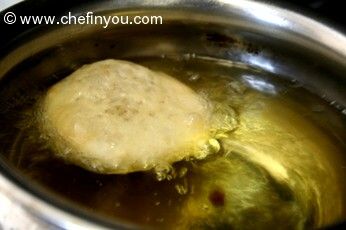 16
After it rises up (about 2 minutes), turn it over.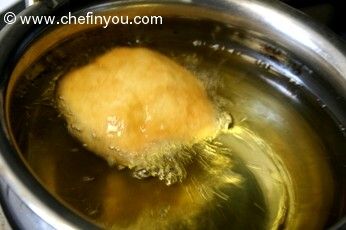 17
Cook for about 6 to 10 minutes till the side down gets a golden brown color.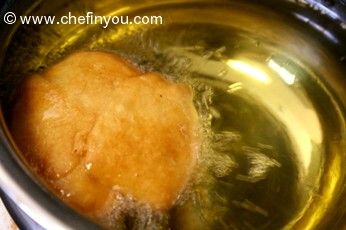 18
Turn and cook the other side for another 6 minutes or till its golden brown in color.Remove when done, cool and store in airtight container.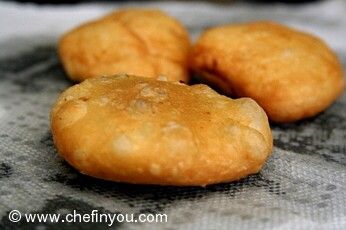 Serve with coriander chutney and tamarind chutney
Special Tips / Notes for making the Kachoris:
You can fry 3 kachori's at a time.
The oil should be at a heat when you drop some dough it should come up slowly, if the dough comes up too fast the oil is too hot, if it does not come up then the oil is cold.
It will not be crisp if the oil is too hot.
You can repeat the above pictorial for the other fillings too. The process is the same.
Method - For the green pea filling
Coarsely grind the green peas,green chillies and ginger in a blender without using any water. Keep aside.
Heat the oil in a pan,add the nigella seeds,fennel seeds,bay leaves and ground green pea mixture and saute over a very slow flame for 8 to 10 minutes.
Add the chilli powder,garam masala,coriander and salt and saute for 2 more minutes. Remove the bay leaves and discard. Divide into 12 equal portions.
Method - To make the onion filling
Heat the oil in a pan. Add the nigella seeds, fennel seeds, bay leaves, green chillies and onions and sauté till the onions turn light brown in colour.
Add the gram flour, coriander powder, chilli powder, garam masala and salt and sauté for 2 to 3 minutes.
Add the chopped coriander and mix well. Remove the bay leaves and discard. Allow the mixture to cool completely.
Divide into 12 equal portions and keep aside.
Related Recipes You May Like
Did you make this recipe?
Please click below to share your experiences while you were making this recipe. Thanks for your input!
Have a favorite recipe?
Know a family recipe your mom used to make? Or maybe a go to recipe that works everytime? Share it with your fellow foodies!