Channa Palak (Chickpeas with Spinach)
Its funny when many people I know assume I have lots of time to burn, cos I sit and cook so much! Why funny? - you might ask. As long as someone has interest they would find ways and means to do it, is my explanation. Like for example, my husband has been behind me practically for 2 yrs now (yes, that long) to improve my photography skills. He insists that its a good thing to learn the techniques, learn the composition, learn the "Rule of thirds", so on and so forth! "
Oh I have no time
",
"Well after I finish cooking and take all the pictures, I am so tired that I don't care for 1/3rd or 5/3rd rule"
,
"I dont want to research and buy ego/lowel light or whatever they are called - no time
" - quips yours truly to all that nagging!. But then one can never lie to themselves now can they? When I can find time to prepare something like a
strudel dough from scratch
, make the arduous
Malaysian Canai
, patiently sit down to do
kickboxing with the yeast
, I can very well find 15 minutes every day to learn something with photography now, cant I? But why excuses? Lack of interest or shall I put it in a better sounding way - Not enough interest. May be some day, I will get down and start thinking that the surrounding of my food should look great as well and not just the food! Do all the light boy stuff, assign ONE place for taking photos and not run around the house chasing light! May be! Someday! But until then lemme at least tell you that cooking unlike learning the techniques is not such a fuss as it looks. Nowadays the number of ready made stuff available (nope, not talking about instant Mac n Cheese/ instant noodles mix etc) like puff pastry, pie crust, diced tomatoes, frozen peas (I remember having to shell them every-time to use them while growing up), canned chickpeas, kidney beans and canned everything!, makes life much easier when you are on the go!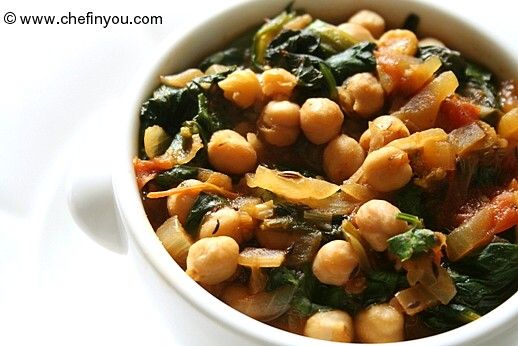 Take this Channa Palak for instance. One of the most loved Indian combo where cooked chickpeas is mixed along with sauteed spinach, seasoned and served warm with roti or rice. There are umpteenth Indian dishes which are not only immensely simple to make, but are nutritious and fast to make too with hardly any prep work to do. This dish, I made under 15 minutes, with canned chickpeas and triple washed spinach. I resort to such dishes for packing lunch box too! Makes my mornings much easier! You can make this as simple or as special you want. I have added different spices but just some Garam Masala and salt would be perfect too!
Ingredients
1 cup cooked chickpeas, or used canned after draining it well
1-2 bunches of spinach, coarsely chopped (you can use as much or as little, as per taste)
1 red onion.chopped
2-3 medium tomatoes,chopped
1/2 tsp cumin seeds
1/2 tsp fennel seeds
1 stick cinnamon
2 bay leaf
pinch of clove powder and cardamom powder (optional)
1 tsp garam masala
1 tsp mango powder
1/2 tsp turmeric powder
1 tsp cumin-coriander powder
1/2 tsp ginger-garlic paste
1-2 green chillies, thinly sliced (or as per taste)
salt to taste
Tips
* I usually add cinnamon, bay leaf and turmeric while cooking chickpeas and then discard the cinnamon and bay leaf once the chickpeas is cooked.
Method
1
In a pan, heat 1 tsp of oil. Add cumin, fennel, cinnamon, cardamom powder, bay leaf in that order. The second the aroma starts wafting, add the onion and then ginger garlic paste. Saute until onion get soft.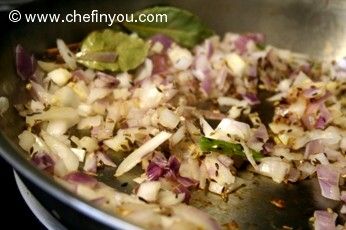 2
Add the chopped tomatoes, green chillies along with the rest of the seasoning including salt. Add about 1/4 cup of water and increase the heat. Cook until the tomatoes break down and become like a gravy. Reduce heat and discard the bay leaf and cinnamon stick.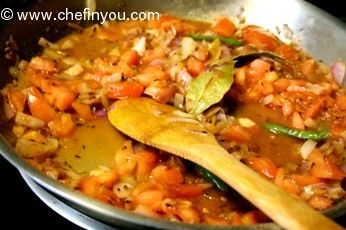 3
Add the chopped spinach on top. Let it wilt slightly.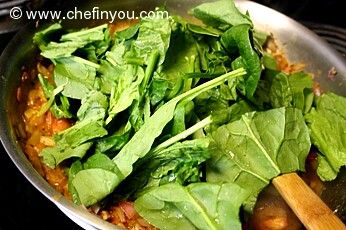 4
Add the chickpeas and close with the lid. Cook until the spinach wilts completely.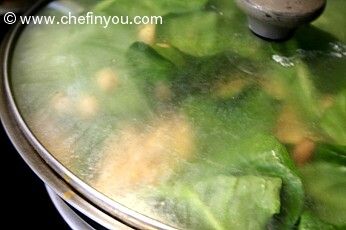 5
Stir to combine , add more seasoning if you required. You can add more water and mash few of the chickpeas to create a thick consistency.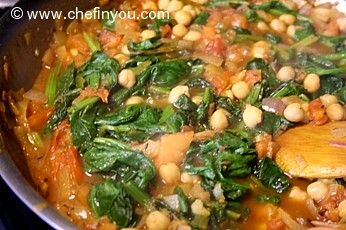 Serve hot. It works well both with plain rice , pulao and roti.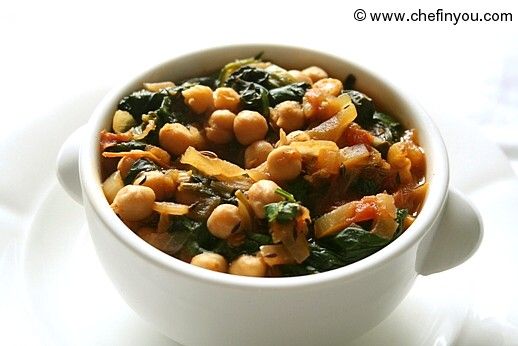 Related Recipes You May Like
Did you make this recipe?
Please click below to share your experiences while you were making this recipe. Thanks for your input!
Have a favorite recipe?
Know a family recipe your mom used to make? Or maybe a go to recipe that works everytime? Share it with your fellow foodies!