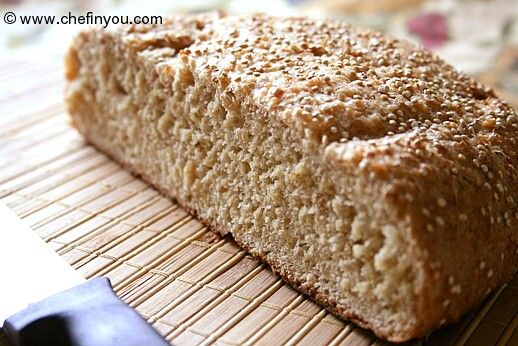 I made this Quinoa bread like gazillion years ago!
OK! I was totally exaggerating - I mean I doubt even Dinosaurs existed that time!
. Well, probably 6-7 months ago! meaning to post this for a while but for some reason it kept being pushed down the drafts pipeline. Now that the pipeline is dwindling thanks to me not taking any new photos, this bread finally sees the bright page of the Chef In You ;). I think I have insisted enough about my passion for
whole grains
and also
quinoa
.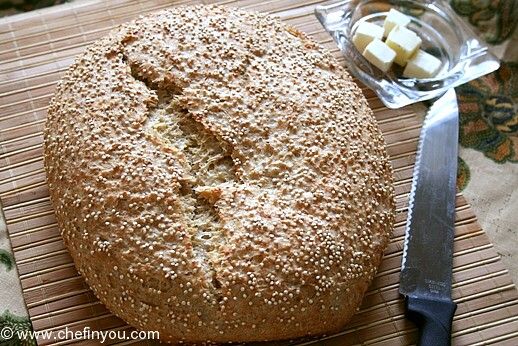 Its inevitable that I use this precious grain (seed!?) to make breads. I have already used this to make amazingly delicious
Quinoa dinner rolls
but wanted to use it in a bread exclusively using Quinoa. I made this recipe
from this website
without making any changes, since it looked good enough to me. I have posted this recipe verbatim.
Other Quinoa recipes:
Quinoa Dinner Rolls
,
Baked Quinoa and Mixed Bean cutlets
,
Multigrain Spelt Bread
,
Butternut Squash and Quinoa Risotto Recipe
Basic Information
Cook Time
:
30 min to 1 hour
Yield
:
Makes one 11 inches by 6 inches loaf
Ingredients
1 cup raw quinoa
2 cups water
1/4 cup oatmeal
1/4 cup water
1/4 cup milk
2 teaspoons yeast
3/4 cup warm water
1/3 cup honey
1/4 cup vegetable oil
3 tablespoons powdered milk
2 tablespoons sourdough starter (optional)
2 1/2 -3 cups bread flour
1 cup whole wheat flour
2 tablespoons raw quinoa for sprinkling on top of loaf
Tips
* PLEASE NOTE:
The original recipe does not mention salt in its ingredients while they mention it in their steps. I added 1 tsp of salt when I realized their mistake. But I think adding anywhere between 1 tsp - 1-1/2 tsp of salt (depending on your taste) would work out fine for this bread.
If you want to
Bake using Microwave
pls refer to these articles:
1)
How to Bake in Microwave
2)
How to Bake in Microwave Convection Oven
For making
Substitutions
please refer my handy chart:
1)
Baking substitutions
2)
Egg Substitutions
Method
1
Cook the quinoa in 2 cups of water for 10 to 15 minutes,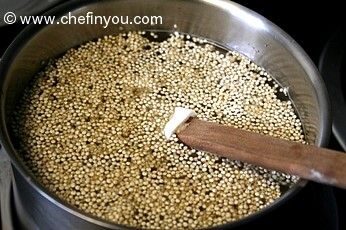 2
until the water is absorbed. Cool to room temperature.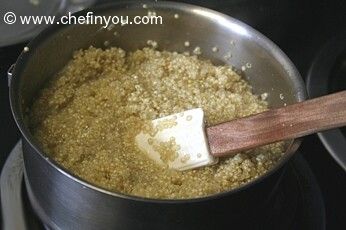 3
Cook the oatmeal in the water and milk until liquid is absorbed. Let cool.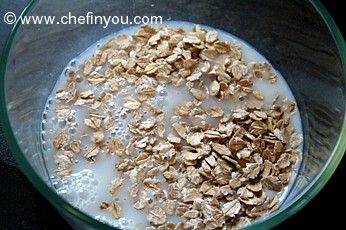 4
Place 3/4 cup warm water in a large bowl (or bowl of a standing mixer) and sprinkle yeast over the water. Let rest 5 minutes.
5
Stir honey, oil, powdered milk, and sourdough starter (if using) into the yeast mixture with a wooden spoon (or with dough hook on low speed).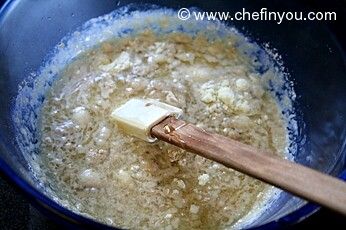 6
Add 1 cup of the bread flour and the salt and stir well.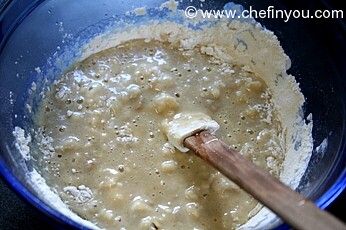 7
Add the cooked quinoa and oatmeal and stir.  Add the whole wheat flour and 1 cup more of the bread flour and stir.
8
When the dough starts to get stiff, turn out onto floured surface and begin to knead. (If using a standing mixer, continue to knead with dough hook).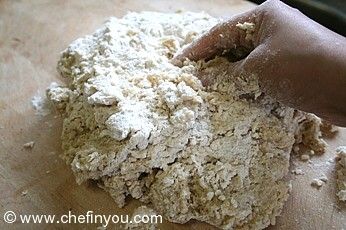 9
Keep adding flour and kneading until dough is smooth and elastic, about 5 minutes with a mixer, or 10 to 15 minutes by hand. Dough should feel slightly sticky but should not be wet and slack. You should be able to form it into a ball and it should hold its shape.
10
Lightly oil a large bowl with vegetable oil and place bread in the bowl, turning to coat lightly with the oil. Cover loosely with saran wrap.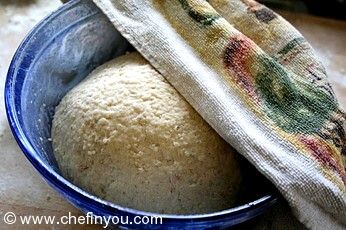 11
Let bread dough rise in a warm spot until double in size, about 2 hours.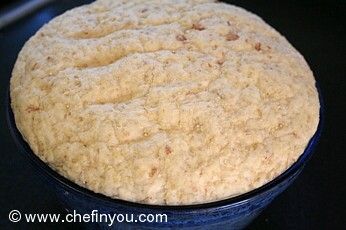 12
Punch down dough and shape into a ball. Pat/flatten into an oval shape about the length of the bread pan. I made this into one large loaf. You can shape it in any way you desire. Brush top of load very lightly with water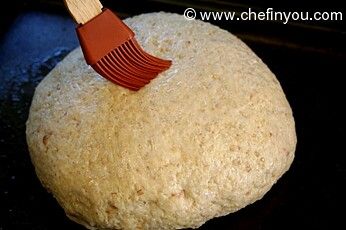 13
and sprinkle with quinoa seeds.. Let rise in warm place until bread has almost doubled in size. Preheat oven to 400 degrees.
14
When oven is hot, place bread in center of oven. Throw a handful of ice cubes into bottom of oven to create steam. Bake for 30 minutes. Cover bread loosely with foil if the top is getting too brown and bake 15 minutes more. Bread should sound hollow when tapped.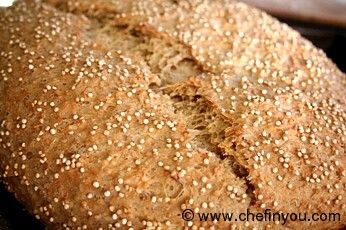 Let cool in pan for 15 minutes. Remove from pan and let cool completely.Then cut it into slices and enjoy it - as they are, or with salad or with warm soup.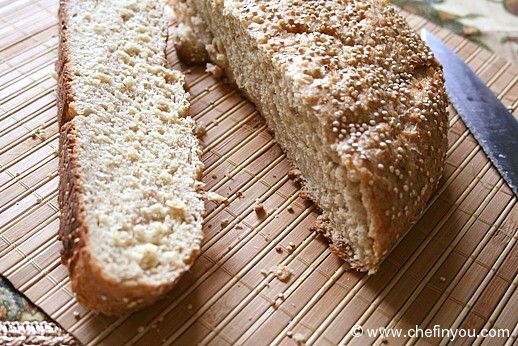 Related Recipes You May Like
Did you make this recipe?
Please click below to share your experiences while you were making this recipe. Thanks for your input!
Have a favorite recipe?
Know a family recipe your mom used to make? Or maybe a go to recipe that works everytime? Share it with your fellow foodies!