Simple and easy recipes are my forte. While I do like to make elaborate and tough-to-make-at-short-notice types of  food, I also like to make meals which are done with least effort and time. 'Cos day to day, recipes like these are what I reach out for. The only care I take in every meal is inclusion of protein. At least in some quantities. More so rather than just  for nutrition sakes, I also have an hidden agenda of such foods helping us to get filled up faster! I am surprised at many westerners who assume and take it for granted that eating vegetarian food is the surest way of having that dratted slim look! Sorry to burst your bubble, it sure isnt!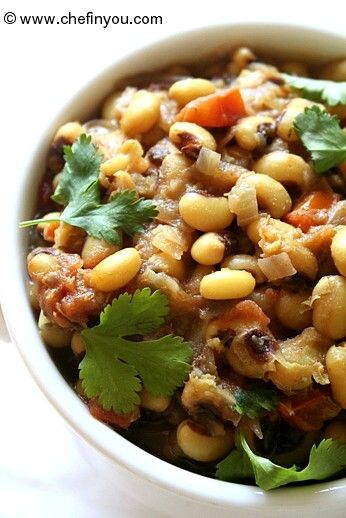 Its the same old principle which we all hate but unfortunately is here to stay - calories intake - calories expended! Doesn't matter if you eat a vegetarian stew but if you think lazing around all day doing no physical activity will keep you slimmer, then naaah! You are better off eating the hamburger and playing a game of soccer for 2-3 hours! So keeping all those in mind, here is a simple yet hearty meal which will not only keep one healthy but also ensure that little goes a long way. I enjoy it both with rice and chappathi (roti).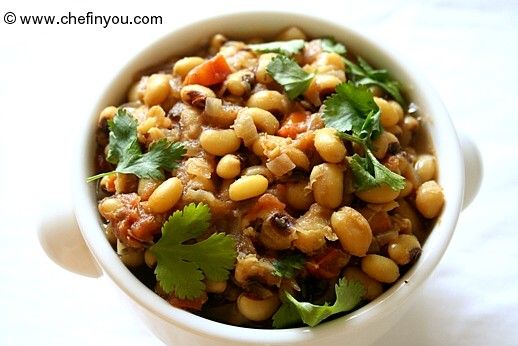 You can add some coconut if you please to make it utterly delicious, but if you are trying to keep of cholesterol, omit it. Also if you are suffering from diabetes, then its sure one big taboo! But frankly, this one pot stew does not need those frills to make it taste better. Its good the way it is. Try it, you will agree too :)
Ingredients
1-1/2 cups black eyed beans/pea, soaked overnight (or canned)
1 red onion,chopped
1-2 tsp ginger-garlic paste
1/2 tsp cumin seeds
1/2 tsp fennel seeds (optional)
1 tsp garam masala
1/4 tsp turmeric powder
1 tsp chilli powder (or as per taste)
pinch of asafoetida
2-3 medium tomatoes, chopped
1/2 tsp sugar
salt to taste
cilantro/coriander leaves to garnish
Method
1
Saute the seeds in 1 tsp of oil. When the aroma starts wafting add the onions and the ginger-garlic paste.
2
Once the onions are soft, add the beans. Add the chilli powder, turmeric and asafoetida.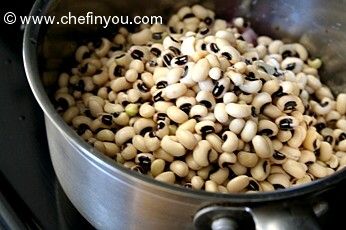 3
Saute it for a minute. Then add the tomatoes, garam masala, sugar and the salt along with little water.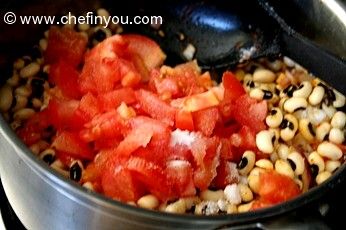 4
Bring it to a boil, cover and then simmer for 10-15 minutes or until the beans become soft.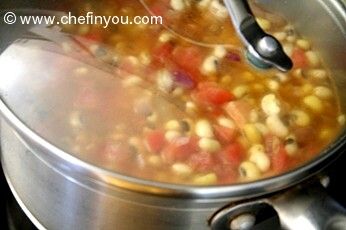 5
Make sure they still retain their shape and are not mushy. of course, if you like it that way, go ahead. To each their own :)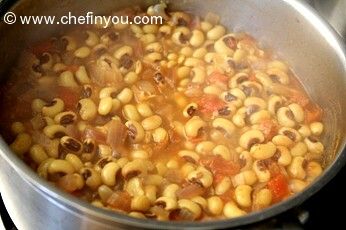 If you think, the gravy is not thick enough, then you can mash few black eyed peas to make it thick. Garnish it with the herbs and serve hot.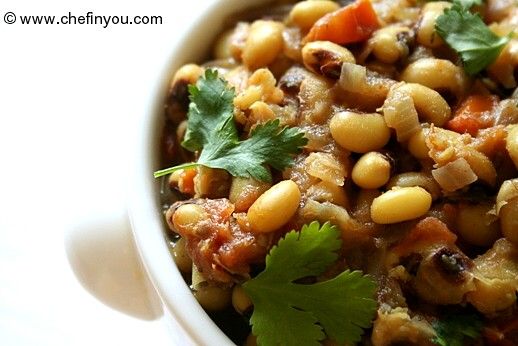 Related Recipes You May Like
Did you make this recipe?
Please click below to share your experiences while you were making this recipe. Thanks for your input!
Have a favorite recipe?
Know a family recipe your mom used to make? Or maybe a go to recipe that works everytime? Share it with your fellow foodies!