You know how it happens when you buy spices or special ingredients for a certain dish and then "Poof"! That is given a step motherly treatment or completely forgotten once the dish is all done and enjoyed to the heart's content. At the end of the day, I get fed up of seeing all those unused items in my pantry looking at me forlornly. I then start using them randomly in my dish - esp. the spices. Its v evident that Indians have a thing with spices, hence adding any spice to any dish is an art Indians enjoy. I cannot, for the life of me, get specific about what spices has to go to what dishes! If there are, say 10 spices which are used for savory dishes in general then I might add any of them at different times.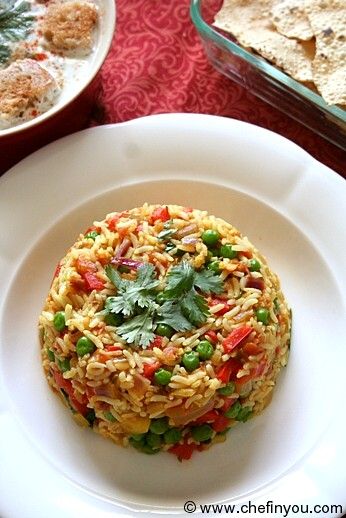 Its immensely hard for me to stick to a particular recipe. Eye balling is another characteristics which I am gifted with - although have to add how cumbersome it is when it comes to food blogging and precise measurements. Anyways, one special spice which might be making its home right in your own pantry right now is Pav Bhaji masala. Remember how you got some while
making Pav Bhaji
2 months back? Most probably its lying unused right now in your pantry. Instead of having to see it every time I open my pantry, looking v sad, I use it on and oft in various recipes. I use it especially for my rice, biryani, pulao recipes. Sometimes I even use it while making stuffing for my parathas.
So imagine my surprise when during one of our work meetings (we have this practice of sometimes making dishes from home for such meetings - like an informal potluck), one of my colleagues who has an Indian sister-in-law got this yummy Pulao called Tawa Pulao. It not only tasted yummy but it had an amazing aroma wafting from it - something very familiar. Later on, she got us her sil's recipe and I was ecstatic. I was astounded to know that adding Pav bhaji masala was actually normal and classic in Mumbai Street food rice dish called as Tawa Pulao. This is made in the same large skillet where Pav Bhaji masala is heated. This rice is also heated along side and is made using the Pav bhaji masala! Talk about a yummy street food! For some reason, I was not aware of this and couldn't help making the same again at home. We loved it. This is the recipe given by my colleague's sil.
Ingredients
1 tbsp butter
1 tbsp vegetable oil ( I used olive oil)
1 tsp cumin seeds
1 tsp fennel seeds
2 inch ginger, grated
2-3 cloves of garlic. sliced (see note)
1 large onion, chopped (see note)
1 large capsicum, chopped (i used combo of red and green capsicum/bell pepper)
3-4 large tomatoes, chopped finely
1/4 tsp turmeric powder
1 tbsp Pav Bhaji masala (I added about 1-1/2 tbsp)
1/2 cup green peas, frozen (if using fresh, boil it before hand)
2-3 green chillies (or as needed)
about 2-1/2 cups cooked rice (leftovers work great)
fresh cilantro leaves for garnish, as needed
Method
1
Heat the butter and oil in a pan (You can either use all butter or all oil for the recipe). Add the seeds- when aromatic, add onions, ginger, garlic, chillies along with salt.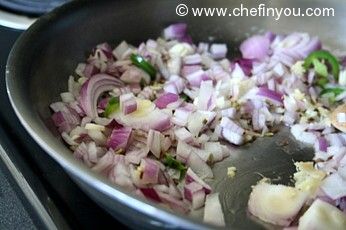 2
Add the chopped tomatoes , bell peppers along with little water. Cook in high heat for few minutes until water starts oozing out of the tomatoes, and then reduce the heat and simmer until the tomatoes are cooked. Add the spices and mix them well.
3
Add the rice and cilantro and peas. Give it a toss and cook for another 2-3 minutes.
Serve HOT!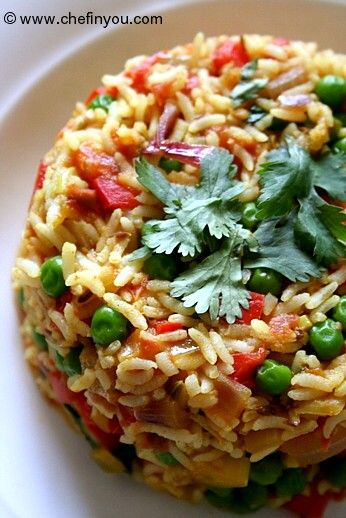 I served it along with
Bread Raita
and some Dry toasted Papad.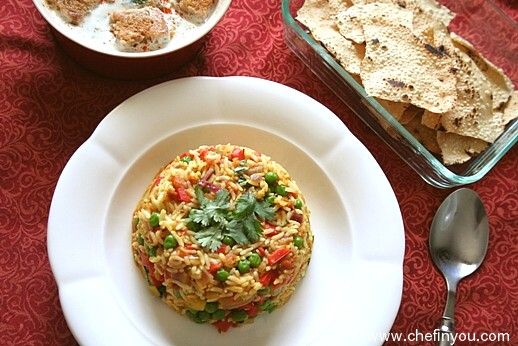 Related Recipes You May Like
Did you make this recipe?
Please click below to share your experiences while you were making this recipe. Thanks for your input!
Have a favorite recipe?
Know a family recipe your mom used to make? Or maybe a go to recipe that works everytime? Share it with your fellow foodies!