There are multiple ways to cut fat in your baked goods without compromising much on taste. I don't believe in enjoying healthy foods that TASTES healthy in the commercial sense; read as - bland, earthy, ....at times a complete blech. I scout for recipes that are nutritious without making the consumer feel like a nobody. I am more of instead of "10 tbsp of butter", use 5 tbsp and substitute something healthy and naturally low fat instead.  Though a lot of options are readily available nowadays in the market to make such replacements, I tend to steer clear from a lot of them due to artificial ingredients.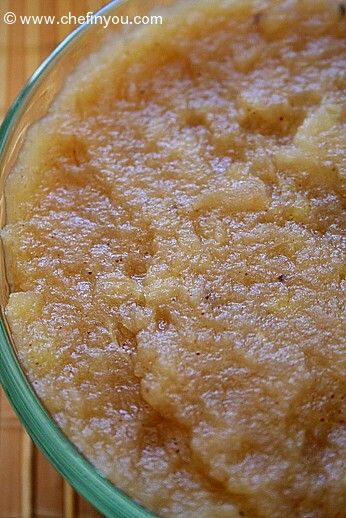 So when I found this recipe for Apple Butter that I could whip up right at home, in about 15-20 minutes, I was ecstatic.  Apple Butter, homemade tastes much better than the store bought ones. There are many recipes and variations for making apple butter with most of them relying on store bought apple sauce.  This recipe uses fresh apples and also uses a natural sweetener (if using) - Maple Syrup. Mildly spiced, these are a dream to have in your fridge.  This recipes gives you a spiced and sweetened version of Apple Butter which you can skip so that you can use it in all your baked goods without the butter overpowering the taste.
I also use it few other ways which I have elaborated below the post. I use this to mostly cut back on butter in my baked goods where a slight hint of apples wont hurt. I was using apple sauce but I find apple butter a better consistency closer to that of butter :) And somehow the word "Butter" in Apple butter helps my psychology a bit ;) (Dont mind my ridiculous mindsets...)
Ingredients
4 pounds of Granny Smith apples peeled, seeded and sliced (or any other sweet tart variety)
1/3 cup fresh pressed apple juice (not from concentrate)
2/3 cup maple syrup (or use dark brown sugar)
2 tsp vanilla extract
1 tbsp fresh lemon juice
Ground cinnamon, nutmeg, ginger, and/or cloves to taste
Tips
Note:
To make
Unsweetened Version
for baked Goods simply omit the maple syrup/sugar and spices. I eyeballed my spices hence don't have measurements.
Method
1
You can use Pressure cooker, Stove top or microwave to make this. I don't normally use M/W for cooking and would have used pressure cooker. But to show you how it is made at every stage, I have used Stove top for today's post. But I would recommend pressure cooking since it traps flavors better than stove top and is more aromatic.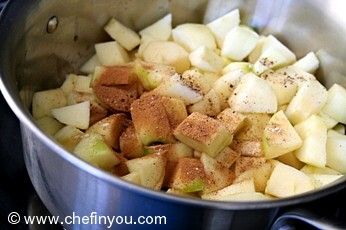 2
Place all the ingredients in a large stock pot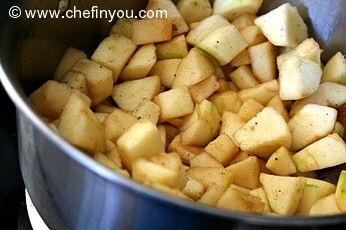 3
with a tight lid
4
and bring it to a boil over medium high heat.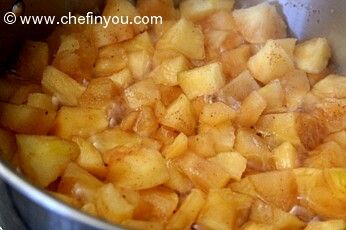 5
Reduce the heat to medium-low and simmer until the apples are soft enough to mash with the back of a wooden spoon - this takes approx 15-25 minutes, depending on the size and type of apples.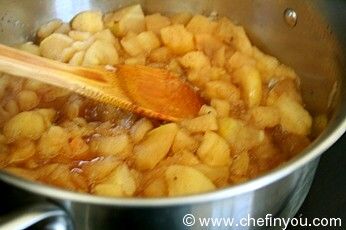 6
Remove the apple mixture from the heat and puree with an immersion blender.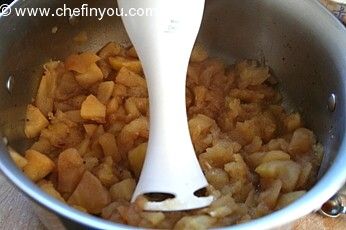 7
You can of course use a food processor but make sure to do it in v short spurts until smooth. Otherwise the result might get watery. You want a thick and smooth consistency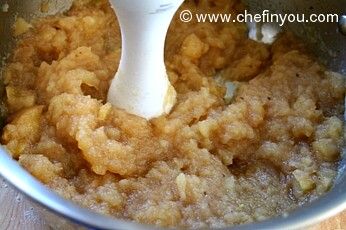 and not like an applesauce. And that's it. You can refrigerate this upto 2 weeks. Do not freeze. I usually make small quantities like this and use it all within 10-15 days.
For Pressure Cooker Method
:
I combine all the ingredients , cook for 4-5 whistles and then blend it using my blender. More whistles than that, I find that my butter becomes watery. I think you would have to experiment with your pressure cooker to get the consistency I show before blending. Soft but not watery.
For Microwave Method:
While I have never used this method myself,
I am just writing down the notes added by the original author of this recipe.  For M/w, reduce the apple juice to 2 tbsp. Then place all the ingredients in a m/w bowl. Cover with plastic wrap or m/w resistant plate and cook full power for 8 minutes turning the bowl 180 degrees once halfway through. Check, and if apples are not soft enough to mash with the back of a wooden spoon, repeat for another 4 minutes. test again and repeat if necc. Puree as mentioned for stove top method.
Related Recipes You May Like
Did you make this recipe?
Please click below to share your experiences while you were making this recipe. Thanks for your input!
Have a favorite recipe?
Know a family recipe your mom used to make? Or maybe a go to recipe that works everytime? Share it with your fellow foodies!