While on one hand you have immensely labor intensive yet traditional Indian sweets like
Gulab Jamun
, on the other hand you have ridiculously simple ones, which don't feel like sweets/desserts though they are!  Take this Shrikhand for instance. Rich and creamy yogurt sweetened with aromatic spices added and saffron lending its golden hues to it. It looks and tastes like a total winner yet its effortless to make. Throw in Greek style yogurt, it becomes even more of a child play to make this.  Why Greek Yogurt? 'Cos its already thickened. You just need to throw it in a  bowl and add the rest of the flavoring to make it. Otherwise, there is a slight lengthy process of straining out any water/whey out of yogurt to thicken it. It is not hard, but it does take time.
I used fat free Greek Yogurt making this low calorie yet nutritious dessert.  This Indian dessert
Shrikhand
is a gift from the Gujarati and Maharashtrian cuisine. There are quite a few variations (with many more cropping up nowadays), but one of its most popular variations is
Amrakhand
- where mango puree is added to this dessert. I have already posted
Amrakhand recipe
here. A friend recently told me that this dessert is made during
Janmashtami festival.
Anyways, wishing you all a happy celebration with this sweet whose name "
Shrikhand
" is supposed to mean
"Ambrosia of the Gods".
Sure tastes like one to me :)
Ingredients
1-1/2 to 2 cups Greek Yogurt (No Greek style yogurt? See Note)
2 tbsp milk, warmed
generous pinch of saffron threads
1/4-1/2 cups sugar (or as per taste)
pinch of nutmeg
pinch of cardamom powder or as per taste
about 1 tbsp charoli nuts to garnish
Tips
Note:
If you don't have Greek styled yogurt, take plain yogurt, hang up in a clean muslin cloth for at least 4-5 hours (preferably overnight). Discard the whey. Use this thick yogurt for the recipe below.
Method
1
Take the warmed milk in a small bowl. You can heat it for few seconds in your m/w. Add the saffron to it, give it a quick stir and let it sit for about 5 minutes.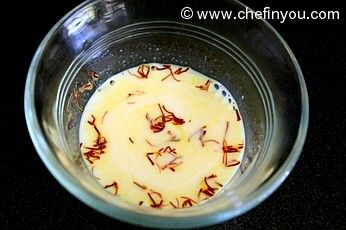 2
In another bowl, take the Greek Yogurt.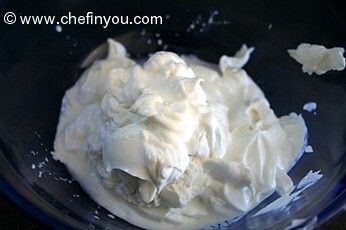 3
See how thick the yogurt is? The benefits are awesome - 1 cup of fat free Greek yogurt has about 20 gms protein. The thick yogurt is essential for this recipe.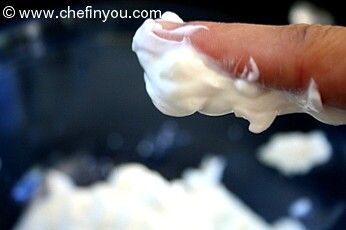 4
Add sugar to it and mix.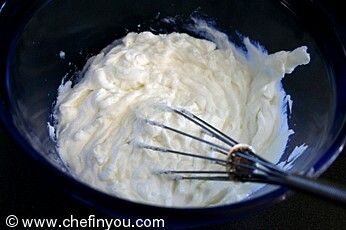 5
I beat it well until well blended and smooth. It takes on a creamy consistency - about 5 minutes worth of making those muscles work!.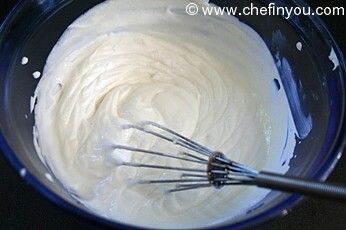 6
Now add the saffron milk along with the spices. You can add more cardamom powder if you like. Since everyone has different idea of how "strong" cardamom powder is, I recommend starting with little and adding more if needed. But keep the nutmeg bare minimum since it has strong flavor and little goes a long way.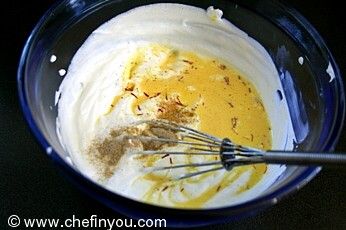 7
Give them all a mix until well blended. You can chill this at this point since it helps to fuse the flavors well together. And this is traditionally a dessert which is served chilled.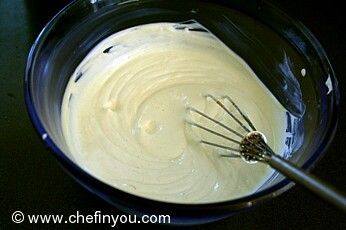 Pour into glasses and top with charoli nuts along with saffron threads (optional of course). Simple, quick and a yummy low calorie dessert at your disposal :)
Related Recipes You May Like
Did you make this recipe?
Please click below to share your experiences while you were making this recipe. Thanks for your input!
Have a favorite recipe?
Know a family recipe your mom used to make? Or maybe a go to recipe that works everytime? Share it with your fellow foodies!