How do you describe the sensation when something just melts in your mouth and while it travels down your windpipe "throat" (updated for the critical bunch out there who just don't get it!), it leaves a feeling of warmth and coziness as if you are the most special person in this world? How do write or even portray that soft fluffiness of the jamuns oozing with that delicious sweetness? Being a food blogger, these Gulab jamuns became a downright writer's block for me. And what more - it made a frantic and hopeless photographer out of me too. B'cos try as I might, I couldn't think of the right words to explain how I felt and also failed to capture that velvety smoothness of these famous Jamuns having prominence in the "Most Wanted" list of Indian desserts.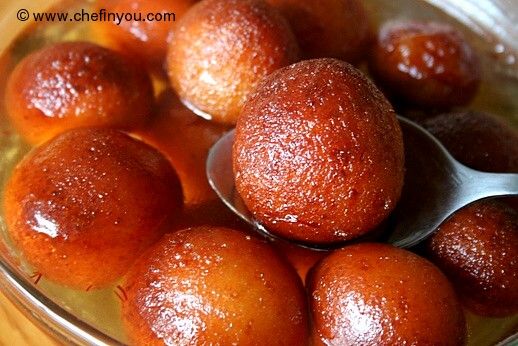 I have hammered the point enough in this blog about my lack of craziness
for sweets
. Very select few escape into my liking, with the
Baklava
being a recent addition. But Gulab Jamun was the King (or is it queen?) and almost the only participant in this list for a long time. My mother knew that Gulab Jamuns were the only sweets that I would have no control over and hence made it rarely. She, being an owner of sweet tooth ( should say teeth!), they were quite common in my household. I would never touch even one small piece of it. But the day she makes Gulab Jamuns, they would inevitable disappear the same day. She feared those moments cos the next few weeks, she would have to hear my laments of gaining weight, over poor wardrobe and other inexplicable tantrums.
When
Srivalli
announced Gulab Jamuns as the theme for this
months ICC
, I was ecstatic. We were given 3 different recipes to try. Only lathamma from Yumblog had a recipe which was v v similar to mine. Hence, I thought why not try some other recipe. Actually I am of a belief that as far as Indian Sweets go, few recipes literally adopt you. So, suppose one dish has say 5 different recipes, may be only one of it will literally beck and call you and would dance to your tunes while another recipe may do so likewise for some other person. Like that, the other 2 recipes given to us for the challenge, did not dance to my tunes. I was very dissapointed with the results. Agreed they were decent, but they were not of the same quality and taste, I had gotten spoilt on.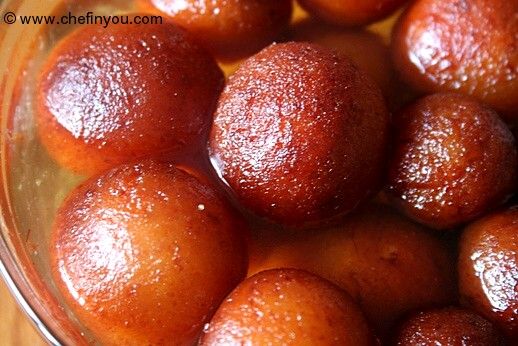 Hence I went back to mine (i.e to lathammas recipe) and VIOLA, my good old soft and fluffy jamuns came back me :). You can use store bought Khoya or even go for the instant made ones ( I will do a post on that later), but trust me when I say this - fresh homemade traditional Khoya is the main reason for the amazing texture for the Gulab jamuns. It may sound time consuming and hard, but its not as bad as its made out to be. You can make Khoya  the previous day while you are cooking your day to day meals.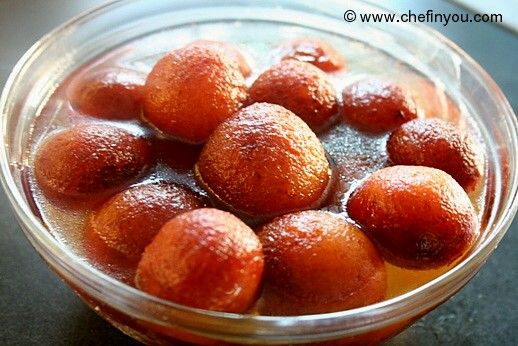 It takes 1-2 hours to make and needs only occasional stirring. On the day of making the Jamuns, it becomes a breeze to have these khoya on hand since making the jamuns themselves takes like 30 minutes totally! Though I have given the recipe given to us for the challenge, you will find few changes here and there with tips on my end to get perfect Jamuns.
Basic Information
Yield
:
Makes about 20-25 jamuns depending on the size
Ingredients
Khova – 1-1/2 cups
Maida (all purpose flour) – 1 cup
Sugar – 3 cups
Water – 1 cup
Cooking/Baking Soda – 3 pinches ( 1 pinch would be 1/8th of tsp )
Cardamom – 4 pods ( I used 1/4 tsp cardamom powder )
Saffron – a few
Rose water/essence - 2-3 drops
Method
1
Method- to Make Khoya
Making Khoya at home is extremely simple and a satisfying process. I find that freshly made Khoya is the best for this recipe and store bought ones do not work as well as home made ones.
See how to make Khoya at home.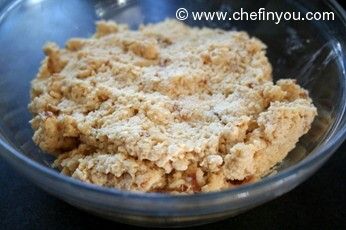 2
Method - For the Jamuns Combine sugar and water in a flat bottomed broad pan and simmer on a low heat until sugar dissolves.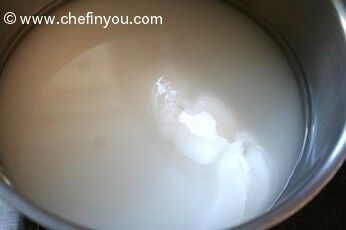 3
Add cardamom powder, rose essence and saffron and keep the sugar syrup on v low heat. We want the syrup warm not hot. Make sure it is near to where you are deep frying Jamuns. You want to make it easy to drop the jamuns directly into the syrup.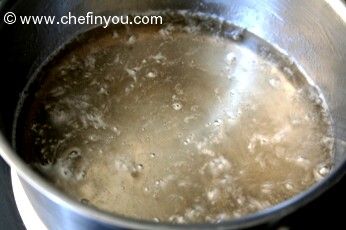 4
Heat oil on a medium flame. For that traditional rich taste, I used Ghee and oil 50-50 to deep fry.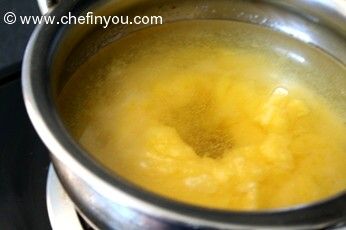 5
Now mix the homemade Khova, all purpose flour (maida) and the cooking soda.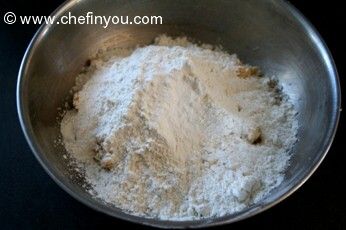 6
Knead all of them together. You might need few tsp. of water to form a smooth dough.
7
Add tsp at a time until you reach the correct dough consistency.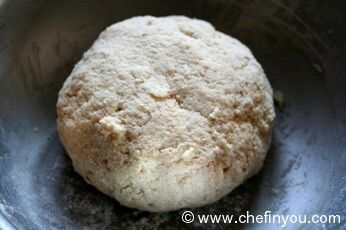 8
Form small balls of this dough. Make sure they are less than say small limes. This is important since they will become large while deep frying and larger when soaked in syrup. Another important point to note is to shape smooth balls. No cracks should be visible since this will cause the jamuns to disintegrate while soaked in the syrup. To make a smooth dough, one simple technique would be to grease your palms, either with ghee or oil while making the balls. ( Water works too but it would cause the oil to splutter all over)
9
Fry the jamuns till golden brown over a low to medium flame, keeping oil temperature uniform. Oil should not smoke.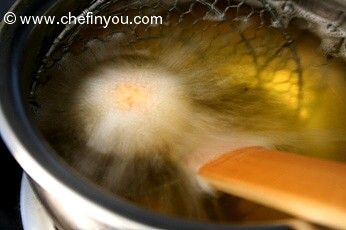 10
You will find the jamuns go down, then in about 10 seconds or so, floating to the top. Its a wonder to see them rotating on their own in the oil. It seems that they like to brown uniformly well ;)
11
Once they get uniformly brown on all the sides, remove them from the oil making sure to drain the excess oil  and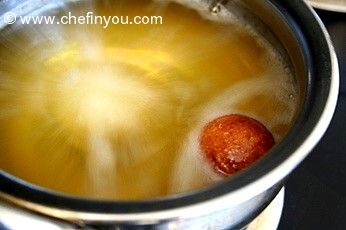 12
drop it straightaway on the warm syrup on the side. The hot jamuns in the warm syrup (not hot) helps them to soak the syrup well making them incredibly soft. And if you made sure to keep the size and the smoothness intact, they will not fall apart either and hold their shape.
13
You can of course deep fry 3-4 jamuns together depending on the size. But make sure not to crowd them since it would bring down the temperature of the oil/ghee and the result would not be that good and the jamuns wont be cooked inside and might end up being soggy!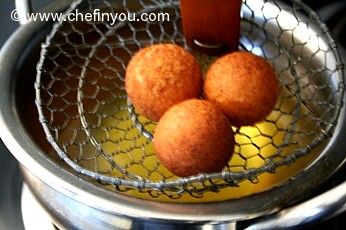 14
Drop all the fried jamuns in the syrup and let it soak for at least 1 -2 hours for them to soak the syrup. You can increase the syrup in the original recipe if you want the Jamuns to float in the syrup. Also if you live in a cold place, you will find the sugar syrup thickening up if you keep it for some time. I find that increasing the water to another 1 cup (that's 2 cups water for 3 cups sugar), makes a thinner syrup in such cases. You know you have made the perfect jamuns when you see them absorbing the syrup but continuing to float in the syrup. If they are dense or heavy, they will sink to the bottom!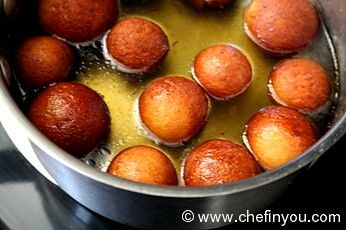 Gulab Jamuns can be stored in room temperature for a week. Store them closed with a plastic wrap.
More than that, then fridge is a good idea. Though they are good cold, they are best warm (not hot). If you have refrigerated them, warm them up in a microwave for few seconds before serving.
Common Questions when it comes to Gulab Jamuns ( Tips and Tricks )
I have been getting many queries/doubts about Gulab Jamuns. Here are few more tips, I learnt from my exp. and also from other online source to get perfect spongy jamuns. Hope these help.
If the jamuns are fried on high heat, then they will become hard on the inside though they may look perfect from outside and firther more they may not cook completely inside. Heat the oil on high and then reduce to medium high. Make sure you drop only enough jamuns to maintain this heat throughout the cooking process.
Too much baking soda can cause the Jamuns to disintegrate in the oil and then in the syrup.
While one set of experts warn you against dropping the jamuns immediately in the syrup, another says its a must. I usually drop it as soon as I fry them and have never faced issues till date.
While kneading the jamuns into smooth balls, if you find lots of wrinkles on the surface of the jamuns, then you know that your dough is too tight.  Add a little more fresh Khova ( if you have on hand) or otherwise few tsp. of milk. Knead the dough again until smooth.
This tip is from a friend of mine -If you find that sometimes your finished gulab jamuns are hard, then microwave them for few seconds. This helps to make the jamuns spongy.
Another possible reason for the Jamuns to get hard is if you have rolled out your jamuns hard. They should be rolled out v smoothly without giving pressure and gently.
Few other tips I have already mentioned during the method itself. Hope these help.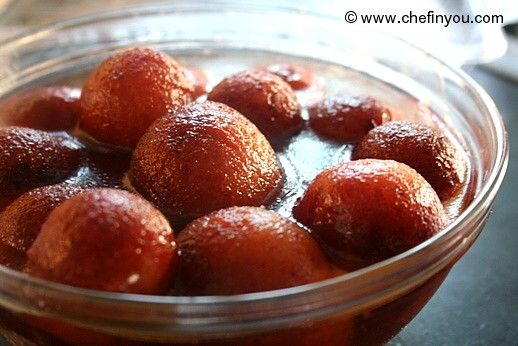 What are you still in this page for? Don't you feel like making some now in your kitchen? Oh well suit yourself , while I enjoy these delicious soft Jamuns ;)  ( Did I hear you just cursing me??? ;) )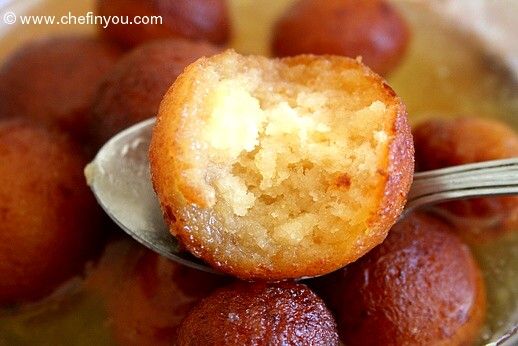 11 members have made this recipe!
Did you make this recipe?
Please click below to share your experiences while you were making this recipe. Thanks for your input!
Have a favorite recipe?
Know a family recipe your mom used to make? Or maybe a go to recipe that works everytime? Share it with your fellow foodies!