These layer dips are home grounds of creativity and ease. Anything and everything goes. So much so that put a layer of cilantro and that would be
totally counted as a " layer " in these dips
!
(If you laughed, trust me, I was not joking! Really! What do you think 10 layer dips are made of? OK now stop laughing!...Grr)
You can easily adapt this recipe to suit your taste, needs and availability. You can use canned beans to make this even easier or like me put together the bean + guacamole prep the night before. You can even buy store bought guacamole
(ignoring the quip from my brain that's screaming -  "Then why not buy the whole thing, you dumbass!!")
. Anyways - I would normally have used
refried beans for this
, but I had some cute "small red beans" waiting to be used and hence did. The only effort I would say is prepping the beans +
guacamole
(that takes abt 15 min)- other than that the rest is a breeze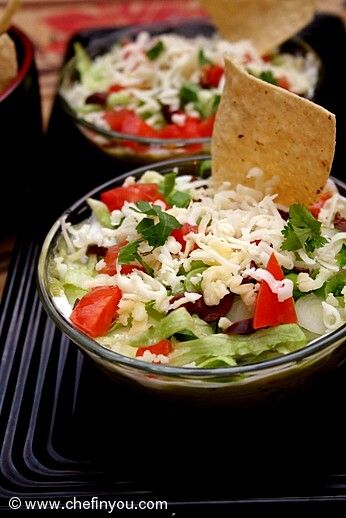 I am among those who
don't fancy "double dipping".
Hence instead of putting this whole thing together in one bowl (the way its usually done), I put them in individual bowls. But its totally optional. I have made them relatively healthier than regular dips without compromising on the taste. The beans have
minimal oil
,  the sour cream
50% less fat
and those
crispy tortilla chips are baked
instead of deep fried. Its one of those guilt free party appetizer that speaks of celebration without making you feel like you are losing out on the party scene with "diet" food.