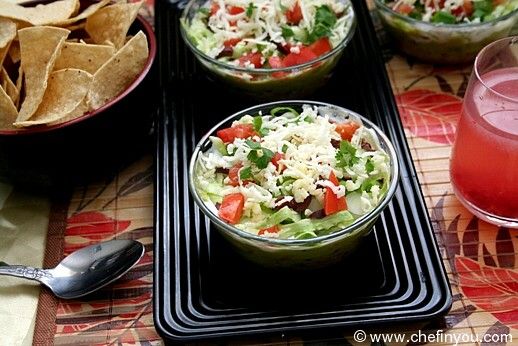 Another month's theme for
FSB'ites
is here. Its a celebratory special -  time to
PARTYYYY
!!!!!!!. So what/who are we celebrating? Dear Nags of
Edible Garden fame
had an anniversary party and we were asked to bring in our share to the merriment. We had a free reign on this one
provided
we created
a

"savory" appetizer
the recipe for which could be
easily doubled
and would be
relatively quick to put together
on the day of the party. Since this is usually served at room temperature, there is this relief of not worrying about this getting cold. Advance prepping was totally allowed with the idea that you actually would be able to "enjoy" your own party instead of slogging in the kitchen. So for me the one appetizer that fit the bill perfectly was some sort of a dip. Party food + Quick + Looks Palatable = Mexican 7 Layer Dip of course!!!!!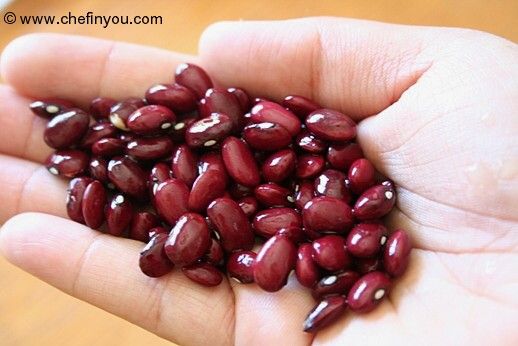 These layer dips are home grounds of creativity and ease. Anything and everything goes. So much so that put a layer of cilantro and that would be
totally counted as a " layer " in these dips
!
(If you laughed, trust me, I was not joking! Really! What do you think 10 layer dips are made of? OK now stop laughing!...Grr)
You can easily adapt this recipe to suit your taste, needs and availability. You can use canned beans to make this even easier or like me put together the bean + guacamole prep the night before. You can even buy store bought guacamole
(ignoring the quip from my brain that's screaming -  "Then why not buy the whole thing, you dumbass!!")
. Anyways - I would normally have used
refried beans for this
, but I had some cute "small red beans" waiting to be used and hence did. The only effort I would say is prepping the beans +
guacamole
(that takes abt 15 min)- other than that the rest is a breeze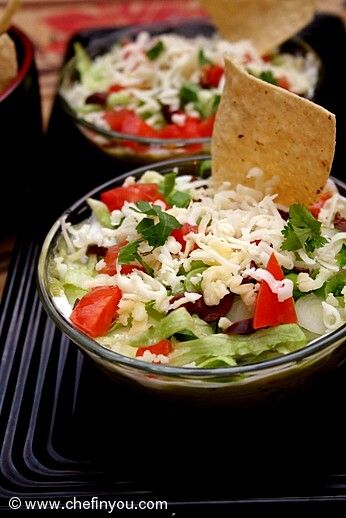 I am among those who
don't fancy "double dipping".
Hence instead of putting this whole thing together in one bowl (the way its usually done), I put them in individual bowls. But its totally optional. I have made them relatively healthier than regular dips without compromising on the taste. The beans have
minimal oil
,  the sour cream
50% less fat
and those
crispy tortilla chips are baked
instead of deep fried. Its one of those guilt free party appetizer that speaks of celebration without making you feel like you are losing out on the party scene with "diet" food.
Basic Information
Prep Time
:
8 hours to 1 day
Ingredients
For the Beans Layer (or use refried beans recipe )
1 cup/8 oz/ 230grams of small red beans
1-2 dried bay leaves (optional)
1/2 tbsp Epazote (optional)
2-3 cloves of garlic, finely minced
2 shallots, finely minced
1 Jalapeno, chopped finely (seeded for mild heat)
2-3 tbsp vegetable/corn oil
2 tsp cider vinegar
salt, black pepper, pepper flakes to taste
For the guacamole
3 cups of Guacamole (or use store bought)
For Other Layers
3 cups sour cream
2-3 cups of lettuce, chopped
1 cup part skim Monterey Jack Cheese, grated
1 cup part skim Cheddar cheese
1 cup diced fresh plum tomatoes (or use firm regular tomatoes)
1/2 cup chopped pitted black olives
abt 4 spring onions (scallions), diced
Few cilantro sprigs for garnish, chopped finely
Tips
Canned Black Beans/ Refried Beans will make it even more simpler, so you can use that instead of small red beans. You can use any of your own layers. The measurements for the layers are approximate. You can increase or reduce the amount depending on the taste. Instead of using Jack and Cheddar, you can use those fancy shredded 4 Mexican cheese packets.
Method
1
Rinse the beans .Soak them for 8-12 hours.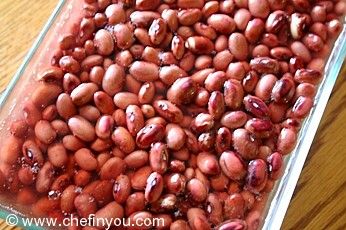 2
Drain the beans, give it a quick rinse and pressure cook it with the bay leaves and epazote and enough water to cover the beans by at least 2 inches. I use the herbs to reduce the unwanted side effects of beans.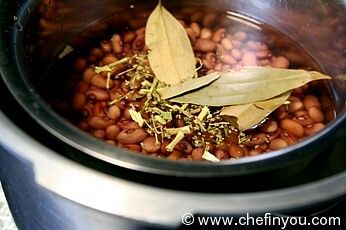 3
Once cooked, discard the bay leaves , drain the beans and keep the cooked water aside. Dont throw it away.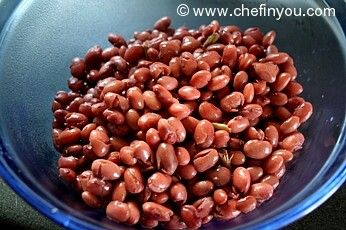 4
Add the rest of the ingredients mentioned in the beans section.  You can alternatively give a quick saute of Onions and garlic if they taste sharp to you before adding them to the beans.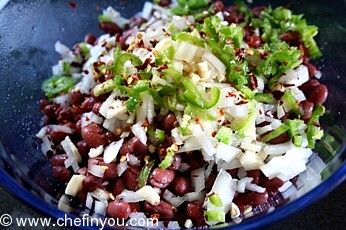 5
Give a stir and do a taste test.
You can add any other seasoning you like.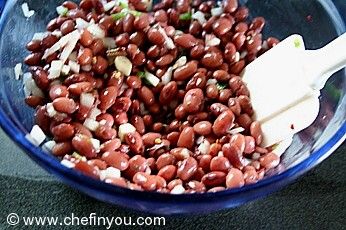 6
You can now do two things. You can either make a paste of this by running it 1-2 times in your blender or mash it well. I like it to be little coarse hence mash it.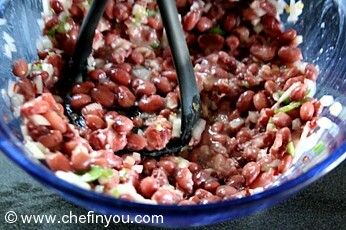 7
For a gravy kind of consistency, instead of adding more oil/butter/or any other fat, I add the beans water to this.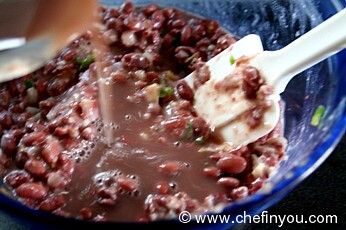 8
Add enough water to give it the consistency you like/prefer.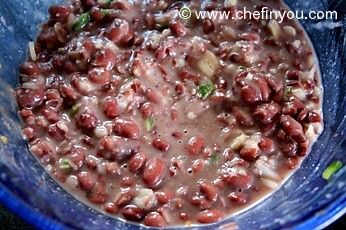 9
Now place it in a large bowl that you are going to be using for the party. I, as mentioned earlier, used  individual small bowls. Start layering in the way you prefer. I layered by way of beans, 
home made guacamole
, sour cream, lettuce, scallions, tomatoes, olives, cheese with few sprigs of cilantro as garnish.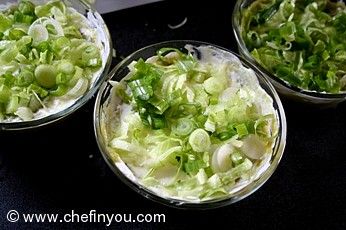 Related Recipes You May Like
Be the first to showcase this recipe!

Your Name
Did you make this recipe?
Please click below to share your experiences while you were making this recipe. Thanks for your input!
Have a favorite recipe?
Know a family recipe your mom used to make? Or maybe a go to recipe that works everytime? Share it with your fellow foodies!