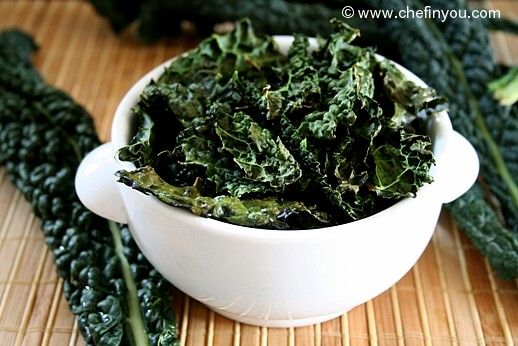 I have to confess. I am a reformed Potato chips addict.  I could eat chips (and other junk food) the whole day. I could skip regular meals for chips. I am a sucker for the Jalapeno Potato Chips. I suspect, the Dorito company might have upped their sales about 2%, thanks to me! But down the years, my eating habits have changed. I think its mainly due to blogging. More I blogged, more I learnt and more I felt a compelling need to make a change (for the better of course!).  Its like eating less of that uber delicious
Paneer Makhani
at home though you probably would have pigged out when ordering the same dish at the restaurant. Not because it tasted any less delicious but cos you know exactly what has gone into this dish, to make it this lip smacking, which in turn makes you wary. Hence, cooking all these years, doing research for the blog, expanding my culinary horizons, has managed to make me a responsible gourmand. I think. I believe.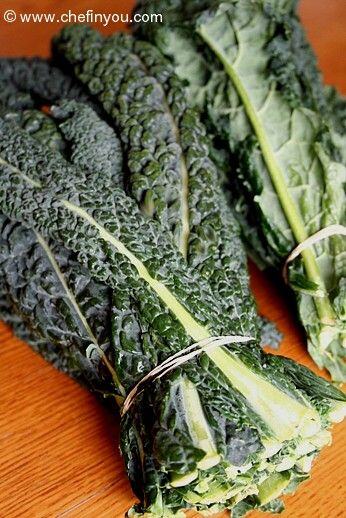 I still do enjoy "
fried goodies
" and an occasional chips, but if there is no nutrition in it for me, then I consume it less. Simple. Deprivation does not work for me, but moderation does. So when the craving for chips/or crunchy snacks arises - like recently what with overcast/rainy weather, I make these by huge batches. Kale Chips should be eaten to be believed how good they are. I don't mind frying them either, but why when these taste as good (and when the oven does all the work for you!). I am trying to incorporate some kind of greens in our diet at least once every 2 days. Ideally I would like to every day - well, I am thinking "ideal" not "practical". But instead I am averaging 4 times in a week and I am content for now.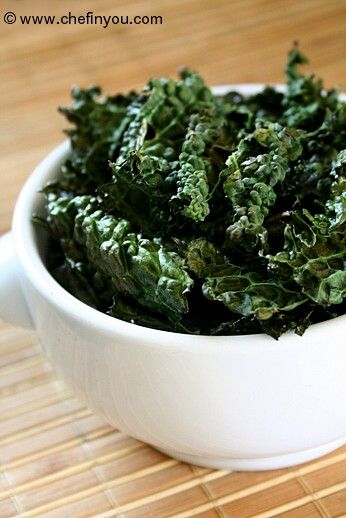 Kale has always been number 1 in my husband's "hate list". After numerous permutations and combinations, I have finally managed to make him like it. This was the first dish he liked. This is ridiculously easy to make and I was made aware of such a possibility when I saw packets of Kale Chips at Whole Foods Market. Searching Internet made me realize how easy this was making at home. I have tried few variations and would love to hear yours when you make them, so that I can try it out next time I make a batch. Oh yes, I am definitely making them again.. and again....and again :)
References
from my kitchen notes
Basic Information
Yield
:
Its so good that it might not be enough for even 1 person!
Ingredients
1 bunch (about 8 oz) Lacinato kale - see Tips
1.5 to 2 tsp olive oil
Salt, to taste
Tips
1.
Kale
- I used what is referred to as Lacinato Kale which has large leaves than the other variety. It is also known as Tuscan kale, Italian kale or aptly Dinosaur Kale. If you cannot find this variety, you can also use the curly Kale for this.
Other Seasoning Ideas
: Roasted Garlic tastes great along with these. Or toss it with Garlic flavored Olive oil. Truffle Oil would probably give it a great gourmet touch. How about adding comfort to these by way of sprinkling some Parmesan Cheese? Do share your ideas as well in the comments section for me to give those a try :)
Method
1
Preheat Oven 300F.Wash the leaves well.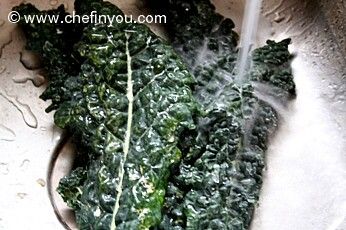 2
Dry them with paper towels. Or those who have the Salad spinner can use it.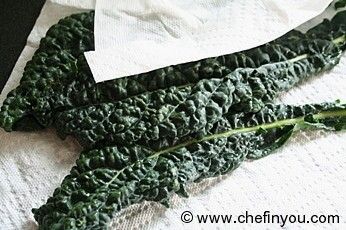 3
Tear the leaves from the hard stem and hard ribs.  You can be meticulous and tear the leaves in uniform pieces or do a rough tear.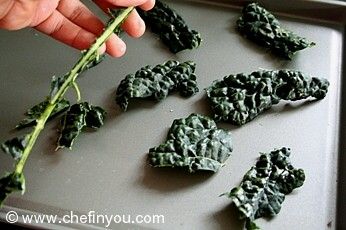 4
Add in oil.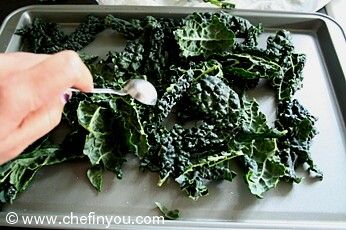 5
Toss them well until coated. I personally found a little more than 1 tsp of oil perfect. But you can add upto 1 tbsp of oil.
6
Arrange them on Baking sheets making sure not to overlap.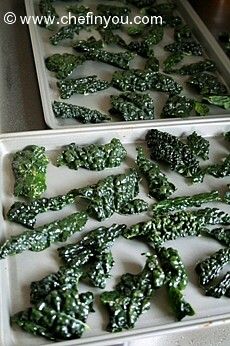 7
Bake them for around 15-20 minutes or until crisp. Cool them for few minutes before enjoying these crunchy health bites.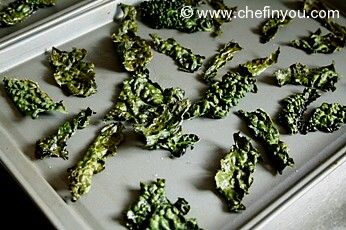 They get pale green from the dark green once baked.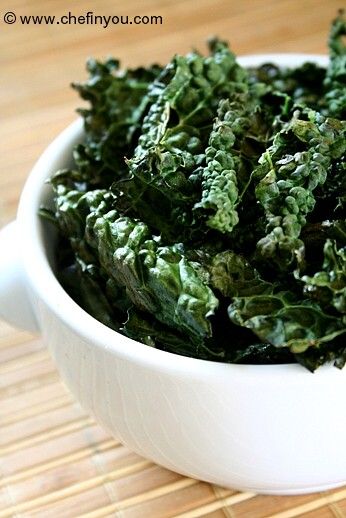 Make sure to bake a huge batch, since it will get over pretty fast.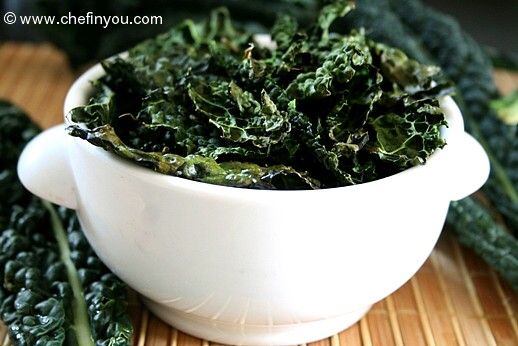 Related Recipes You May Like
Did you make this recipe?
Please click below to share your experiences while you were making this recipe. Thanks for your input!
Have a favorite recipe?
Know a family recipe your mom used to make? Or maybe a go to recipe that works everytime? Share it with your fellow foodies!