Cauliflower Bhajji (Pakora)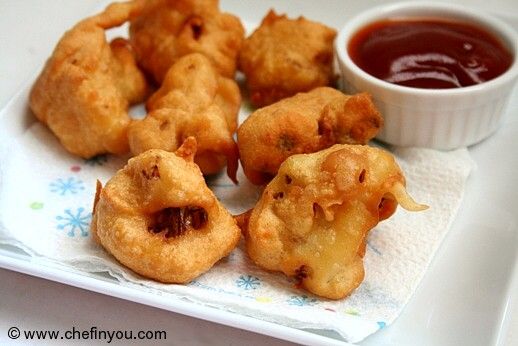 Overcast skies have been haunting us last few weeks. A rain lover like me, using the word "haunting" must have surprised the hell out of people who know me. Well, I know!  But earlier I was alone and free to do as I liked. But now, I am dependent on someone, who in turn is dependent on me for his moods! And believe you me - he gets cranky when he is made to sit at home all day! But I get cranky when there is too much sunshine. In this war of "crankiness" - no prizes for guessing who finally gets the last word!;). So what do I do when I cannot take him out in this gloomy rainy weather (and maintain my sanity in the process)? Make these
cauliflower
fritters that we both love.
I always buy multicolored vegetables and cauliflower is no exception to this color fetish of mine. I get all the types - regular white, orange, purple and green - when I can get them. Well this vegetable is never an excess in my household since its immensely versatile to warrant use in all ways.  I have never had a left over till date with these beauties. Talking about which, I just realized, that I do not have as many
cauliflower recipes
, in this site as I thought. Will rectify that pronto, what with me cooking it now more often (thanks to it being at its freshest this season)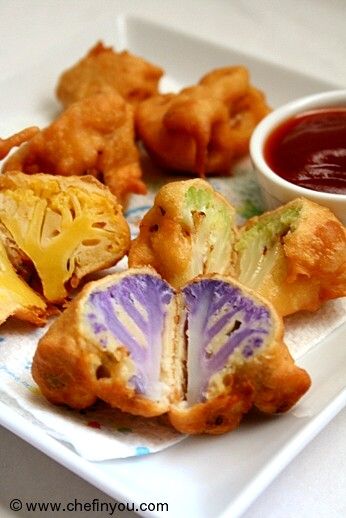 North Indian fried cauliflower Pakoras are also known as Bhajji(s) in the South. These are addictive and especially perfect with the rainy weather. And needless to say, these disappeared as and when I dropped them on the paper towel. This and Ginger tea made the evening immensely pleasurable! Ah - rain, how I love thee! My mom makes them after parboiling the cauliflower florets for few seconds. I used to steam them for a minute or so earlier. But later on, I realized that these tasted as good without parboiling/steaming them. Hence, I make these fritters right away. But you can parboil them if you wish.
References
mom and my kitchen notes
Ingredients
250 gms Cauliflower, broken into florets
1/2 cup Besan (chickpea flour)
1/4 cup Rice Flour
2 tbsp All Purpose Flour
Salt to taste
Chilli powder to taste
Method
1
Heat oil for deep frying. Clean the florets well and pat dry. Set aside.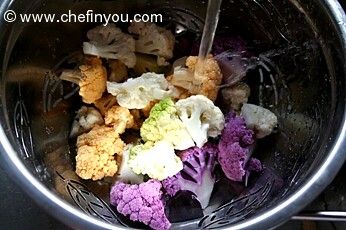 2
Mix the rest of the ingredients in a bowl and mix until combined.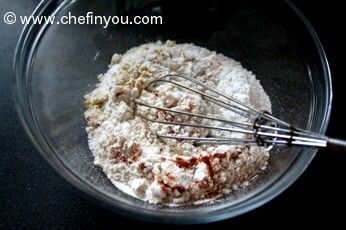 3
Add 1 tsp of the hot oil to the flour mix along with enough water
4
to make into a thick batter.
5
6
Drop a cauliflower floret into the batter.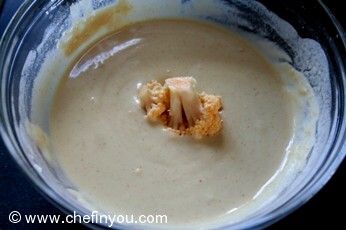 7
Dip enough to coat it well.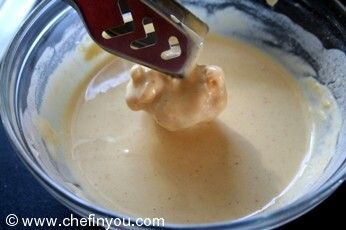 8
You can add in one or several at the same time - depending on the size of the pan which you are going to use for deep frying.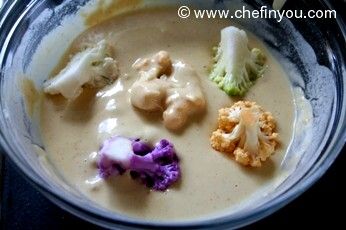 9
For my pan, I use about 3-4 florets for frying at a time.
10
Let them cook in med-high heat for 2-3 minutes or until golden/reddish brown.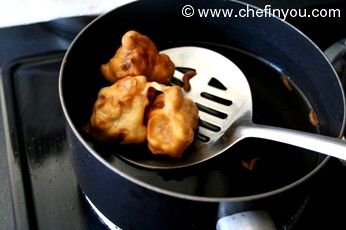 11
Drop them on paper towels to remove excess oil. If you fry correctly and at right temperature, you will find that it does not retain oil at all.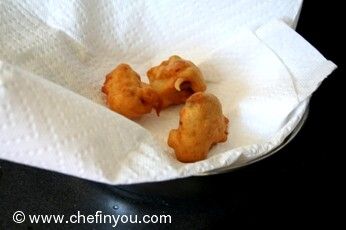 Serve them hot along with Ketchup or any of your favorite
chutney recipes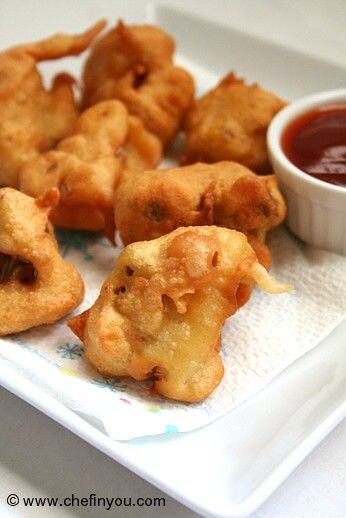 Using different colors is fun with the little ones. You can play a guessing game of who gets what color and such. Don't be surprised if the adults join in too!
Related Recipes You May Like
Did you make this recipe?
Please click below to share your experiences while you were making this recipe. Thanks for your input!
Have a favorite recipe?
Know a family recipe your mom used to make? Or maybe a go to recipe that works everytime? Share it with your fellow foodies!