South Indian Beetroot Curry with Red & Golden Beets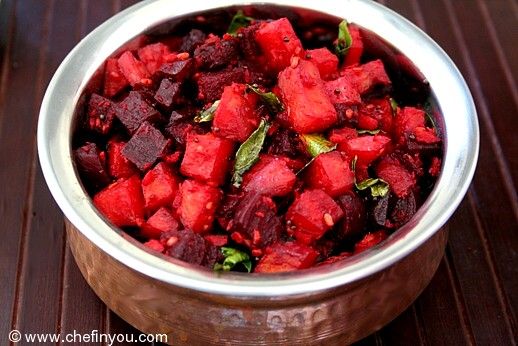 Before the little one was born, I rarely cooked South Indian meal. It's not like I hated it. But then having eaten that all my life before, made me want to try other options. My parents belong to a generation where eating out on a regular basis was never an option . It was for those rare instances when you were on an outing at an inappropriate time and you could not be at home to eat a meal (Read: Its "could not be at home for a meal "  and NOT "no time to cook it"). My mother could whip up an entire 3 course meal in 20 minutes flat. So, my knowledge about other cuisines was almost non-existent. But advent to U.S was like a floodgate and hence the rebel was born.  But with time came the home-sick factor and with it came the compromise of eating foods you grew up on to desperately fill that vacuum.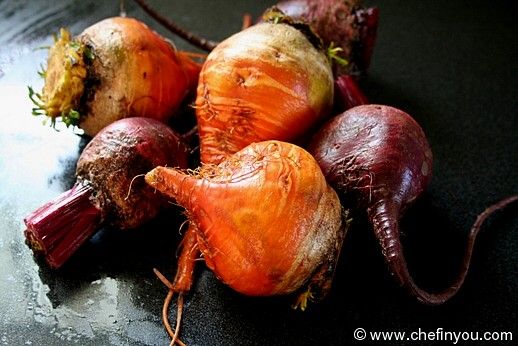 Like this Beets curry for example. Every time, I spot beets, I cannot help myself from smiling. Beets always act as a mnemonic for me to think of my dad.  Beets made him wince. Every time, my mom made this curry, he used to give a huge sigh and remark "
Oh God -  This again?
". The fact that my mom would have made it after a gap of 2 months would simply fail to register in his memory. That weird face would bring about bouts of laughter from us. Anyways, my last visit to the grocery store saw me picking up some Golden Beets as well.  Having never tried it before, I thought I will give it a try this time around along with red beets. I used up the green tops from the beets to make
Beet Greens with Green Garlic
and the root to make this simple curry.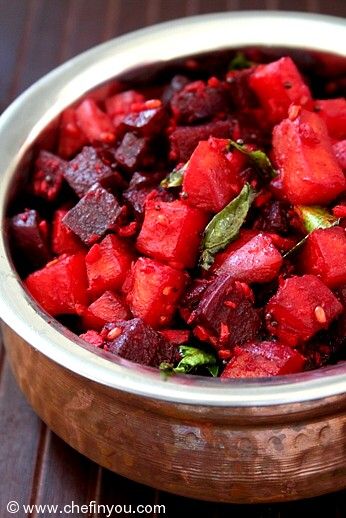 That beautiful golden beet took the color of red beets and it made a beautiful presentation on the table. It tasted pretty much like regular beets if you ask me. At least as far as this particular recipe goes. I used my mother's recipe but adapted it by adding the golden beets and coconut. Its a simple recipe highlighting the sweetness and slight earthiness of Beets.
References
adapted slightly from my mom's recipe
Basic Information
Yield
:
Serves 2 to 4 people depending on how much the beets is liked :)
Ingredients
6 small-med Golden and Red Beets (see Tips)
1 tsp Mustard Seeds
1 tsp Black Gram, skinned, split (urad)
3-4 tbsp fresh grated Coconut (see Tips)
pinch of Turmeric
pinch of Asafoetida
1-2 Whole Dried Red Chilli (optional)
Salt to taste
few sprigs of Curry leaves
Tips
1. Beets :
I have mentioned 6 small-medium beets here since that's what I have used for this recipe. It weighed a little more than 1 lb/ 500 grams. You can instead use large beets to approximate weight. I used 3 Red and 3 Golden Beets. You can use just Red Beets for this recipe.
2. Coconut:
Use coconut as per taste. If for dietary restriction, you do not use coconut, then you can skip it in this recipe. My mother never used coconut although ever since I have started using it, I am hooked to how it tastes with coconut. Fresh grated coconut is recommended although frozen works pretty fine. You can also use dried coconut powder if fresh/frozen is not available. The qty. will be about half of fresh.
Variation:
: Not much of a variation. A friend of mine from Andhra Pradesh, says that her mother adds an additional of 2 tsp. Bengal Gram (channa dal, presoaked in warm water for 30 minutes) along with cumin seeds with lot more red chillies to this exact same recipe. Add them while you are adding the Black split gram.
Method
1
Wash the beetroot well. They are great hoarders of dirt (esp. if you are buying from Farmer's market). Cut their ends and peel them. Do you see how beautiful that Golden color is? :)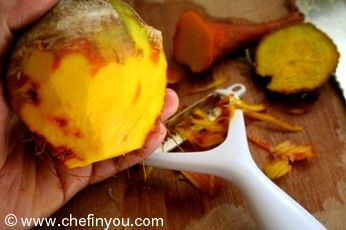 2
Chop them into small cubes. Cutting them small and equal pieces ensures quick steaming.
3
Steam them - takes around 5-8 minutes depending on the size of the cubes.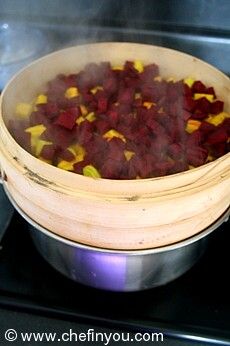 4
You can alternatively boil them too. My mom always boiled them in little water, just enough to cook them. The little of excess water that remained was used as a base for making
Rasam
which was boiling away nearby. No wastages of nutrients.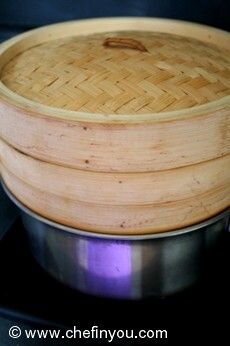 5
Remove from heat when soft.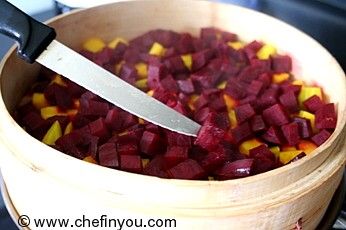 6
On the side, while the beet was cooking, heat a pan. When ready, add 1-2 tsp. Ghee/butter/oil to the pan. When hot, add mustard seeds. When it starts popping, add the urad dal, and red chilli (if using).  When the dal starts changing color, add the coconut and stir it for few seconds - around 30-40 seconds.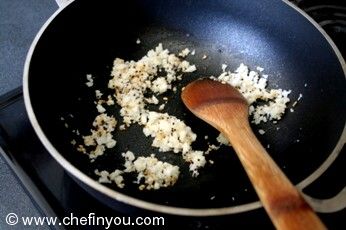 7
When the aroma hits of nutty coconut, add the curry leaves and asafoetida.
8
Next goes the beets. From this stage, its more of sauteing to combine the spices and additional flavors than for cooking beets, since its already done cooking. Add turmeric and salt.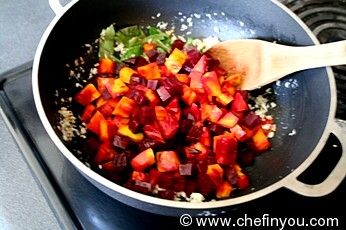 9
'Give a quick toss - for few seconds - until everything is combined.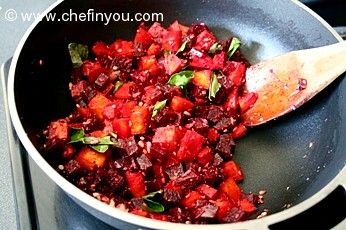 Remove from heat and serve hot. We usually enjoy it with a South Indian 3 course meal of
Sambar/Kuzhambu
,
Rasam
and Steamed Rice.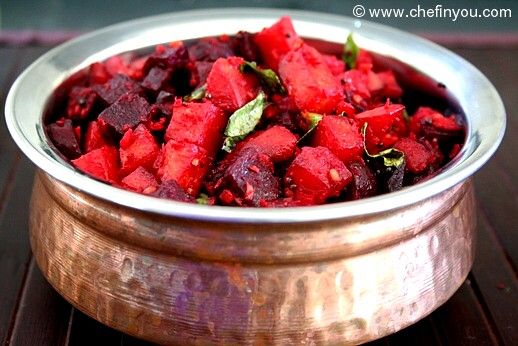 Related Recipes You May Like
Did you make this recipe?
Please click below to share your experiences while you were making this recipe. Thanks for your input!
Have a favorite recipe?
Know a family recipe your mom used to make? Or maybe a go to recipe that works everytime? Share it with your fellow foodies!