Ever since I saw
Green Garlic in my local store
, I have been going over the top with its usage in my kitchen.  Have to say, they are immensely versatile and "oh-so-delicious".  I think, I single handedly managed to deplete our Farmer Market's green garlic (
oh, yes, I like to go over the top with my assumptions too ;)
). I have this weird fixation of looking at beautiful produce without having the heart to cook them. I mean,
take Watermelon radish
for example, why, take even this Green garlic below. Do you feel like chopping and cooking them? Sigh! I surely find it hard sometimes.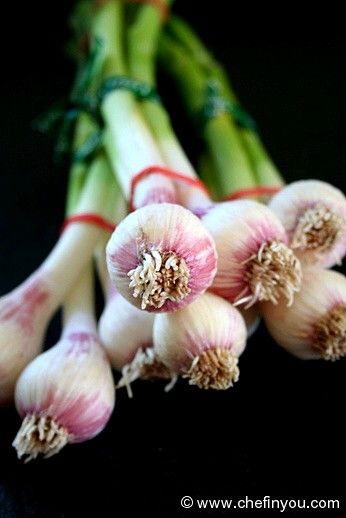 Anyways, leaving my quirks aside, lets talk about today's post.
My love for raita
, by now must be evident to those who visit my blog regularly. So this Green Garlic raita should not come as a surprise :). I like to include fruits/vegetables, in their raw state ,every day in our diet. Be it eating some fruits just like they are or be it enjoying raw vegetable salads. One of the best ways for me to do that is raita. Combined with filling protein, it provides epitome nutrition to the body.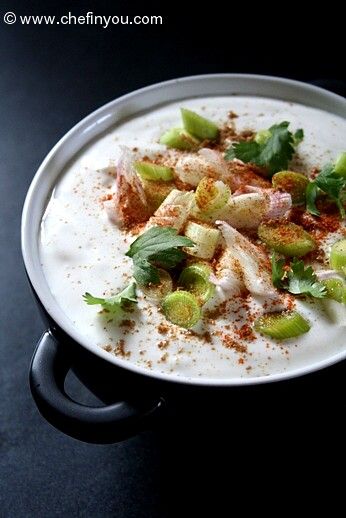 So, this simple Raita is just that. Combine yogurt with raw green garlic and some shallots, adorn it with some spices, and you are all set. 
References
from my kitchen notes
Basic Information
Yield
:
Makes around 2 cups depending on the consistancy of the raita
Ingredients
1-1/2 cups 0% Greek Yogurt + 1/2 cup 2% Milk (see Tips)
1-2 small Green Garlic (see Tips)
1 Shallot, or to taste (see Tips)
1/2 – 1 tsp roasted cumin powder
Few sprigs of cilantro
Salt to taste (see Tips)
Chilli powder/ground pepper for garnish (optional)
Tips
1.
Greek Yogurt :
Since I use Fat Free variety of Greek Yogurt, I tend to use some milk/water to thin it out since it is extremely thick. If you are using regular plain yogurt, just use 2 whole cups of the yogurt without any additional water/milk. If your yogurt is little sour/tangy, then it would benefit with the addition of milk.
2.
Green Garlic:
The amount will depend on your taste buds. I used 2 small sized bulbs using most of them in the raita and a little as garnish. Since you wont be cooking the garlic, the taste will be more profound than when you cook it. So depending on how much you are comfortable with the flavor, increase the amount of bulbs.
3.
Shallot
: Personally I find regular Onions very sharp for our taste, even the red variety ones which are mild. Hence I use shallots and that 1/2 of a shallot, if using raw. At times, I saute the onions (other than shallots) in little oil and then add it to the raita. My husband prefers that more than this one. But I like to eat "raw foods" at times and hence make this more.
4.
Salt
: Try the black salt that's available at your local Indian stores. More authentic and tastes delicious with a delicious aroma.
Method
1
Add the yogurt and water/milk along with the seasoning and spices.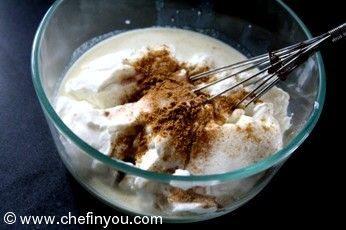 2
Beat until smooth and well combined.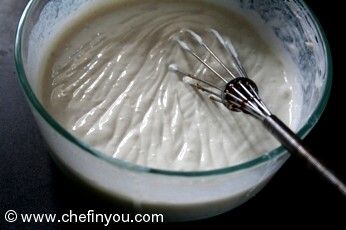 3
Add the shallots and green garlic (you can keep some aside for garnish, if needed). Make sure to read Tip 2 and 3.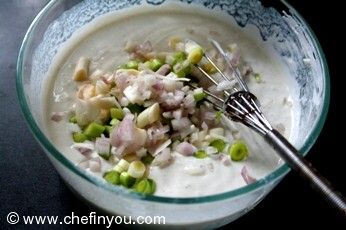 4
Blend well until combined.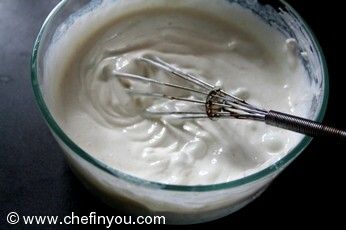 You can keep it covered in a plastic wrap for couple of hours before serving for the flavors to combine. Or serve it right away, garnished with the more green garlic, shallots, cilantro and spices. We enjoyed it with
Tawa Pulao.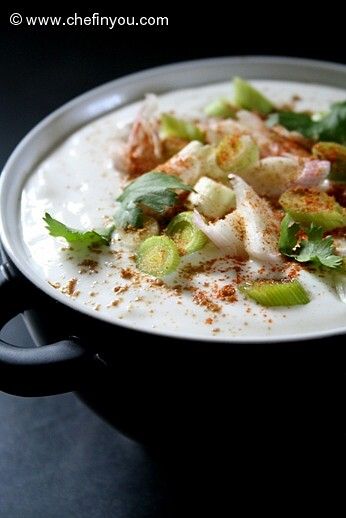 Related Recipes You May Like
Be the first to showcase this recipe!

Your Name
Did you make this recipe?
Please click below to share your experiences while you were making this recipe. Thanks for your input!
Have a favorite recipe?
Know a family recipe your mom used to make? Or maybe a go to recipe that works everytime? Share it with your fellow foodies!