Summer is the only time I tend to lose weight easily (if at all and only a wee little bit - really. Sigh!) The credit goes to my lack of appetite for anything solid. I tend to gulp down loads and loads of liquid or liquid based foods. So if you thought,
soups
were for winter, then welcome to my kitchen :) where it rules the roost during summer. I was never a salad girl esp. for those leafy kinds. I am more for beans/pasta/vegetable type
salads
- something that you could turn into a main course easily.
Regular featuring of salads are becoming a norm in the last 4 years - ever since I started working. More so when I worked from home, given that I had no inclination for cooking a separate meal for myself (or energy/time/concentration). These became my light main course and that was around the time, I first fell in love with this Italian Classic -Insalata Caprese. To explain, its a Tomato, Mozzarella and Basil salad with a light drizzle of Olive oil and seasoned with salt and pepper. How easy is that? When I think Summer, I think of Insalata Caprese. It has the rich summer bounty written all over its plate.
There are certain Do's and Don'ts when it comes to this salad. If you thought, what's so strict about such a simple salad - you thought wrong. Given that it is at its simplest, it necessitates certain rules, following which, is absolutely essential for a mind blowing eating experience. I have provided such details in the "Tips section" along with some variations which exists, though not traditional, that you can customize to your needs. I made these for my colleagues from work who dropped in home to see my little one. Since there were other kids, I wanted to use these cute multi colored cherry tomatoes along with cherry sized Mozzarella cheese for an inviting presentation. The kids loved them.
References
from my kitchen notes: recipe and information put together from various sources
Basic Information
Yield
:
Serves 2 when served as a light lunch with bread and around 4 as a starter.
Ingredients
2-1/2 cups (460 grams/16oz) ripe, sweet Tomatoes (see Tips)
1-1/4 cups (230 grams/8 oz) fresh Mozzarella (see Tips)
Abt 1/4 cup, loosely packed large Basil leaves (see Tips)
2-3 tbsp Extra Virgin Olive Oil for drizzling, or as needed (see Tips)
Sea salt and freshly ground black pepper to taste
Tips
1. Tomatoes
: Using perfectly ripe, juicy tomatoes is a must for this recipe. Using local vine ripened summer bounty that is at room temperature (not refrigerated) is recommended. You can use regular tomatoes, heirloom tomatoes or those mini multicolored varieties like I have for this recipe.
2. Mozzarella :
Traditionally
"mozzarella di bufala"
- i.e fresh Buffalo Mozzarella is used for this recipe. But given that its little hard to find (and expensive!), you can substitute with Cow's Mozzarella ("
Fior di latte
") instead. I have used cherry sized Mozzarella for this recipe called as "Ciliegine" (pronounced as
"chee-lee-eh-gee-nee"
). If you are really a strict Vegetarian, then look for Mozzarella that's made with "Vegetable rennet" (the label will say so) since regular Mozzarella uses animal rennet.
3. Basil:
Naturally, sun grown Basil are the best and the most aromatic. Use large leaves and tear them with your hands into small pieces.
4. Extra Virgin Olive Oil:
I do not have a personal preference and use unrefined variety offered by my local Farmer's market. Use the fruitiest ones you can find.
America's Test Kitchen
recommends "
Columela Extra-Virgin
"
Variations
1. Use Arugula (also called "Rocket") leaves instead of Basil along with a pinch of dried Oregano. Or use Arugula with combination of Basil.
2. Have some "Fleur de Sel Salt" in your pantry? Use it instead of Salt.
3. You can add about 2 tbsp of drained capers.
4. About 2 tbsp of sweet pitted black Olives (or any other that you prefer) also make for a great addition.
5. If you cannot think of a salad without Vinegar, then few drops/sloshes of Balsamic Vinegar would be an awesome addition to this.
Method
1
If using regular tomatoes, thickly slice them. I used some of these cherry tomatoes whole and few others chopped into halves to make them into bite sized pieces (for kids sakes).
2
I further chopped the small Mozzarella cheese into halves. If using the large type, slice them to moderate thickness (just like the regular tomatoes)
3
Toss them together in a large bowl. If using the slices, then arrange the cheese in a platter alternate them with sliced tomatoes, overlapping for effect.
4
Sprinkle and pepper.
5
Drizzle in the Extra Virgin Olive Oil
Important Note: Make sure to add the oil only before serving. If you are prepping ahead, then add the rest of the ingredients (including basil) and then just before serving, drizzle in the oil. Do not let the tomatoes sit in the oil for long, otherwise it will become soggy.
6
Tear the basil leaves into small pieces and toss it along with the rest of the ingredients.
Serve immediately. Enjoy it as a starter ( antipasto) or as a main meal (light lunch)  along with a nice crusty bread.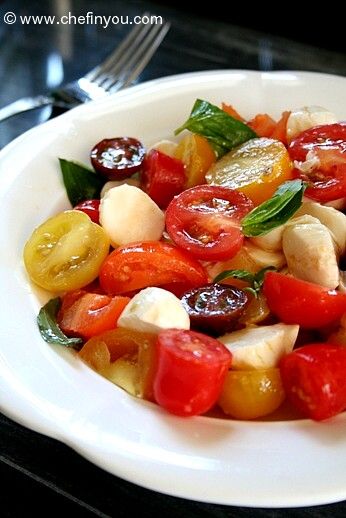 Related Recipes You May Like
Be the first to showcase this recipe!

Your Name
Did you make this recipe?
Please click below to share your experiences while you were making this recipe. Thanks for your input!
Have a favorite recipe?
Know a family recipe your mom used to make? Or maybe a go to recipe that works everytime? Share it with your fellow foodies!