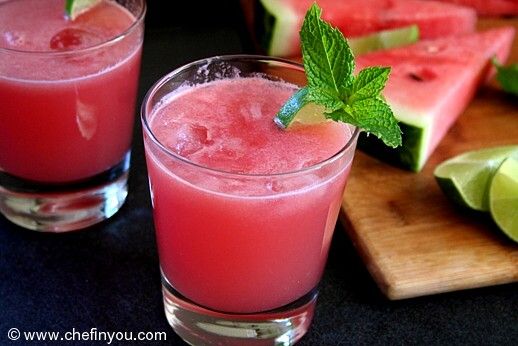 Continuing the story from my
Pineapple, Carrot and Ginger Juice
, this Watermelon Limeade was another of my go to drinks in place of water.  With the natural sweetness of 
Watermelon
and teeny tiny bit of unrefined and nutritious honey, this was not only refreshing (thanks also to that mint!) but very satisfactory. I could gulp this down in gallons especially during summer when my body needed more of the life giving elixir - water!
This helped me in so many ways than one. This served as a wonderful detox  along with providing abundant fluids to my system not to talk about the addition of fruits. Did you know about how I hardly ate fruits before? You should check out my
Eggless Banana Cupcakes
for that story. Can you appreciate how I have arrived leaving  all these frustrating habits behind? Well, I certainly do and that to me is the most important. Self realization, indeed!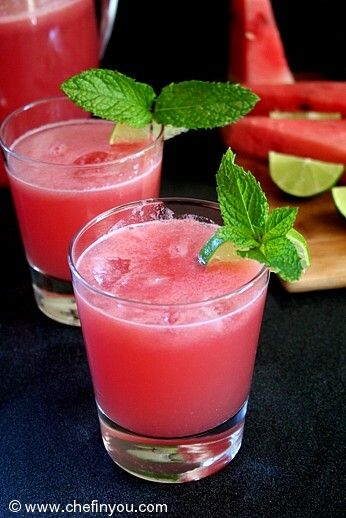 This is very similar to
Watermelon Aguas Fresca
with limes taking over instead of lemons and playing a substantial role. This is a highly customizable recipe as it should be 'cos the flavors depend highly on your taste buds. Adjust the amount of lime juice depending on how much balance you are trying to achieve against the sweetness of watermelon. I have been blessed to enjoy very sweet watermelons and hence have v minimal (if at all) need to add any additional sweeter to it. And I tend to reach out for a more natural source than white sugar. Mint grows abundantly in our miniscule garden that  I put it to optimum use :)
References
my kitchen notes
Basic Information
Yield
:
Makes around 1 litre
Ingredients
3 lbs (abt 1.4 kgs) Watermelon
3/4 cup Lime juice, or as needed , see Tips
Honey to taste
few sprigs of Mint
Ice Cubes, to serve
Tips
1
. Lime Juice:
The amount can range anywhere from 1/2 to 1 cup depending upon the sweetness of the watermelon and the amount of tang that you prefer. So start with say 1/2 cup and add more if required.
Method
1
Chop the watermelon into chunks, cutting off skin and removing the seeds.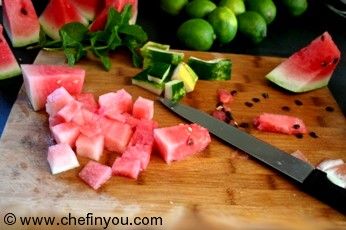 2
In batches, puree the  watermelon along with  lime juice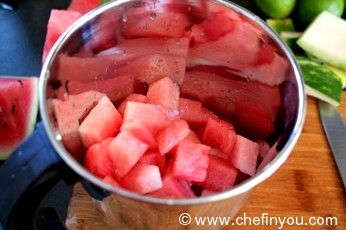 3
Strain it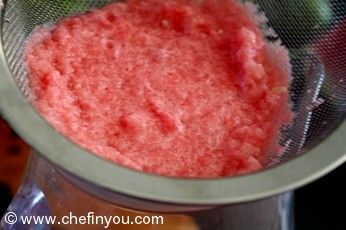 4
Add ice cubes along with the mint in a pitcher.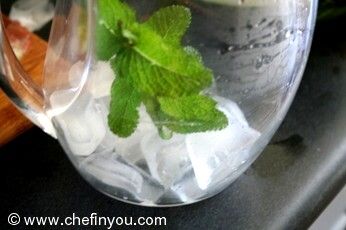 5
Pour the juice.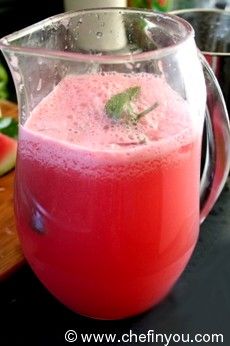 6
Add in some honey to taste and stir to combine.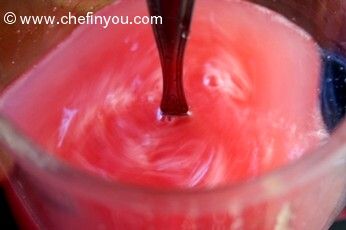 Serve chilled with additional sprigs of mint and ice.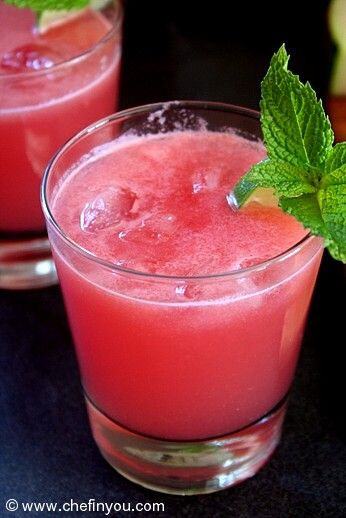 Related Recipes You May Like
Be the first to showcase this recipe!

Your Name
Did you make this recipe?
Please click below to share your experiences while you were making this recipe. Thanks for your input!
Have a favorite recipe?
Know a family recipe your mom used to make? Or maybe a go to recipe that works everytime? Share it with your fellow foodies!