Mullu (Thenkuzhal) Murukku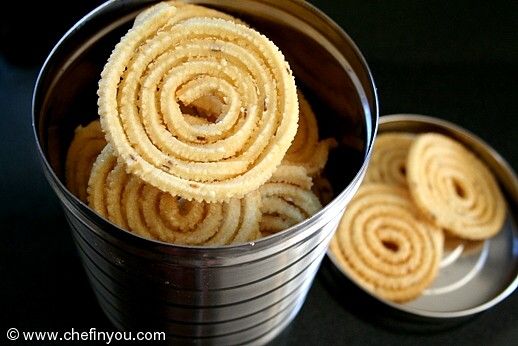 As the saying goes - "A rose by any other name would smell just as sweet", so does a Mullu Murukku. This South Indian savory made from rice and lentil flour by any other name (and it has quite a lot) would taste just as crispy, crunchy and addictive. Also known as "
Magizhampoo
", "
Muthusaram
", "
Manakombu
" and "
Mullu Thenkuzhal
" (phew!), this is one of my childhood favorites. These still are, but nothing beats the atmosphere of having mom make it for you and store a cartload of them in large stainless steel canisters during
Diwali
,
Krishna jayanthi
and
Vinayaka Chaturthi
and other occasions .  And its even more fun when she has to repeatedly beg you not to touch them until after the festival.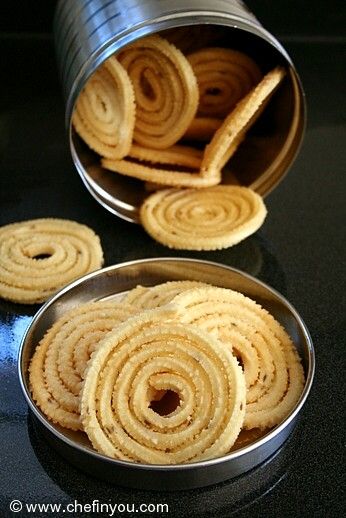 Now I am hoping to create that same environment for my little one and most importantly for the husband. I can't help being amused at him  whose first words when he enters home during such festival months are "
Are the Murukkus still there? All safe for me
?" as if a crowd patiently waits every single day for him to go to work so that they can steal his murukkus!
Seeesh
. And this inspite the fact that, just like my mom, I do not wait for festival months to make them. These along with
Thattai
and
Thenkuzhal
get made on and off during the rest of the year (
and yet no one in my home seems bored of them (as of now)
). This is to us what "Potato Chips/Tortilla Chips" probably are to many other families. Our junk food is all home made - fresh and with no additives. ;)  More reason to have them,no? ;). These are addictive with a delightful crunch to them thanks to rice flour with a slight hint of cumin. The butter gives them additional crispiness along with richness.
Basic Information
Yield
:
Makes around 30 Murukkus ( I made a combo of 4 and 5 spirals)
Ingredients
3 cups Rice flour, see Tips
1/2 cup Moong Dal (Yellow Lentil/ Paithamparuppu)
1/4 cup Channa Dal (Bengal Gram/Kadalaparuppu)
1 tsp Cumin (Jeera)
1 tsp Sesame seeds (Til/Ellu)
1 large pinch Asafoetida powder
1 generous tbsp Butter, see Tips
1-1/2 to 2 tsp Salt, or to taste
Oil for deep frying
Tips
1. Rice flour:
Traditionally the rice is soaked, air dried and then ground into fine flour (at Rice Mills) that makes the best murukkus. But store bought rice flour can be used to almost equivalent quality. I have used the same to save time.
2. Butter:
You can also use Ghee. And for Vegans, you can use the hot oil that you would be using for deep frying instead. But butter is recommended to provide that crispy texture.
Method
1
Heat oil for deep frying. Dry roast the lentils for a minute. Do not let it brown.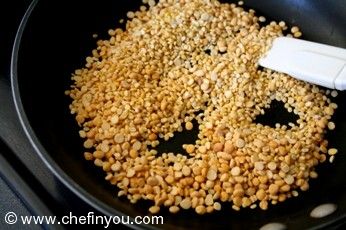 2
Add it to a processor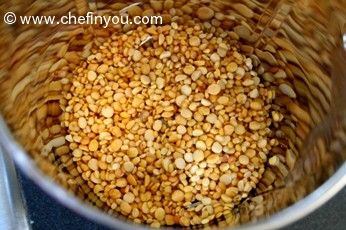 3
and grind it into a very fine powder. Finer the better.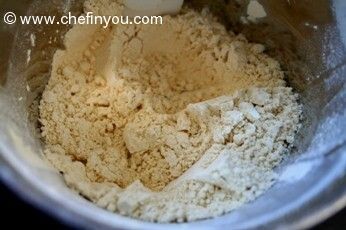 4
Sieve this just in case.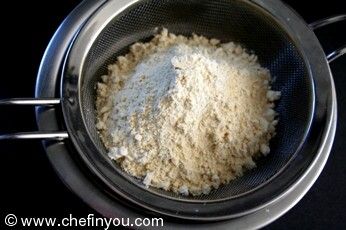 5
Sieve the rice flour too. Better to do this a couple of times for both the flours.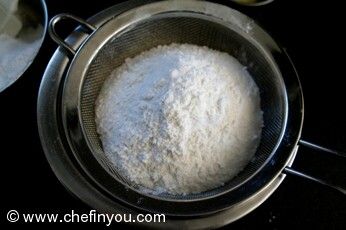 6
Add all the ingredients except butter in a large bowl.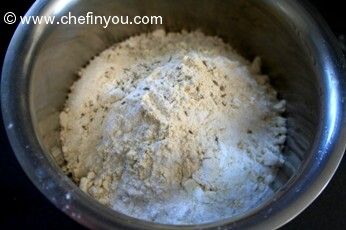 7
Mix it thoroughly to combine.
8
Add the butter/Ghee/Oil.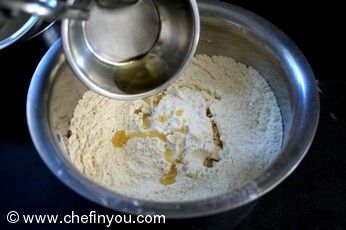 9
Using your fingers, knead it to a bread crumb consistency. This helps with texture and crispiness (same logic to Baking pies and pastries)
10
Then carefully add water  until it comes together into a not too tight/not too soft dough.  Use tablespoon measure just to be safe. You would need somewhere around 1-1/2 to 2 cups water. Close the dough with a kitchen towel.

Important Tip: Ideally it is said that it is better to take some part of the "bread-crumb" dough, add tbsps of water to make it into a dough and pressed to make murukkus. This step is repeated for every single (or may be two) murukkus in a batch. In short - the murukku dough is made in batches instead of adding water to the whole flour to make the dough. Since, I am clearly lazy to do that, I add water to the whole dough. They taste still fine to me (but having never done the other way, I have no clue how much better those murukku would be. You choose according the level of laziness in your bones ;))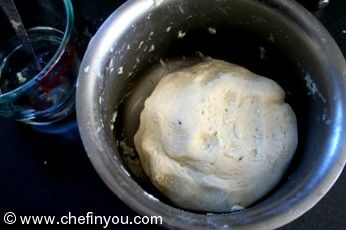 11
You would need either 1 star or 3 star attachment in your
Murukku (Press) maker.
I used only one star for this post.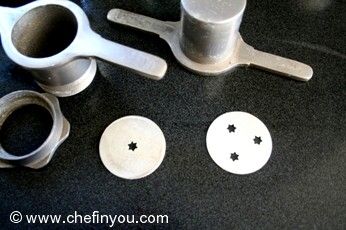 12
Traditionally these are pressed directly into the hot oil into spiral shapes. But if you are not comfortable, you can either use a greased plastic sheet (like I have done for this
Thattai Recipe
) or use a greased ladle to pipe in the shape like I have done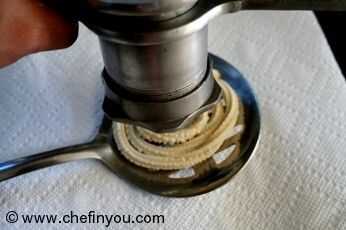 13
to make either 3, 4 or 5 spirals (or any you care to depending on the size of your deep fryer!). I chose a combination of 4 and 5 spirals.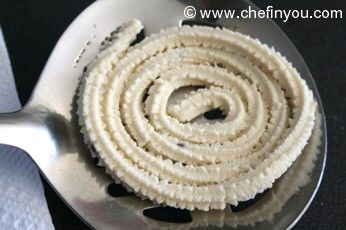 14
Now place the ladle in the hot oil. The oil should be first heated to high (drop a piece of dough to the oil and it should immediately come to the surface). Once you drop the murukku, reduce the heat to medium. Make sure to keep the oil med-high, otherwise it won't come out crunchy. If you have a deep fryer thermometer, then use to regulate the heat between 350 to 375 degrees F.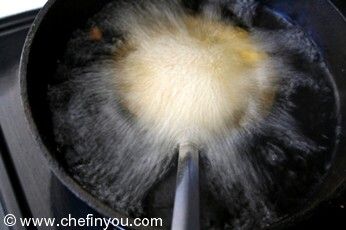 15
Once you place the ladle, you will find that in few seconds the murukku will automatically detach itself.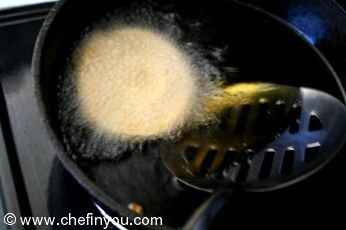 16
Turn multiple times for uniform cooking. Its done when its golden brown and the bubbles in the oil subside.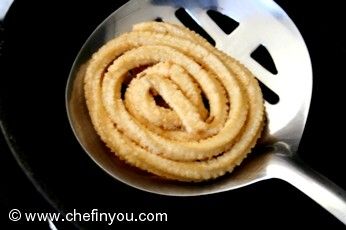 17
You can deep fry 2-3 of them simultaneously making sure to regulate the temperature of the oil.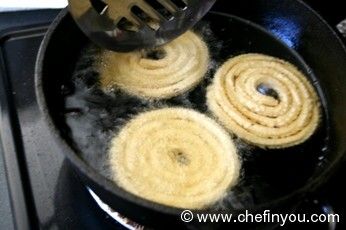 18
Once done, place them on a paper towel, to cool off.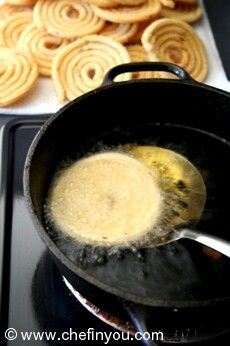 Once completely cooled, store it in an air tight container and enjoy. Perfect with tea, coffee, on rainy days, get together - in short anytime and every time :)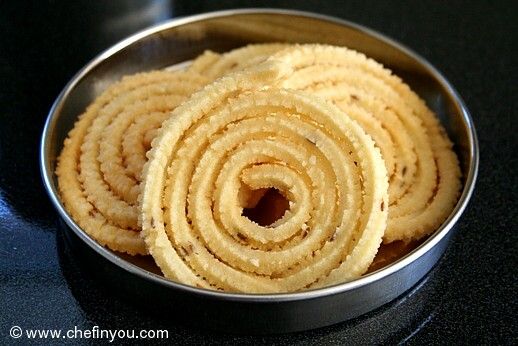 Related Recipes You May Like
Be the first to showcase this recipe!

Your Name
Did you make this recipe?
Please click below to share your experiences while you were making this recipe. Thanks for your input!
Have a favorite recipe?
Know a family recipe your mom used to make? Or maybe a go to recipe that works everytime? Share it with your fellow foodies!