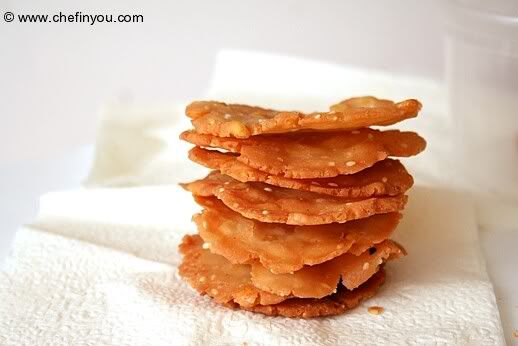 Another snack which is in my all time favorite list after
salt seedai
is Thattai - Crispy thin Indian Savory and one of the important dish made during festivals - esp. Krishna Jayanthi.  Of course I like murukku too - but these are total yum! These are another one of those highly addictive snacks which I can hardly stop eating.
During the first year of marriage, I used to make this often enough since we enjoyed it during the cold and rainy Seattle weather with some nice ginger tea. Please excuse the photos which I think are not upto par. Its indeed hard to make these and take photos at the same time. I have tried my best to do this "single-handedly" (pun intended!;))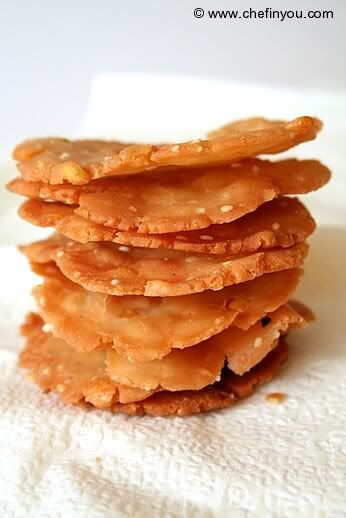 Its a pretty straightforward recipe and here is it without any further ado.
Basic Information
Yield
:
Makes around 10-15 thattai's depending in the thinness and size
Ingredients
1 cup Rice Flour (sifted)
2 tbsp Urad Dal flour (see how to make it here)
2 tbsp Bengal gram/Channa Dal/Kadalaparuppu
1/4 cup freshly grated coconut
1/2 tbsp white sesame seeds
2 tbsp Ghee
salt to taste
1/4 tsp asafoetida
Method
1
Soak the Bengal gram in some water for an hour until soft. Then add all the ingredients together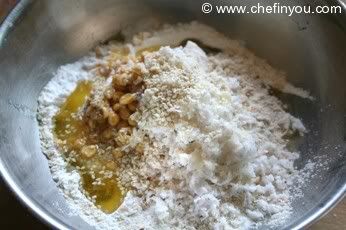 2
Slowly add water, tablespoon by tablespoon to form it into a dough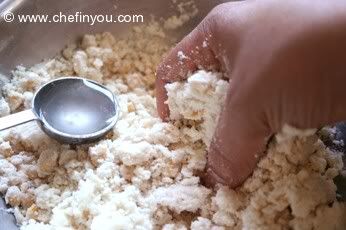 3
Dont add too much water. You should get a tight dough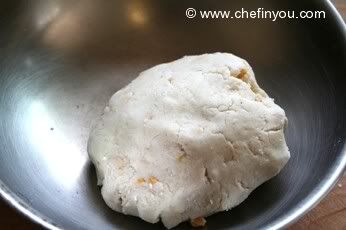 4
Take a plastic sheet. Grease it with little oil/ghee. Form a small ball from the dough and place it on the sheet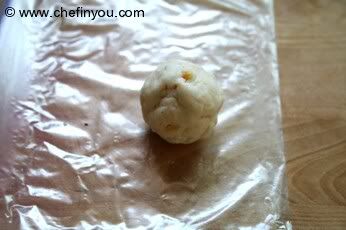 5
Grease your fingers and press the ball with your fingers to flatten it.
6
Press it thin. Its ok if the edges get frayed a little - you are not going to win any prizes for the best looking Thattai's! You sure will for the taste and anyways, before you even get a chance to admire them, they will be gone down your family's throats! They are that delicious :)
7
Slowly turn it over your palm. The greased plastic will enable it to slip on your hands easily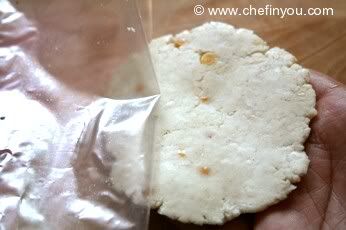 8
Drop it gently in hot oil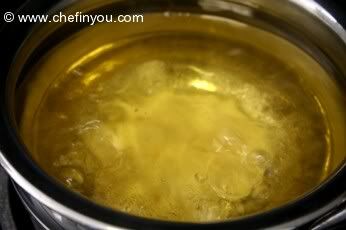 9
The oil will bubble and slowly the thattai's will come on the surface.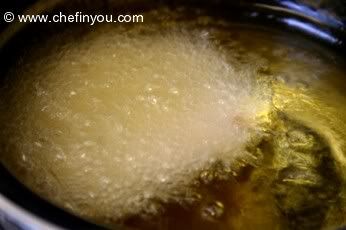 10
Turn them to cook evenly until golden yellow/ deep brown ( your preference)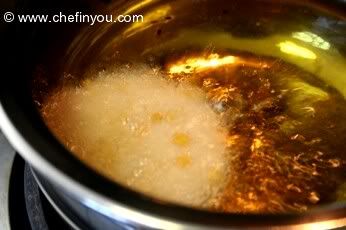 11
Drop them on a paper towel to drain excess oil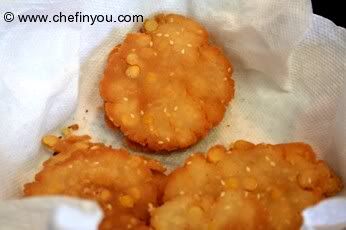 Now take one good look at them - after that it will be hard to get hold of them :)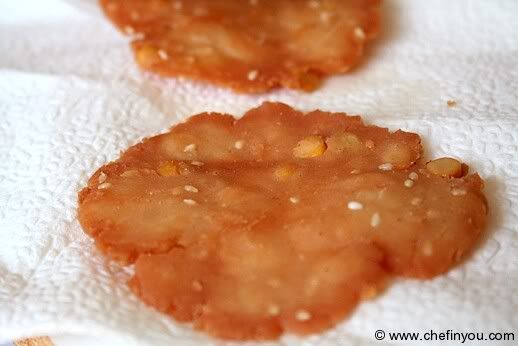 Once cooled, store them in an air tight container. They keep v well for days although the chance of them getting over is more.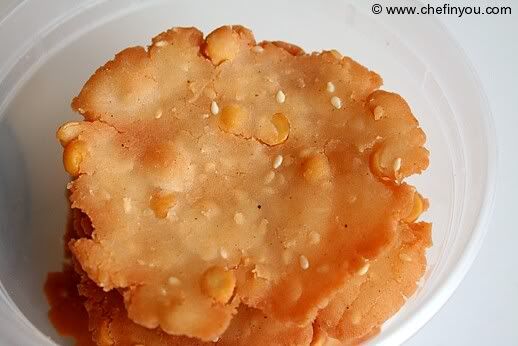 Enjoy them on their own, or with your hot tea, or with piping hot rasam rice or in any way you please.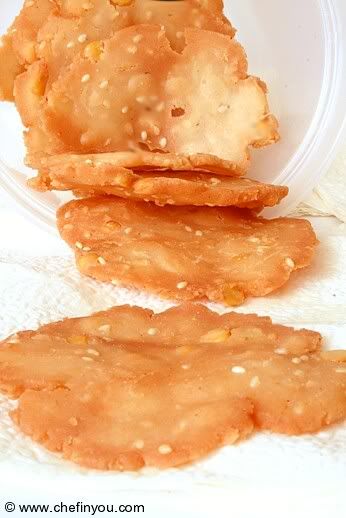 Related Recipes You May Like
Did you make this recipe?
Please click below to share your experiences while you were making this recipe. Thanks for your input!
Have a favorite recipe?
Know a family recipe your mom used to make? Or maybe a go to recipe that works everytime? Share it with your fellow foodies!