I asked
you for your Pumpgrins
, so that for the coming Halloween many of us, can have templates and ideas  to work with. If you have never carved pumpkins before, I hope that this
step by step tutorial for carving pumpkins
will be of help.I will be displaying your creations here as and when I get your pictures. Enjoy the scary show :)
The first one is one from
Soma from ECurry
who shares her real spooky pumpkins. I especially dig the center one which looks amazing and looks apt to hang right on your front porch! Don't forget to check out her Homemade Harissa recipe.
Making faces has never been so rewarding ;). I loved the toothy smile which this pumpkin had to give to all of us from
Supriya from Celebrating Little things in Life
. This is another to make with your family!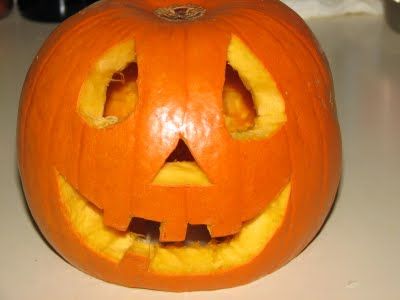 I found this amazing video in You tube which described how one can add additional design details to an existing pumpkin design. A simple trick but brings about a profound change.
The minute I saw this carving, I knew I wanted to make this one! Just take a look at this! Majestic, meticulous yet something spooky enough for a Halloween party! Please
click on this link
for the source.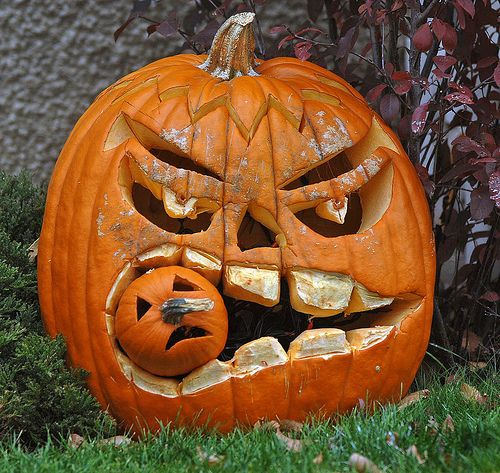 This site -
extremepumpkins.com
has some amazing, mind blowing and out of this world (literally!) pumpkin carving ideas. There is no shortage of creative carving!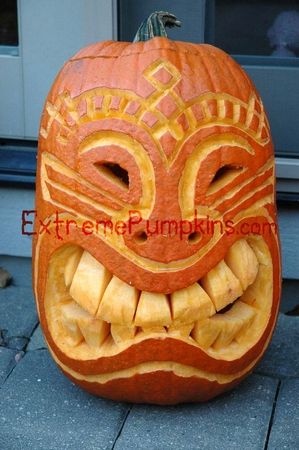 What is a snack doing amidst all this pumpkin carving ideas - you might ask. You are justified in asking too - But I just couldnt stop myself from displaying this cute snack halloween theme based creation from
Family Fun
website. That's a neat idea I would say.
See this link
for the source and steps to make this.
When we first carved our
Jack-O-Lantern's
, we thought we will do a step by step tutorial, just in case there was someone like us who has never made one before. And when we heard from Dolly that she actually used these tutorials to
carve an amazing pumpkin for the first time
(that it hardly looks like it was tried for the first time), it gave us immense pleasure and happiness that our effort was of some use. That's one rocking Pumpkin Dolly!
Mr.P has
every reason to be proud
. It was delightful to read the opening line of his mail and upon clicking the link, I thought he was justified in what he told me. On a cake stand? Why didn't I think of it before?
Dear Meghana made my day with her generous mail. In addition to some good words about Chef In You, she also informed me that her Jack O Lanterns was her first time and inspired from the
carving tutorial at this site.
I couldn't come to believe that these pumpkin carvings was from a first timer. They look so pro - don't you think?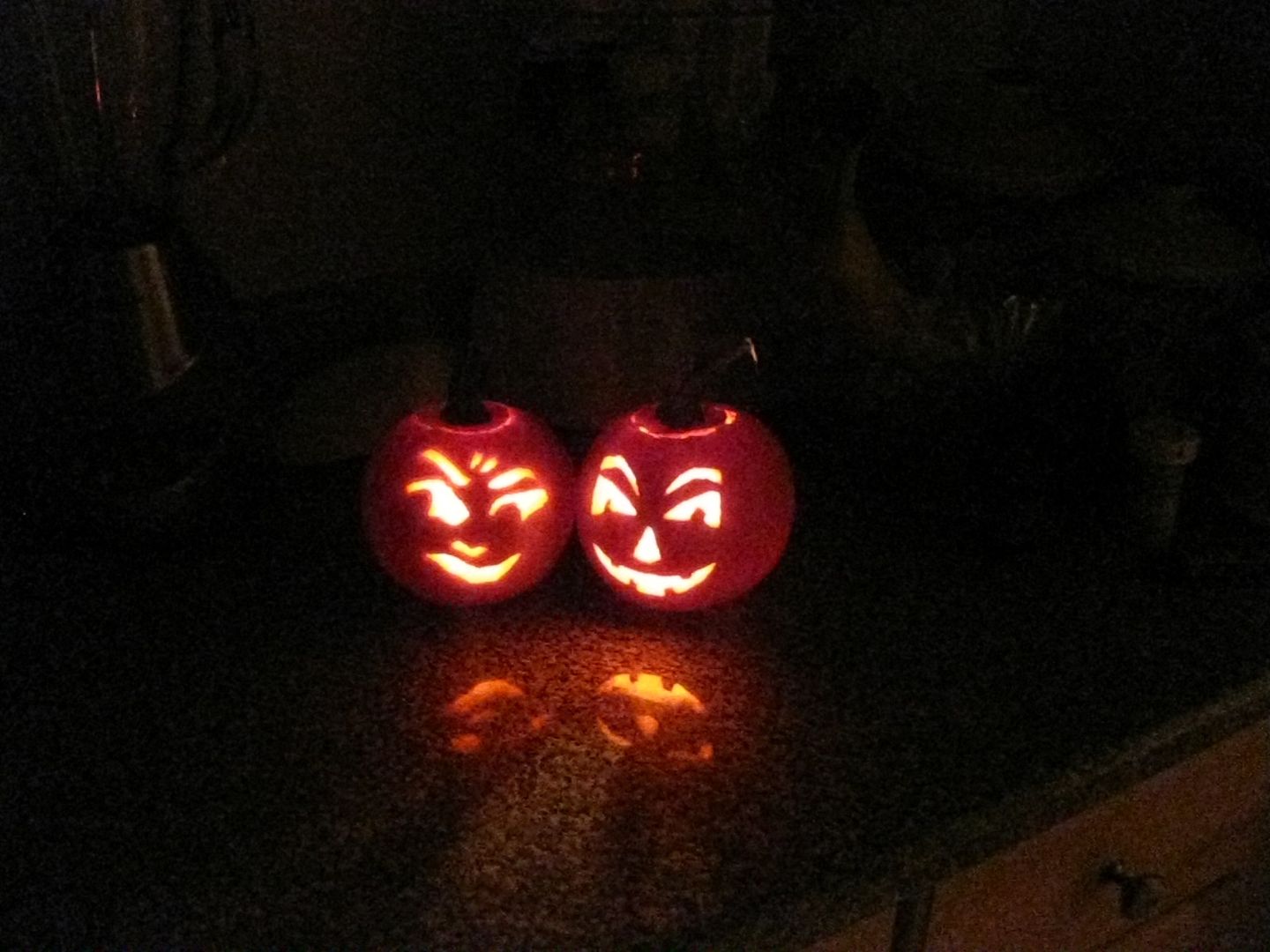 She and her two darlings are a riot!
Just can't help but adore them like crazy. What more - they have talent and creativity oozing out of their every pore. Another Jack O'Lantern finds its way here and it competes with her first one. Scary isn't it?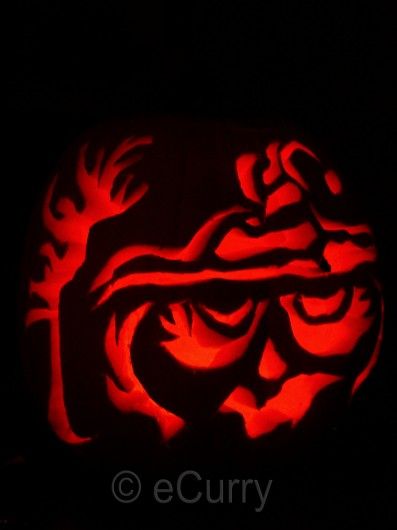 I absolutely loved the Cinderella carving which Ann sent me. I have been meaning to  carve cartoons on my pumpkin and this is perfect for me! Just check out
her Cinderella and her prince

Dear Sathya sends not one pumpkin but two. She went all out for last two days to come up with two amazing Jack O'Lanterns. You have
one to spook you out and another to bring that smile
! Satisfying both the horizons :) I loved both and the first one is real spooooky indeed!!!!!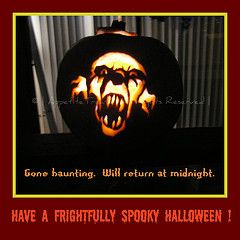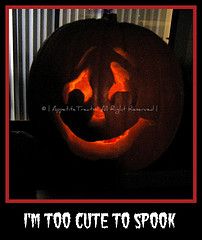 Indu shares her experience of
carving her majestic Jack O Lantern
and how she did it with the help of eHow tutorial. And needless to say, this is one of the best ways of enjoying an activity with your kids. Indu too had fun doing it with her daughter and also took it to Boston Pumpkin Fest event!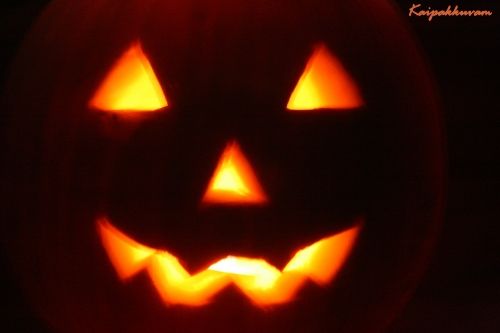 There is something to be said for doing something for the 'first time'. The pleasure and adrenaline that it gives when you work hard for some time and then look back at your creation - the feeling is unparalleled.
Ramya shares her first time
masterpiece which she carved with her daughter! Perfect memories for life.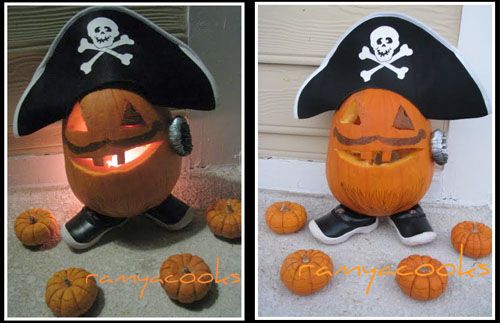 Need a creative burst? Want to get out of the norm of carving Jack O Lanterns from the traditional pumpkin? Then this is one for you.
Spice used Oranges to do an amazing carving
and if you need more initiative - she filled them with chocolate and vanilla pudding! aaah bliss! Need any more reasons to deviate?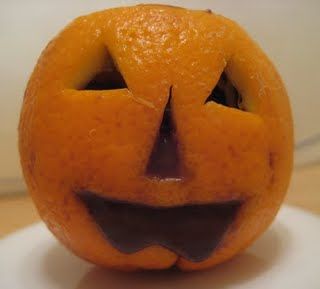 I am simply biased to cat based carvings in pumpkins. I dunno why and its indeed surprising since I am not a fan of cats in real life. But somehow a cat carved in a pumpkin looks so elegant and be'witching'. And I felt exactly the same when I saw the carving which
Deepika sent over - Bewitching!
Priya tried out
making Pumpgrins
for the first time and says she enjoyed it as well. Of course there were first time learning's but then inst that the best part of trying anything new?