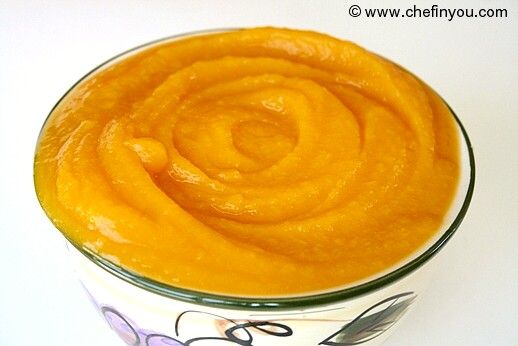 Next time you reach out for that can of pumpkin puree in your market - "STOP"! Why waste money when you can make the real thing in 30-45 minutes at home without any major effort. Its simple and fresh tasting. The taste of your baked goods or any other recipe just becomes so much better by using homemade pumpkin puree.
I see in many online recipes where they insist that you cut the pumpkin in half and then bake it for 90 minutes or so until tender to make the puree. Or some other go on to describe how you can peel the skin of smaller pumpkins and puree it for the half the time! (Peel the pumpkins! heaven's no!).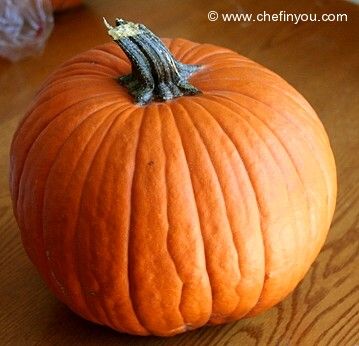 Check the recipes I made using this pumpkin puree
My method works very well for me wherein I complete the whole puree making process in less than those 90 minutes insisted by online articles. Instead of just halving the pumpkin, I chopped them down into few more pieces, more like quarters and baked them for about 30 minutes. In my 400F oven, it became melting tender in about 25 minutes! You can use any sized pumpkin - I used a 10 pounder Just wash and clean the outside of the pumpkin and wipe dry with paper towels.
Now cut these halves into 2. Take a roasting pan and place the pieces upside down (cut side down) along with 1 cup of water. You can rub little canola oil on the surface of the pumpkins ( although its not necc.)
Bake them in a preheated 400F oven for about 30 minutes or until tender. You can check for tenderness by piercing a fork to the flesh of the pumpkins. It will give in v easily. Also you will find that the surface of the pumpkins turn deep dark orange.
Cool them for few minutes until you can handle them.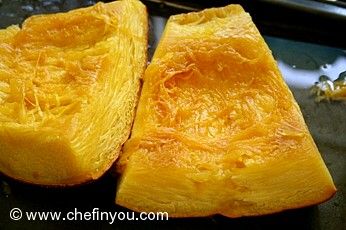 Now scoop out the flesh of the pumpkins. The flesh will come off very easily if baked completely.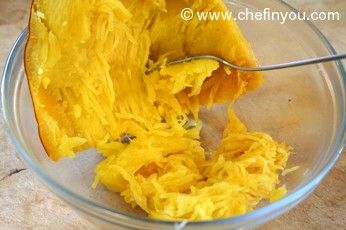 You can now either mash it using your hands or spoon , but if you want the consistency of a store bought canned pumpkin then use a processor
<
Now pour it down a sieve (or cheesecloth or coffee filter ) placed in a deep bowl
Stir with a spoon until all the liquid is sieved completely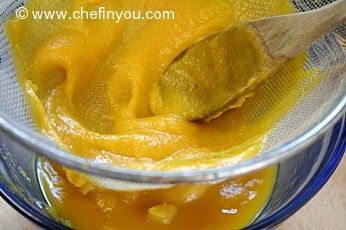 and you get some rich thick Pumpkin Puree.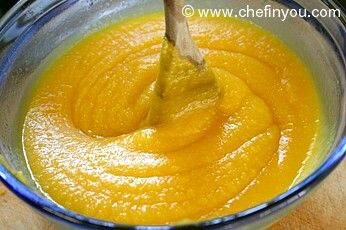 With this on hand - imagine the number of dishes floating out of your kitchen and all smelling and tasting extra special :)