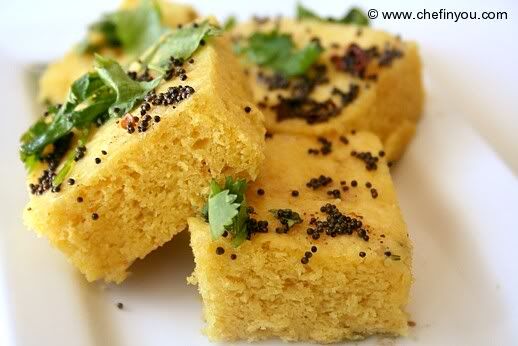 Some recipes bring back bygone memories which you didn't think had place in your brain shelves in the first place. Guess I have few which ended up getting dusted when I took the first bite of these Dhokla's. I think I was 6-7 yrs old and during our stay in Northern parts of India, there used to be this sweetmeat shop that used to sell Dhoklas in a cover within which there used to be small plastic covers of chutney -
Tamarind
and Green. I so used to go totally ga-ga over them. They were the fluffiest, softest, spongiest things I had ever eaten and I used to hog them like the it was going extinct.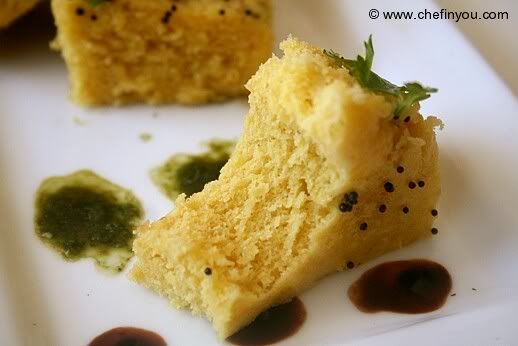 month's ICC event
, I was wondering if I would get the very same softness as the ones I have had. I have made Khaman Dhokla before with success but they were not as soft, hence my dubiety at this recipe. But VOILA! This recipe was IT. The very first bite with the chutney bought these memories in such a blinding speed that I was overcome with nostalgia and severe home sickness. That's the beauty of a perfect recipe people.
Never made a (perfect) Dhokla before? Then your search ends right here. Check out the step by step procedures to make these totally yummy bites and forget the world for few moments!
When Srivalli set us this challenge for this
Basic Information
Yield
:
Makes one 8 inch (2" deep) pan worth
Ingredients
For Batter:
Bengal Gram flour / Besan/ Chickpea flour - 250 gms (1 & 1/2 cup)
Curd/Yogurt - 1/2 cup (not very sour)
Water - 1/2 cup
Cooking/Baking Soda - 1/2 tsp
For seasoning to be mixed to the batter (to be added just before cooking)
Oil - 1 tbsp
Turmeric a pinch
Green Chili paste - 1 - 2 (or as per taste)
Sugar - 1 tsp
Citric acid - quarter tsp (or lemon juice)
Eno - 1 packet (green colour fruit lime) + some more for sprinkling on the plate
(note: I dint know how much a sachet contains since I have a bottle so I assumed 1-1/4 tsp of Eno fruit salt)
salt to taste
For tempering
Mustard Seeds
Curry leaves
Grated coconut
Coriander leaves
Little water + Oil to be topped on dhoklas
Method
1
Mix first 1/2 cup curds with 1/2 water.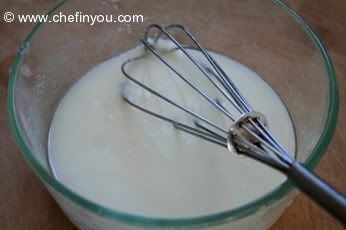 2
To this add the besan and mix well to get a lump less batter, the consistency should be of idli batter, more of dropping not pouring consistency.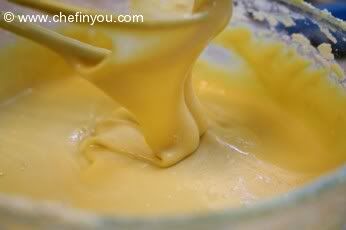 3
Slowly add more water if needed else, add the soda. Keep it aside to rise for 1 hour. If you are using a pressure cooker, fill the pan with water, place a plate over which you will have use a plate for steaming the dhoklas. Thali plate can be used for steaming To the batter mix in the citric acid, oil, salt, sugar, green chili paste and turmeric powder. Mix well. This has to be done just before pouring to the plate.
4
Meanwhile have the pan on stove, and let the water start boiling. When the water reaches the rolling stage, you can mix the eno to the batter (Save little of eno for dusting on the plate), mix gently, you will see bubbles coming out.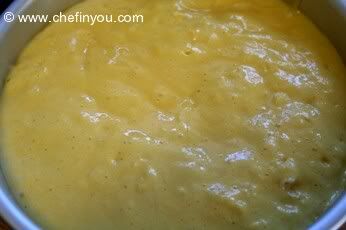 5
My Notes : I dint have a thali plate which would fit my pressure cooker and those who would were too deep and narrow for making a proper Dhokla.  So I used my Baking tin which fit perfectly in my Rice Cooker and steam cooked the batter.
Dust or sprinkle the plate with eno. Then immediately pour the batter to the plate. Place the plate carefully inside the pressure pan and cover with lid. You need not use the whistle. After covering you will find steam coming out of the outlet, simmer and don't disturb for almost 5 -7 minutes. The batter should be filled to only 1/2 as it will rise up. After adding eno the batter should not rest. Amount of sugar can be increased on preference. Dhokla can also be steamed in kadai filled with water and a plated titled over it.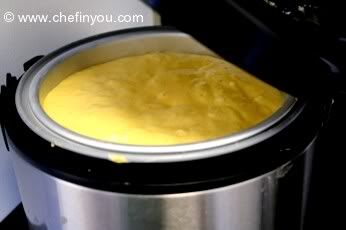 6
After 5 -7 minutes, remove the lid and proof it using toothpick or knife. If the knife comes out clean and does not have any batter sticking, then its done. Cover back and let it remain on flame for 1 min and switch off the gas and allow it for 5 minutes.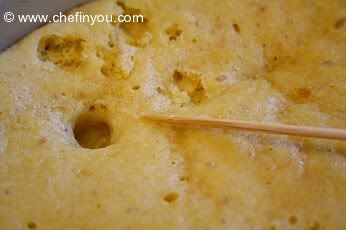 7
In a bowl, mix 3 tsp of water along with a tsp of oil. Remove the plate from the pan, pour the water and oil mix over the top. For seasoning, heat a pan with oil, add curry leaves, sesame seeds, mustard seeds and finely chopped green chilies. When mustard starts popping, remove and pour over the dhokla
8
If you want perfect shaped ones and not the crumbling, cut and handle gently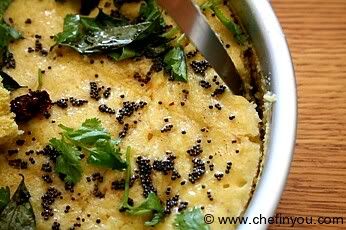 9
My Notes : I cut them out, after slightly cooling them, into squares.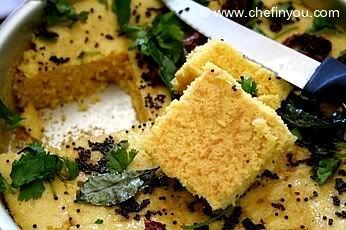 I then served them with Tamarind Chutney and Green chutney. They are good on their own too.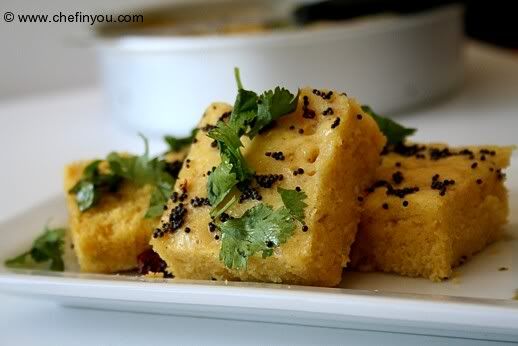 I have tried my best to capture the sponginess of the dhoklas.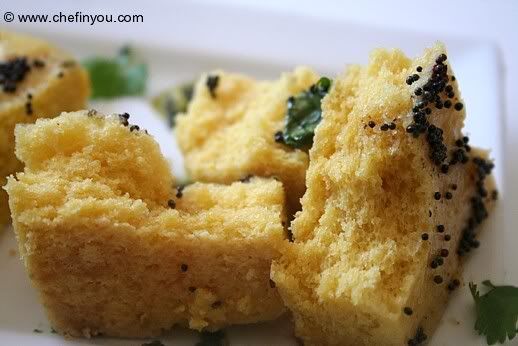 Although I thought I made enough to last me a while - guess I was wrong. It got over in 2 hours flat. No leftovers no nothing :)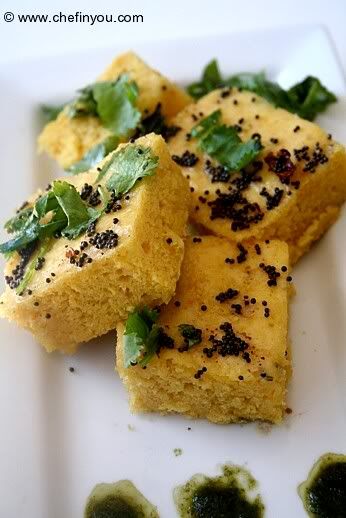 Related Recipes You May Like
Did you make this recipe?
Please click below to share your experiences while you were making this recipe. Thanks for your input!
Have a favorite recipe?
Know a family recipe your mom used to make? Or maybe a go to recipe that works everytime? Share it with your fellow foodies!