Although me and my better half do not have even one sweet tooth, we do appreciate savory ones and I had no excuse not to make these. This traditional savory snack made esp. during Krishna Jayanthi is one of my all time favorite. My mother used to make 2-3 varieties of snacks simultaneously and usually the task of rolling out the dough into small rounds would fall in my hands. I would either sit next to her and roll it out while sharing some anecdotes, or sit in front of the TV (which would be full of interesting programs thanks to the festivities) and do it while watching it. Do it yourself or give it to the kids - but don't even think of not making it - its too good to pass.
Basic Information
Yield
:
Makes around 60-80 depending on the size of the balls
Method
1
. Sieve the flour (see the tips below). Mix all the ingredients together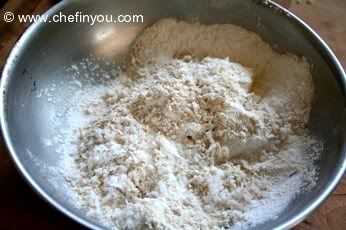 2
Add water tablespoon by tablespoon and form it into one tight dough. Too much water will spoil it - so be careful about the water.
3
Take a slightly damp and clean towel or even damp paper towel. Lay it on the ground. Take a very little piece of the dough and roll using your palms into a small round - a little bigger than peas, roughly the shape of small marbles. (see notes below)
4
Heat oil to deep fry. Drop a bunch of these small balls into the oil and let them deep fry.
5
Move it v slightly so that they don't bunch up together. They will come up and will be full of bubbles while cooking
6
Slowly it will come up on the surface and the bubbles will also cease. You can either make them deep red and keep them slightly golden yellow. Your preference.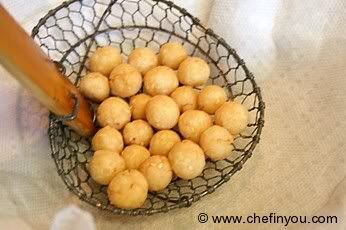 7
Remove and place it on a paper towel to drain of excess oil.