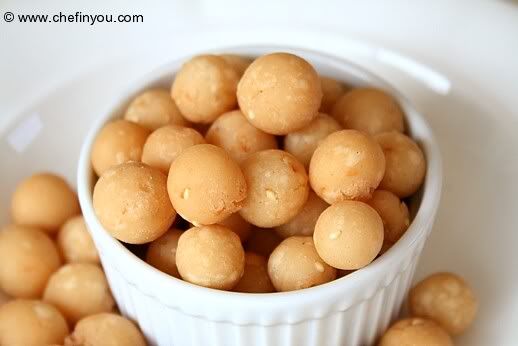 Crunchy nibbles? Pebbles of crunchy heaven?? Small savory balls??? I usually try to translate dishes which summarizes the full meaning of the original titles of the original dish. I do this since everyone across regions can understand what it is all about. But how exactly do you translate Seedai/Cheedai? The word "Uppu" in tamil translates to "Salt" to depict the savory version of this dish since a sweet version exists. And what does Cheedai mean? No Idea! But what  I can tell you for sure is that "You can't stop eating with just one!"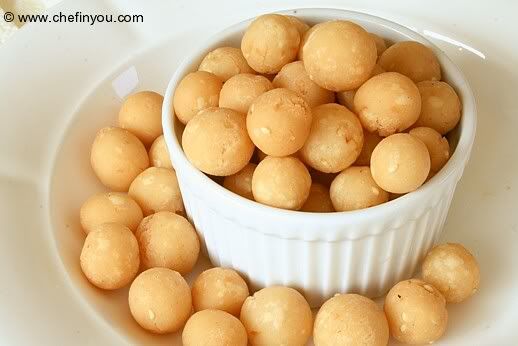 It is little time consuming to make, but take it from me - its worth all the effort. I especially miss not being in India this month! My mother has already made quite a few sweets for the upcoming Krishna Jayanthi - Indian festival celebrating the birthday of our God Krishna and flaunting it all over my face! I literally drooled yesterday when she was telling me about the sweets she made!
Although me and my better half do not have even one sweet tooth, we do appreciate savory ones and I had no excuse not to make these. This traditional savory snack made esp. during Krishna Jayanthi is one of my all time favorite. My mother used to make 2-3 varieties of snacks simultaneously and usually the task of rolling out the dough into small rounds would fall in my hands. I would either sit next to her and roll it out while sharing some anecdotes, or sit in front of the TV (which would be full of interesting programs thanks to the festivities) and do it while watching it. Do it yourself or give it to the kids - but don't even think of not making it - its too good to pass.
Basic Information
Yield
:
Makes around 60-80 depending on the size of the balls
Ingredients
1 cup Rice flour
2 tbsp Urad Dal Flour ( See how to make it here )
1/2 tbsp white sesame seeds
2 tbsp grated coconut (freshly grated preferable)
2 tbsp butter, at room temperature
salt to taste
1/2 tsp Asafoetida powder
Method
1
. Sieve the flour (see the tips below). Mix all the ingredients together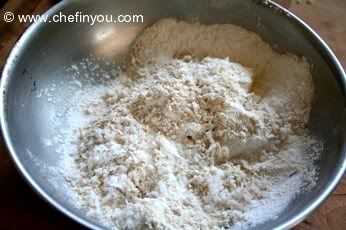 2
Add water tablespoon by tablespoon and form it into one tight dough. Too much water will spoil it - so be careful about the water.
3
Take a slightly damp and clean towel or even damp paper towel. Lay it on the ground. Take a very little piece of the dough and roll using your palms into a small round - a little bigger than peas, roughly the shape of small marbles. (see notes below)
4
Heat oil to deep fry. Drop a bunch of these small balls into the oil and let them deep fry.
5
Move it v slightly so that they don't bunch up together. They will come up and will be full of bubbles while cooking
6
Slowly it will come up on the surface and the bubbles will also cease. You can either make them deep red and keep them slightly golden yellow. Your preference.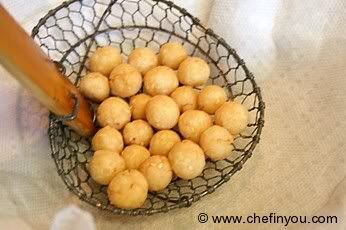 7
Remove and place it on a paper towel to drain of excess oil.
Cool and store in a air tight container. They keep very well. But one warning though - they are highly ADDICTIVE! :)
Tips to Avoid Uppu Seedai(s) from bursting in hot oil
One of the main reasons for this innocent looking snack to scare the hell out of cooks is that at times it starts bursting while you are frying, scattering hot oil all over the kitchen. If it sounds not a big deal, you should see it while in action. Its scary and its messy. Here are some of the possible reasons to why it happens and how you can avoid this from happening.
Stones in rice flour: Traditionally rice is soaked, sun dried and then ground into fine flour to make this. But current times, with time playing hide and seek, store bought is optimal. In that case, make sure to sieve the rice flour well, couple of times, before using in the recipe.

Small grains in Urad flour: Similarly to rice flour, if there are small grains in the lentil flour, then the result will not be favorable. The flour should be fine without any particles. Seive the flour well to get only the fine powder.

Rolling the balls tightly: The tighter you roll them, more the chances of them bursting. While rotating them in your palm, keep it as gentle as possible. While I take the effort to roll them into a nice round, my aunt's place (with whom recently I had the opportunity to make these goodies with) rolls them for a mere 2 seconds. Its more like touch and go and at times it's not even a nice round. But the need to avoid the bursting sometimes is too high to bother about how smooth the round is! So the point I am trying to make is, use feather light touch to roll out these goodies. The science behind it is supposedly to allow the trapped air inside the dough to come out. The tighter you roll it the harder it is for the air bubbles trapped inside causing the sudden bursting in the oil.

Water trapped in the balls : Similar to air, if excess moisture/water is trapped, the result will be a disaster too. Hence using frozen coconut is not ideal. But if using make sure that you knead the dough very well before lightly rolling them out into balls.

Using hot oil for making the dough: Personally I have never done it but using the hot oil (that you are heating for deep frying) to the dough while mixing it also helps to avoid the calamity!
Drying it out: Another tip I have heard is to let the balls dry out a bit. I guess that was indirectly done in the old days when family members sat around a moist cloth and rolled these out and placed them on the cloth while someone took little by little to fry them up in the oil. That sitting time for the balls while they waited for their turn to be deep fried helped them to dry out a bit avoiding any excess moisture issues in the oil.

Poking a hole: I have not done this personally but once an acquaintance gave me this tip to avoid the issue by pricking the balls with a needle! It sounded so cumbersome to me for which she insisted that if one batch of dough started bursting, you can try this tip to avoid wasting the next batch. So instead of throwing the rest of the dough away and start again fresh, just prick the remaining balls with the needle and deep fry it. It has worked for her although I have not used it. Try it to see if it works for you. If its going to save the dough, then why not :)
Related Recipes You May Like
Did you make this recipe?
Please click below to share your experiences while you were making this recipe. Thanks for your input!
Have a favorite recipe?
Know a family recipe your mom used to make? Or maybe a go to recipe that works everytime? Share it with your fellow foodies!